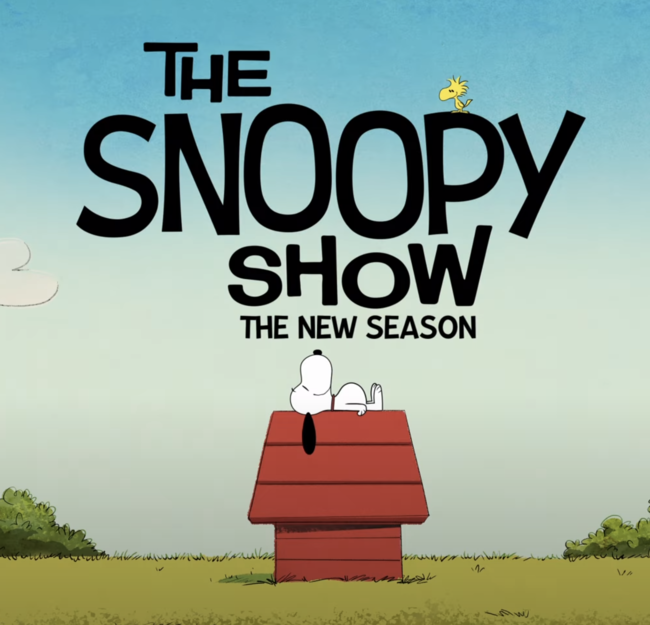 (courtesy YouTube (c) AppleTV+)
SNAPSHOT
The world's most famous beagle is back again for his close-up! Dig into new adventures with Snoopy, along with his best pal, Woodstock, and the rest of the Peanuts gang. Produced for Apple TV+ by Peanuts and WildBrain, the series is directed by Rob Boutilier (Snoopy in Space, Kid vs. Kat), and executive produced by Josh Scherba, Anne Loi, Stephanie Betts, Paige Braddock, Craig Schulz and Mark Evestaff. (courtesy AppleTV+)
Hooray! There's more Snoopy coming our way!
That can never be a bad thing; ever since Charles. M Schulz gifted us Snoopy and the rest of the Peanuts gang back on 2 October, 1950, we have loved the entirely necessary shot of mischief and whimsy, not to mention touching humanity, that comes in the form of an anarchically rebellious Beagle who seems to get away with everything.
He's a joy, and while Charlie Brown may sigh (often) and wish for a normal dog, the truth is that none of us really want that; we love Snoopy just as he is in all his eccentrically oddball glory.
Which is great because coming up over the next year or so there's a lot of Snoopy programming coming out, says Collider, with streamer AppleTV+, which plays host to all this animated goodness confirming the following:
This delightful trailer comes on the heels of a slew of recent programming announcements from Apple TV+, Peanuts and WildBrain, including the new special Snoopy Presents: One-of-a-Kind Marcie, which follows endearing introvert Marcie as she helps her friends in her own unique way, premiering August 18, as well as even more classic Peanuts anthology titles on September 22.

WildBrain and Apple TV+ also announced two more Peanuts originals Camp Snoopy, a new series featuring Snoopy and the Beagle Scouts along with Charlie Brown and friends as they enjoy an adventure-filled summer outdoors, plus the charming new Snoopy Presents: Welcome Home, Franklin special uncovering the origin story of one of Peanuts' most treasured characters and how he ultimately makes friends with Charlie Brown and the gang. (courtesy AppleTV+)
Happy days! May the Snoopy domination of our streaming time long continue!
The Snoopy Show season 3 starts streaming on AppleTV+ on 9 June.