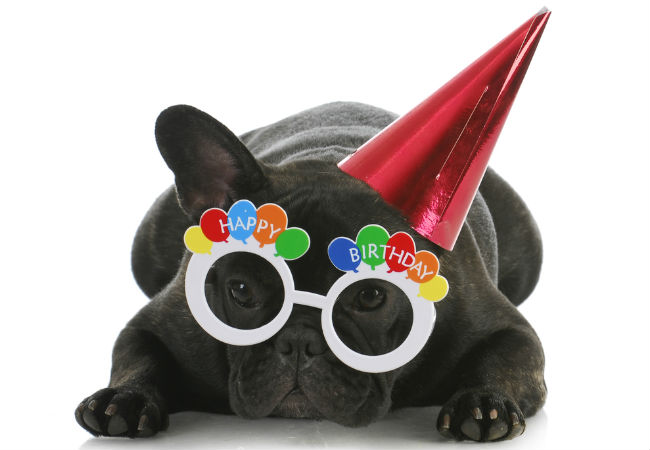 I am a madly sentimental guy.
If it's an important event like say my birthday (which it is today) or Christmas or a family or friend's birthday, I will go all out to make sure the day is as perfect as possible with chronic over-catering, balloons, accessories or trees aplenty and more photos taken than Facebook has uploaded to it on a busy day.
In the spirit of overdoing and celebrating in suitably epic fashion, I decided last year to honour five fictional characters I love with birthday shout outs, regardless of whether their birthdays fell in November or not (since this is an exercise I undertake but once a year).
And I am back this year to do it all over again.
So grab some virtual cake – real cake is totally fine too of course – light the candles and joining me in wishing a thoroughly happy birthday to …
BIG BIRD (Sesame Street), born 20 March, year undetermined as he is perpetually 6 years old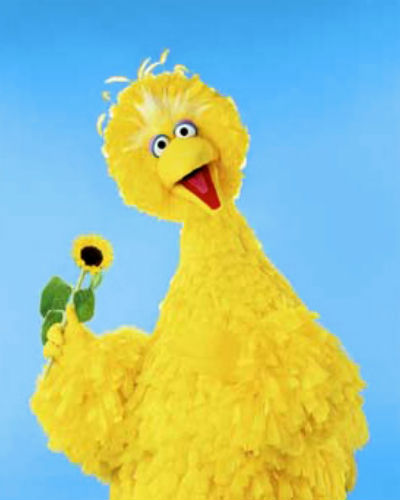 As a long time viewer of Sesame Street –  I watched my first episode in 1971 after the show premiered on Australian TV on 4 January that year (just over a year after the show transmitted its first episode on US TV on November 10, 1969) – I have spent quite a bit of time with the various characters, coming to over a period of years like many of them are almost family.
That may sound strange but when you spend 2 hours a day with them five days a week from the age of 6, it's hard not to feel like Oscar the Grouch, Bert and Ernie, Big Bird, Guy Smiley, and my all time favourite, Grover, are a close part of your life.
It's what the creators of Sesame Street envisaged happening when they launched the show and it makes sense that would be the aim since you're more inclined to trust, and hence learn from, someone you know.
One character in particular that I trusted more than anyone was Big Bird, an 8 foot 2 inch six year old yellow bird, who appeared in the very first episode, probably because he was a  sunny , exuberantly friendly extrovert (much like me), had a teddy bear he adored called Radar and was prone to asking the sort of questions I would have asked if I'd be in his situation.
As if that wasn't enough, he often got things mixed adorably mixed up, again much like myself (well I hope I was adorable; Mum?), thinking for instance at one point that the alphabet was one long word (see below), could ride a unicycle and roller skate, sing, write and draw, and had a healthy sense of the importance of being who he was, declaring at one point:
"I guess it's better to be who you are. Turns out people like you best that way, anyway."
(source: Sesame Street Unpaved by David Borgenicht)
He was such a joy to be around and learn from, loved being with his friends like Susan and Gordon, and dear departed Mr Hooper – whose death on the show, necessitated by the passing of the actor who played him Will Lee) was handled in a touching and meaningful way that didn't flinch from the reality of what had happened – and remains one of the reasons why Sesame Street remains a lot of fun to watch with my nieces and nephews.
Happy Birthday Big Bird – I hope someone makes you a birdseed milkshake just like Mr Hooper used to do.
DANIEL JACKSON (Stargate SG1), born 8 July, 1965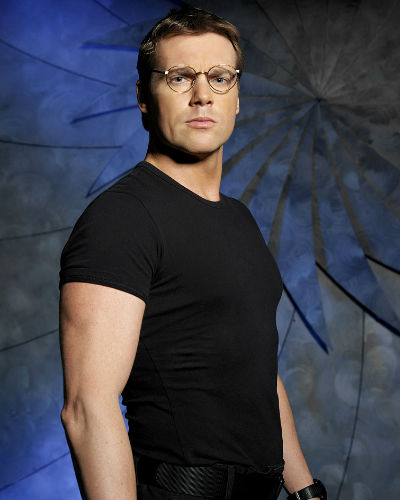 I am a sci-fi nut.
I love the opportunity that the genre affords me to loose the bonds of my Earthly existence and travel through time and space, experiencing people, places and things far beyond my usual day to day existence.
It may all be pure fiction but that doesn't stop the endless sense of wonder, the limitless unfurling of my imagination and the sheer joy of being far beyond anything I will likely experience in real life.
But if for a moment it was all real, and I could travel where I want with whomever I want, it would be with Daniel Jackson (played by Michael Shanks in the TV series and James Spader in the original movie) to wherever he wanted to take me.
Part of the Stargate SG1 team comprised of Colonel later Lt. General Jack O'Neill (Richard Dean Anderson), Captain later Brigadier General Samantha "Sam" Carter (Amanda Tapping) and Teal'c (Christopher Judge), he is an archeologist and linguist, and the one responsible for unlocking the secrets of the Stargate.
Passionate and committed, and a lover of knowledge, he is the moral conscience of the team, arguing against any plans that compromise the ideals for which humanity claims to be fighting against its many cosmic enemies such as the Goa'uld and the Ori.
And he is a man who would lay down his life for his friends and colleagues and even complete strangers, a man of strong principles and ideals:
"You are…brilliant. One of the most caring, passionate…you're the type of person who would give his own life for someone he doesn't even know. If you had one fault, it was that you wanted to save people so badly, you wanted to help people so much, that it tore you apart when you couldn't make a difference." (Samantha Carter)
It also doesn't hurt that whether played by Shanks or Spader that he is also quite easy on the eye.
Happy Birthday Daniel Jackson – if fiction ever becomes real, you and I are zipping through that stargate in an instant (you bring the champagne, I'll bring the cake OK?)
FRAN FINE (The Nanny), born 26 November 1963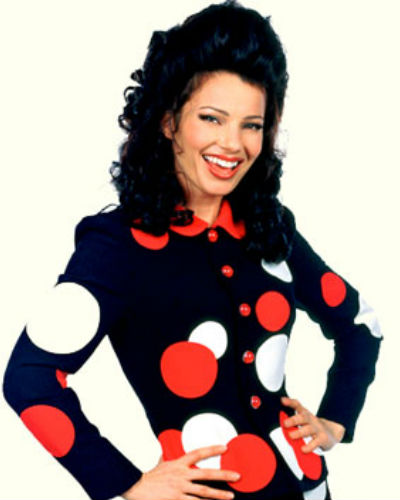 Fran Fine (played by Fran Drescher) is, to out it in colloquial terms, a hoot.
Ballsy, exuberant and possessed of enough chutzpah to sink a battleship, she doesn't let a small thing like being dumped by her boyfriend and employer get her down.
Pulling herself right back up, she travels all the way from Flushing Queens, where she was raised by parents Morty (Steve Lawrence) and Sylvia (Renée Taylor) to sell cosmetics door to door which is where she meets theatrical impresario Maxwell Sheffield (Charles Shaughnessy) and his three kids and accidentally becomes their nanny.
Possessed of a stridently nasal hair and hair big enough to snag passing satellites, she is every bit the woman that the stuffy Sheffield household needs, eventually winning over the kids and Max who marries in the fifth season of the show.
She might keep getting herself into sticky situations, in way over her head, but things usually work out and I can't imagine anyone I would want on my side in difficult or highly embarrassing circumstances.
Watching her on the show was always a complete and utter delight, and while The Nanny may not have been in the same league as Frasier or Weeds, it was always a lot of fun to watch and that was largely down to the irrepressible, loud, gorgeously over the top Fran Fine.
Happy Birthday Fran – may there be bagels and lox aplenty and may Barbra Streisand (aka God) turn up to your party.
 KERMIT THE FROG (The Muppets), born 9 May, 1955
I honestly can't remember a time when Kermit the Frog, reluctant amour of Miss Piggy and the Muppet who helped us to understand "It isn't easy being green", wasn't a part of my life.
If he wasn't interviewing nursery rhyme and fairytale characters on Sesame Street, he was hosting The Muppet Show, starring in a string of successful Muppets movies in the 1980s and acting as the emblem of The Jim Henson Company with whose now sadly deceased founder, Jim Henson, he, ahem, worked very closely.
Possessed of an easy going, affable charm and wry sense of humour which has made him an in-demand interviewee on TV shows everywhere (see below), he got his start in 1955 on Sam and Friends, a five minute show that aired twice a day on WRC-TV in Washington, DC.
His origins, as Jim Henson explained in Christopher Finch's 1993 book Jim Henson: The Works (Random House) were humble:
"Kermit started out as a way of building, putting a mouth and covering over my hand. There was nothing in Kermit outside of the piece of cardboard — it was originally cardboard — and the cloth shape that was his head. He's one of the simplest kinds of puppets that you can make, and he's very flexible because of that… which gives him a range of expression."
He has gone on from those simple beginnings to become one of the most recognised pop culture figures of our time and easily the most famous Muppet of them all (sorry Miss Piggy but you know it's true).
And in just a few months he will be back on the big screen in Muppets Most Wanted, alongside the entire Muppets gang for another madcap, hilariously musical-tinged romp across Europe, and no doubt even further into our affections.
It may not be easy being green but I'm glad Kermit has persevered and stuck around all these years.
Happy Birthday Kermit – my present to you will be a day without Miss Piggy … you're welcome.
 JESS DAY (New Girl), born 13 February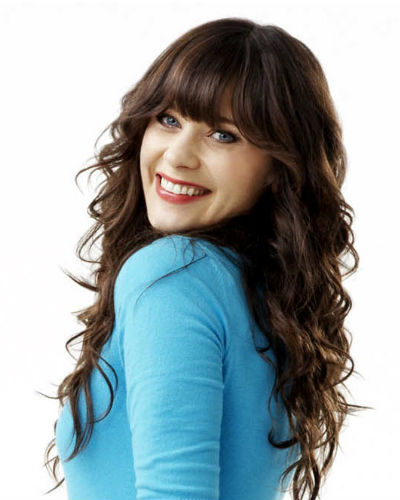 What an irrepressible bundle of joy Jess Day (Zooey Deschanel) is … well most of the time.
When we first met her in the pilot episode of New Girl in September 2011 however, she had just broken up with her long term boyfriend after she found him in their bed with another woman, and was looking for another place to live.
Answering an ad on Craigslist from three guys – Nick Miller (Jake Johnson), Schmidt (Max Greenfield) and Winston Bishop (Lamorne Harris) – the usually quirky, optimistic bubble of joy was a blubbering mess but somehow manage to convince the three guys to let her move in against their better judgement (which had a LOT to do with her best friend Cece, played by Hannah Simone, being a model).
And they haven't looked back, with Jess and Nick now stumbling along in their own charming way in a relationship, still with Schmidt and Winston, the craziest foursome ever to share an apartment.
What I find most delightful about Jess is her total and complete joie de vivre, her willingness to take on life come what may and sort things out as she goes along, no matter how inelegant it may look, all usually accompanied by soundtrack songs she makes up and happily sings out loud.
She is very much her own person, which costs her at times (something with which I can completely identify) and you misinterpret her daffy, sweet persona as a lack of street smarts and intelligence at your peril.
She leads from the heart, can't see why you shouldn't at least give something a go just once, writes Nancy Drew fan-fiction and is the kooky, offbeat friend that I wish I had when I was afraid to go and do all those crazy things I'd like to do but don't because I chicken out at the last minute.
Happy Birthday Jess – we will serenade you with a song of your choosing, accompanied by handbells naturally.