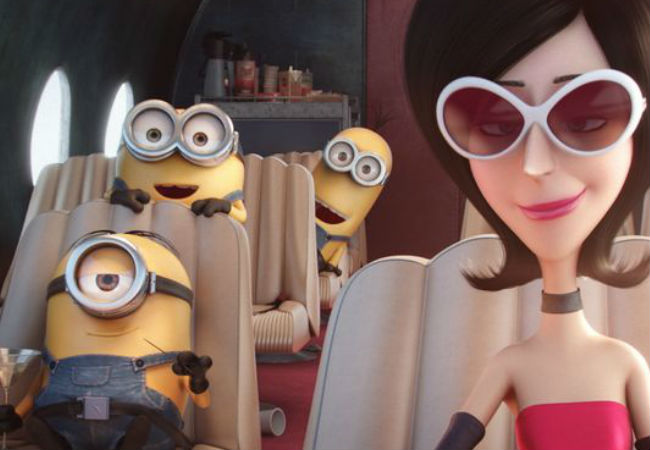 SNAPSHOT
The story of Minions begins at the dawn of time. Starting as single-celled yellow organisms, Minions evolve through the ages, perpetually serving the most despicable of masters. After accidentally killing off so many of them—from T. Rex to Napoleon—the Minions find themselves without a master to serve and fall into a deep depression. But one Minion named Kevin has a plan, and he—alongside teenage rebel Stuart and lovable little Bob—ventures out into the world to find a new evil boss for his brethren to follow. Minions is co-directed by Kyle Balda, of The Lorax previously, and Pierre Coffin, of both Despicable Me 1 & 2 previously. (synopsis via First Showing)
Sandra Bullock is a pretty wonderful woman.
Now granted I don't know that firsthand having never met or stalked her, but all the evidence seems to point to her being one of those lovely down to earth people that sorts her recycling from her general trash, pats passing puppies on their heads, and is as real and normal as a Hollywood star can get.
Her roles, by and large seem to reflect her sweet heart status – although I have to agree with Russ Fischer at Slash Film that applying "the term "America's Sweetheart" is too reductive to apply to someone like Sandra Bullock" – and it is a rare role indeed that grants her the ability to delve into her darker side (assuming she has one, of course).
But it looks like Minions is going to afford her the rare chance to play the role of a fabulous uber-villain, described by the film's producer Chris Meledandri to USA Today as:
"Scarlet Overkill has fantastic hair, wears great clothes and has a lethal uppercut. When we turn her loose on the world, she is going to come out standing on top. … Scarlet has all the gadgetry and accoutrements of villainy. This is a side to Sandra Bullock we haven't seen before. She is really enjoying playing with this villainy. But underneath there's a character you cannot help but fall in love with."
And further fleshed out by  Pierre Coffin (co-director of the film with Kyle Balda) who said:
"Scarlet is an unusual supervillain. She is a dangerously charming woman, which could not have been easy in the late 1960s."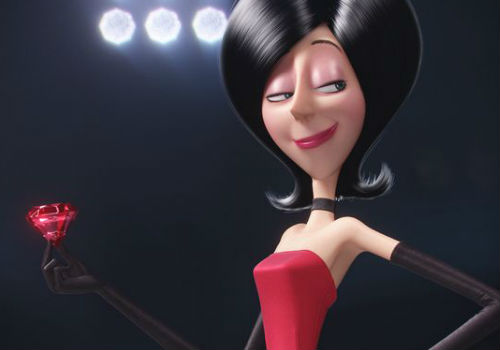 How charming is she?
In an age where misogyny had an unfettered run, Scarlett's husband Herb (voiced by Jon Hamm) takes his wife's surname as his own, an unheard of act in that age of runaway masculinity.
Throw in advanced weaponry and you have the sort of bad ass character that Sandra Bullock is reputedly relishing the chance to play.
It will be interesting how the Minions, who don't have a great track record of keeping their masters in one working piece, fare looking after and serving Scarlett Overkill.
I have a feeling it won't end well and there will be pants lost and egos bruised amid much hilarious klutzy hijinks-ing.
And we will no end up laughing all the way to the Minions memorabilia stand (c'mon how can you not want to own one?!)
Minions opens on 18 June 2015 in Australia, 26 June in UK and 10 July in USA.
First there was the adorable teaser trailer …
And now the equally adorable Super Bowl TV spot where you're encouraged to "Swing those pants baby!" Go on … you know you want to …
And finally the just-released second trailer where the Minions journey to Villain-Con International to find themselves a master …