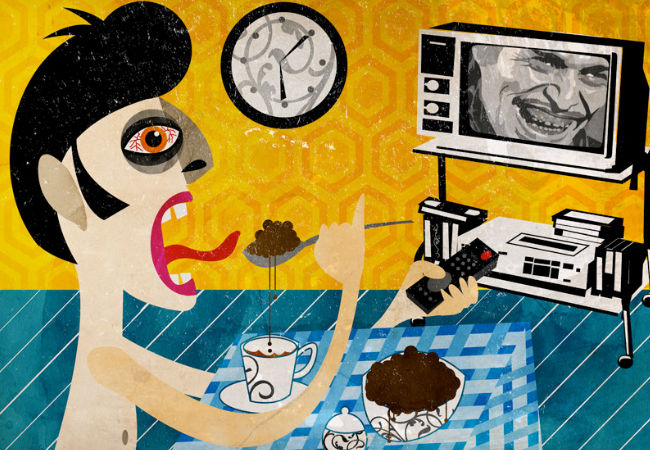 Yes, yes I know what you're thinking … and tweeting … and Facebook status updating.
You have already reminded of six great shows I should be watching and now you want me to take on six more?
To which I reply, with a calmness that is only present before I imbibe copious amounts of Pepsi Max and Skittles – YES.
Because these are not just any six shows.
They're shows that will thrill and intrigue you, make you laugh, take you to places both enchanted and pressingly real, sweep you off your feet with romance and turn things just a little, or a whole lot quirky.
And while I appreciate there are many and varied options in this crazy busy TV-saturated world of ours, here are six programs that will make putting your feet up, grabbing that vat of bottomless popcorn and curling your fingers just so around the remote worthwhile.
Trust me, your PVR will thank you, and you'll enjoy those water cooler conversations – yes I know we're all too busy to actually have them but let's pretend we do just for a moment OK? – a whole lot more.
You're welcome.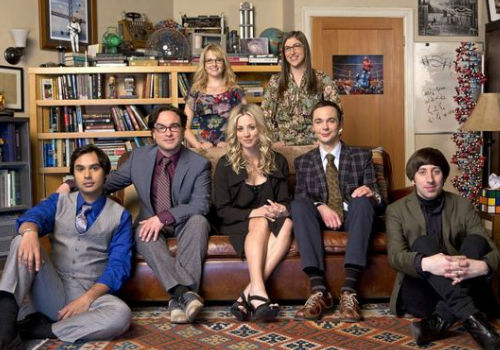 Season 8 already? That's impressive.
And better still, on the air through to at least season 10 in 2017, and still sharply-written, enormously funny, insightful and full of characters we know well who still possess the power to surprise and shock us in equal measure.
That is the mark of a master sitcom – the ability to keep in place what made us last when we first encountered it while growing and developing it, and most important of all, still keep it very, very funny.
While its season 8 debut looked like being delayed by extended contract negotiations, the cast are back on the lot filming new episodes including the first episode of the new season "The Locomotion Interruption" in which Leonard (Johnny Galecki) and Penny (Kaley Cuoco-Sweeting) head off unexpectedly to collect Sheldon (Jim Parsons) from Arizona – his decision to flee Pasadena triggered by Leonard and Penny's engagement and his inability to change his field of study is typically short-lived – and Howard (Simon Helberg) is, to quote the official synopsis "weirded out by Stuart's (Kevin Sussman) relationship with Mrs Wolowitz."
Back in town, Penny lands a cushy job as a sales rep at the medical company Bernadette (Melissa Rauch) works at, excels at it beyond anyone's expectations, her success instigating tensions with her close friend, and in her relationship with Leonard who has always been the one with the better job and higher income.
And what of Raj (Kunal Nayyar)? And Amy (Mayim Bialik) and Sheldon? Will the former find everlasting love at last with Emily (Laura Spencer), and and will the latter's idiosyncratic take love true love follow a smooth and trouble free path?
Likely not, and of course not but where would be the fun or laughs in everything going smoothly?
The Big Bang Theory returns with season 8 on September 22 on CBS.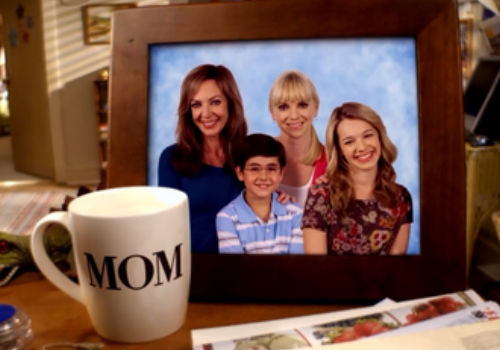 MOM was one of the true surprises of the last season.
Its initial promo trailer suggested a show that would be light and frothy, drawing its humour from flawed characters – the two existing moms of the show, Christy Plunkett (Anna Faris) and her mother Bonnie (Allison Janney), and the main figures on the show, are both recovering drug and alcohol addicts – and the absurd situations that these kinds of trenchant addictions would inevitably lead to.
While Christy had a job as a waitress and two kids from two failed relationships who looked clean and well fed – even if one of them, daughter Violet (Sadie Calvano) managed to get herself in the family way fairly quickly thus ruining the sort of perfect family vibe Christy was idealistically shooting for – and the premise of MOM made it clear that both women were trying to stick to their sobriety, it still looked as if  it might be the type of sitcom to settle for cheap and easy laughs.
But then the pilot came out and totally surprised me.
MOM, while unafraid to draw humour from the complications that ensue from having two recovering addicts in the one family, also demonstrated that it could, and would treat the actual addictions themselves in a serious and considerate manner.
Here was a sitcom with lots of laughs, intelligence, and a social conscience that deftly balanced the complications of lives always a shot away from disaster, that sensitively handled falling off the wagon, that knew when it was appropriate to make a joke and when compassion and thoughtful commentary was needed instead.
And now this marvel among sitcoms, which possesses the sort of funny/serious soul that made Frasier such a delight, is back for season 2 with Christy taking in a newly recovering alcoholic Jill (Jaime Pressly), Bonnie, who you might recall kissed Christy's dad Alvin (Kevin Pollak) while he was in hospital, giving her daughter grief about her poor financial decisions in the first episode hilariously-titled "Hepatitis and Lemon Zest".
MOM returns for its second season on September 29 on CBS.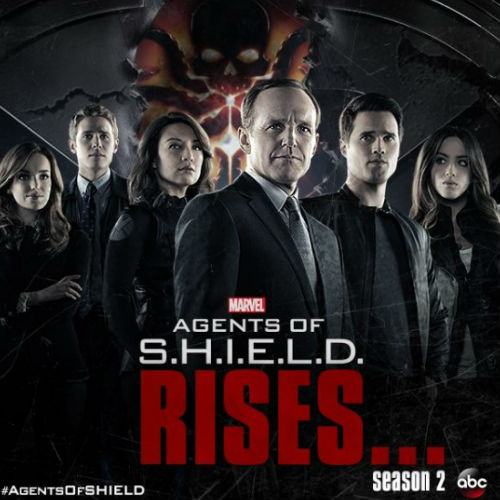 This is one series that grew on me as the first season progressed.
A lot of that had to do with the growth of the show, which while drawing on the rich mythology of the Marvel Cinematic Universe – hitherto only seen on the big screen in movies like The Avengers and Thor and Iron Man – failed to feel like anything other than a tissue-thin adventure of the week series with weakly-drawn characters.
But then somewhere around the middle of the first series, which centred on a team of S.H.I.E.L.D. agents led the once-dead-now-not Agent Coulson (Clark Gregg), doing their best to keep humanity safe from evil in forms both terrestrial and otherwise, Marvel's Agents of Shield found its narrative feet, fleshed out its characters to the point where you cared about them, and turbo charged towards a finale which, drawing on the events of Captain America 1 and 2, dealt with the almost-fatal attacks on S.H.I.E.L.D. by the tentacled-nastiness of Hydra.
The dramatic events at the end of the much-improved show's first season left Grant Ward (Brett Dalton) revealed as a conflicted Hydra agent, is protege and S.H.I.E.L.D. newbie Skye (Chloe Bennet) grappling with his loss as her mentor and the knowledge she is not the woman she thought she was, Leo Fitz (Iain De Caestecker) barely alive and his close colleague and possible love interest Jemma Simmons (Elizabeth Henstridge) fearful, and tough-as-nails Agent Melinda May (Ming-Na Wen) trying to re-build trust with Coulson now head of what's left of S.H.I.E.L.D.
With so much undone and left in the air as season 1 closed, there is a great deal to be done in season 2, as Buddy TV makes clear:
"What language was Agent Coulson writing on the wall? How will S.H.I.E.L.D. operate now that it's under attack from all sides? Can Ward be redeemed? Should he? And just what is going on with Skye? Who are her parents and what powers does she have?"
Intrigued yet? You should be!
And you should definitely tune in when Marvel's Agents of S.H.I.E.L.D. returns for second season on September 23 on ABC.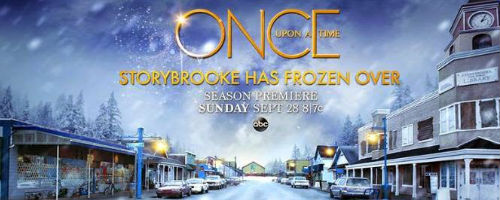 Once Upon a Time is a show that appeals to me largely because it does a superlative job of taking characters from a slew of mythological origins – many which fall within the purview of Disney which owns the network is screens on, ABC – and with some clever writing, an eye for a good often melodramatic storyline (it is a fairytale-based show after all) and some post-modern narrative-mixing nous, gives them a thoroughly pleasing, modern shine.
Based on the idea that all the fairytale characters we know and love such as Snow White (Ginnifer Goodwin) and Prince Charming (Josh Dallas), Rumplestiltskin (Robert Carlyle) and red Riding Hood (Meghan Ory) to name a very few, have been transported from the magical lands of old to our magic-free grim reality in the town of Storybrooke, thanks to a curse enacted by the Evil Queen (Lana Parrilla), and given far more prosaic every day names and occupations.
With the curse broken at the end of season 1, and thus the show's central conceit removed, Once Upon a Time did a brilliant job of re-inventing itself as an adventure tale that took advantage of the fact that each character retained both their fairytale identity and their real world identity, with no readily-apparent happy ever after in sight.
With the characters returned to their original worlds, and then back to a re-created Storybrooke with their memories of the previous year mysteriously expunged, it was up to the daughter of Snow White aka Mary Margaret Blanchard and Prince Charming aka David Nolan, Emma Swan (Jennifer Morrison) to save the day once again.
Season 4 kicks off with a decidedly Frozen flavour, not surprisingly making use of the phenomenon that is Disney's biggest animation hit in years, if not ever, with the Ice Queen Elsa (Georgina Haig) arriving in town and making things uncomfortable for everyone.
And she has plenty of company as The Hollywood Reporter makes clear:
"Frozen is getting a major presence on Once in the new season with a flurry of familiar characters as it picks up after the events of Disney's Oscar-winning movie: Anna (Elizabeth Lail), Kristoff (Scott Michael Foster), Prince Hans (Tyler Jacob Moore) and Pabbie the Troll King (John Rhys-Davies). Lost alumna Elizabeth Mitchell appears in a mysterious Frozen-related role."
Cynical riding of Frozen's coattails or not, it's an interesting storyline and gives Once Upon a Time another interesting direction in which to head.
Once Upon a Time's fourth season will ice its way into your TV rooms on September 28 on ABC.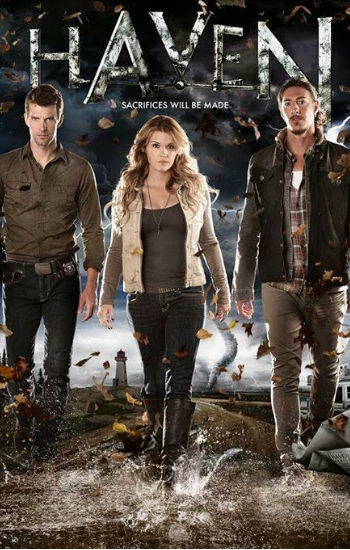 You could forgive the denizens of the unusual town of Haven for wanting to warble "Nobody knows The Troubles I've seen, nobody knows The Troubles".
For each and every one of them exists in a universe where their supernatural abilities and mysterious past – in the case of lead character FBI agent Audrey Parker (Emily Rose) a past that has had many incarnations, the first of which Mara is crazy evil personified – are held in check by the town's magical properties.
This doesn't of course stop all manner of dramatic goings-on affecting them, and through the first four seasons, Audrey, along with colleague police detective Nathan Wuornos (Lucas Bryant) and mutual friend Duke Crocker (Eric Balfour), had had to grapple with mysteries aplenty, most prominently who she is exactly and why she keeps finding herself changed and without any memory of her previous lives.
It's a very clever show that nicely balances mystery-of-the-week cases with an overarching, skilfully executed mythos, making it accessible to both the diehard fan and the casual viewer alike.
Season 5, which is a super-sized 26 episodes split over this year and the next, sees good and noble Audrey, a woman with a penchant for helping the Troubled with their affliction/gift, subsumed under her original decidedly evil persona of Mara with Nathan doing his best to bring her back to the fore.
Meanwhile Duke is trying hard to not let his own Troubles consume him, an increasing difficult and demanding battle he is struggling to win.
Haven season 5 premieres on September 11 on syfy.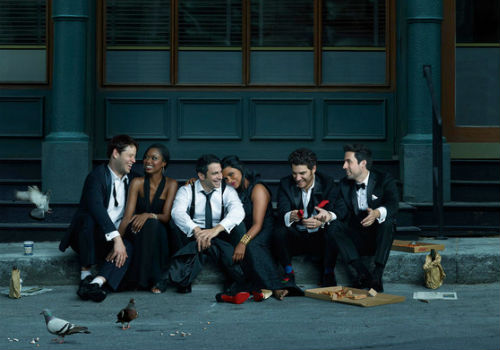 The Mindy Project is many things.
Cleverly written, beautifully acted and overseen by one of the most original comedic voices at work in the world of sitcoms today – Mindy Kaling (also the author one of the funniest books, Is Everyone Hanging Out Without Me?, I have read in a while).
But it is also a good old fashioned romantically-inclined ensemble workplace comedy, one that harkens back the good old days when U.R.S.T. (Unresolved Sexual Tension) was king or queen, and we waited with baited breath for the couple in question, held apart usually by every narrative device under the sun, to finally realise they were meant for each other.
Of  course as shows like Moonlighting illustrate all too well, that is usually when we stop watching too, our longing for a happy ending neatly resolved, love true love conquering all including endless plot devices.
So now that Danny (Chris Messina) and Mindy Lahiri (Mindy Kaling) are together, you can only hope that, unlike New Girl which faltered when it brought Jess (Zooey Deschanel) and Nick (Jake Johnson), unsure of where to head next, that The Mindy Project can use their reunion to good effect and not drift off into the sitcom abyss.
One thing in favour of this outcome being likely is that Kaling is a gifted writer, honing her skills on The Office which had to navigate a similar conundrum which it managed to do far better than other projects that attempted the "Union Plot Manoeuvre"; another is that both Danny and Mindy are very strong characters who won't dissolve into one large amorphous romantic blob.
Well not without a great deal of butting of heads and bashing together of iron wills (as the promo trailer illustrates all too well).
All of which should make the upcoming third season, which features guest appearances by showrunner Shonda Rhimes (Grey's Anatomy, Scandal) and Alison Tolman (Fargo) and very entertaining indeed.
The Mindy Project premieres season 3 on September 16 on Fox.