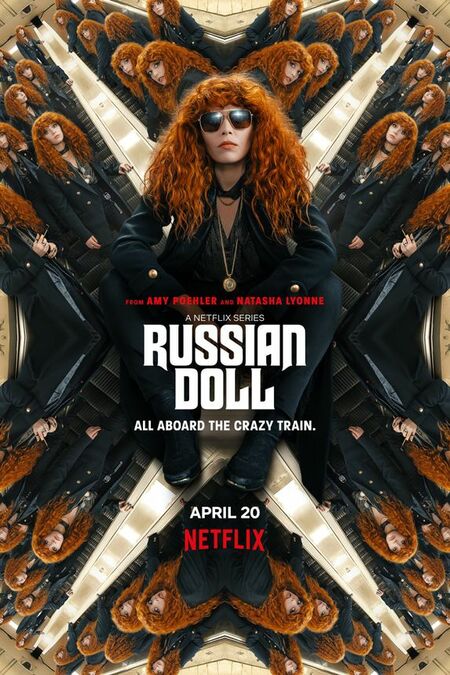 SNAPSHOT
"Discovering a fate even worse than endless death, this season finds Nadia and Alan delving deeper into their pasts through an unexpected time portal located in one of Manhattan's most notorious locations, the New York City subway," the official Season 2 synopsis reads. "At first they experience this as an ever-expanding, era-spanning, intergenerational adventure, but they soon discover this extraordinary event might be more than they bargained for and, together, must search for a way out."

The Emmy-winning series returns with Lyonne serving as showrunner and executive producer and is also executive produced by Alex Buono, Amy Poehler (Paper Kite Productions), Leslye Headland, Lilly Burns (Jax Media), Tony Hernandez (Jax Media), Dave Becky (3 Arts), Kate Arend (Paper Kite Productions), Regina Corrado, and Allison Silverman. Russian Doll is also produced by Universal Television, a division of Universal Studio Group. (synopsis courtesy IndieWire)
The first season of Russian Doll was a timey-wimey (thank you Doctor Who's Tenth Doctor), gloriously trippy existential fiesta that packed the mother, father and entire family of emotional punches but without taking itself too seriously as I noted in my review:
"Co-produced by the talented Amy Poehler, Russian Doll doesn't attempt to solve the mysteries of life or death or to add to the idea that "42" is the meaning of life, and while there will likely be those who want to read a lot more into it, this brazenly fun and clever show seems content to eschew great existential lightbulb moments in favour of brilliantly-lucid moments of humanity which at its best is funny, silly, sad, enlightening and confusing, and an ending which may not make immediate sense but which is heartwarming and uplifting in ways you don't necessarily need to explain."
So, the fact that we are being treated to a pandemic-delayed second season, right at a point where time itself seems screwed up beyond all comprehension and normal is an arbitrary term that defies adequate or consistent description, is the kind of gift that should be celebrated from the rooftop.
In the '80s. Or '90s. Or whenever the hell it is that Nadia, played with vulnerable chutzpah by Natasha Leyonne, finds herself in a season, set four years after the first, in which she finally has to admit to herself that "The universe finally found something worse than death … I broke time."
Quite where it will all lead, likely all over time and space which will be half the fun (unless, of course, you're Nadia) is anyone's guess but no doubt it will be quite the (subway) ride!
Russian Doll season 2 drops 20 April 2022 on Netflix.