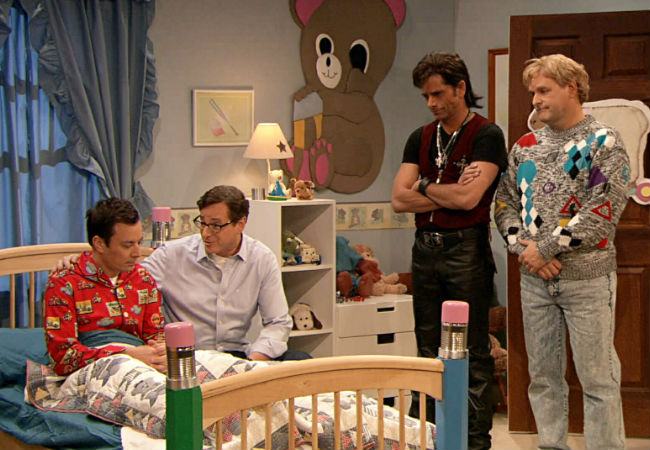 I am quite the contrary creature when it comes to reunions of the casts of TV shows I liked, or music artists I adored or movies that made quite the impression on me back in the day.
While I love the chance to have fresh material or one those slightly disorienting "Where are they now?" moments where you simultaneously feel eternally young and as old as the hills, I baulk at having my memories tampered with, or being reminded that these usually much older, lovely and talented though they may still be, are not the people trapped fast in the quicksands on my nostalgia.
It's why I don't really want ABBA to reform for a concert (although fronting up at this year's Eurovision Song Contest to smile, talk and look charming is totally fine; see I told you – contrary!) or Robert Wagner and Stephanie Powers to make any more Hart to Hart sequels or Tom Hanks and Meg Ryan to make another of their charming rom coms.
I want it but I don't and therein lies the conundrum.
And yet, when someone like Jimmy Fallon, who is about to step into Jay Leno's legendarily talented shoes on The Tonight Show, decides to bring together Bob Saget (Danny Tanner), John Stamos (Jesse Katsopolis) and Dave Coulier (Joey Gladstone) from TV's Full House, which ran from 1987 to 1995 I am totally all for it.
And why?
Because it's Jimmy Fallon people!
The man who creates FUNNY out of nothing, who's skits are hilarious without fail and who, at 39 can still look like a scared lost little kid afraid to do something new and different … he can do wrong and so it is with this inspired homage to Full House, which recreates Michelle Tanner's bedroom, right down to the pencil bed and the giant bear on the wall.
While Mary-Kate & Ashley Olsen who played Michelle Tanner couldn't make it (nor could, it seems, Candace Cameron as Donna Jo "D.J." Tanner or Jodie Sweetin as Stephanie Tanner), Joey was back in all his goofy, lurid '80s sweaters glory as was his puppet friend Mr Woodchuck.
And of course none of the three men of the Tanner household had lost one gram of wisdom or their ability to soothe even the most out of control of fears.
It was one reunion that worked a treat and left me feeling much better about the world, reunions aversion be damned!
* And Where Are They Now? you might ask when they're not on Jimmy Fallon? Perhaps this will help …
* And that is not all! The three Full House men also reunited for a Dannon Oikos Yoghurt ad for this year's Superbowl telecast …