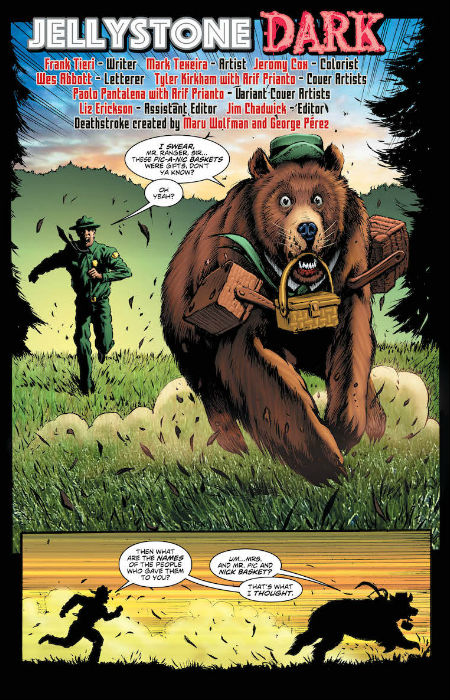 SNAPSHOT
In Yellowstone Park, legends speak of a spirit bear referred to as "the Yogi," which few if any have actually encountered. Real or not, when a bear seems to have graduated from stealing picnic baskets to kidnapping actual campers, Ranger Smith decides it's time to stop this menace—so he calls on the services of Slade Wilson—a.k.a. Deathstroke—to get the job done. Plus, part one of a Secret Squirrel backup story written by J.M. DeMatteis. (synopsis via Newsarama)
The latest addition to DC's re-imagining of Hanna-Barbera's roster of instantly-recognisable cartoon characters is good old Yogi Bear, who is supposed to be smarter than the average bear.
But is he smarter than the classic DC mercenary and assassin Deathstroke who has acted as an adversary to all kinds of people, most notably the Teen Titans and specifically Dick Grayson, Batman and Green Arrow.
That's the story explored in the latest DC- Hanna Barbera comic crossover in which Yogi Bear goes dark, real dark, which when you think about it, jocular cheekiness aside, was always there beneath the surface in the original cartoons.
Quite whether it will work as well as other updates remains to be seen but so far the strike rate has been pretty high – Scooby Doo Apocalypse and The Flintstones being brilliant example and so hopes are high.
Off to the comic book store we go then Boo-Boo!
Jellystone Dark is currently available.