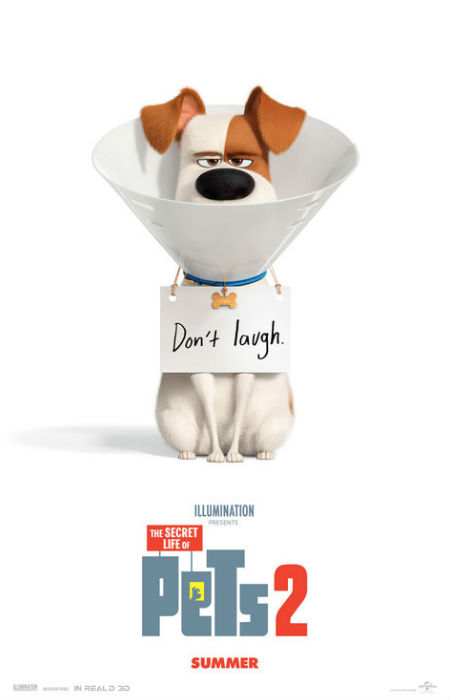 SNAPSHOT
The Secret Life of Pets 2 will follow summer 2016's blockbuster about the lives our pets lead after we leave for work or school each day. Illumination founder and CEO Chris Meledandri and his longtime collaborator Janet Healy will produce the sequel to the comedy that had the best opening ever for an original film, animated or otherwise. The Secret Life of Pets 2 will see the return of writer Brian Lynch (Minions) and once again be directed by Chris Renaud (Despicable Me series, Dr. Seuss' The Lorax). (synopsis via official The Secret Life of Pets site)
Max is back everyone!
Unfortunately for him, he's back … at the vet, a behavioural vet in fact who has a raft of, well let's just say, challenging clients.
Voiced this time by Patton Oswalt – Louis C. K. has for, obvious reasons, lost a what is a plum family film gig – the sequel looks like it has all the inestimable fun charm of the original with the ability to go even bigger and wider since we know all the characters so well already.
The Secret Life of Pets, which released in 2016, was a beguiling mix of silliness, charm and sass, which gave us some wonderful and hilarious insights in to what our pets are doing, or what we imagine they're doing anyway, when we're not around.
It'll be fun to see what they're up to now and no doubt given the success of the first – Paste Magazine notes that "[t]he first The Secret Life of Pets scored a massive $104 million opening weekend, which, per Box Office Mojo, makes it the all-time highest opener for an original film, either animated or live-action" – there'll be a lot of people feeling the same way.
The Secret Life of Pets 2 opens UK on 31 May 2019, US on 7 June 2019 and Australia on 20 June 2019.