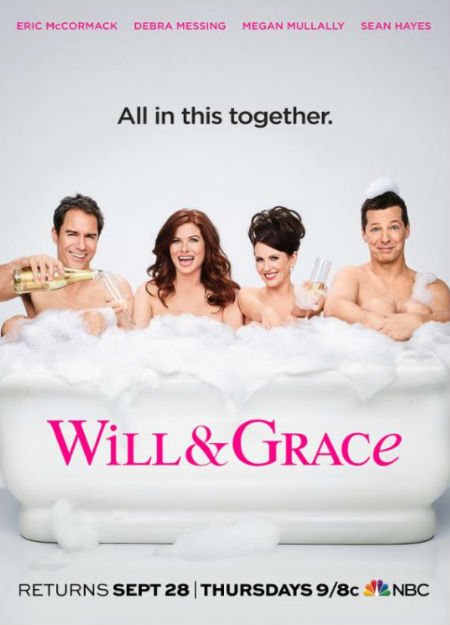 It began with a short skit during last year's blighted US presidential campaign, became a revived TV series with a teaser trailer,  and now Will & Grace, whose ninth return season (it's first since 2006) episode count was upped from 10 to 12 and then 16, has now been given a 13-episode 10th season!
That's right, honey, yep, ah-huh, you are not imagining this.
With a commitment to keep telling the stories of four close New York friends, two of whom happen to be gay – the show's co-creators David Kohan and Max Mutchnick are very clear that Will & Grace has always been less an agenda show than simply a reflection of a changing society where LGBTQI are now accepted far more than ever before; though, of course, significant issues remain – Will & Grace will continue to represent society in all its messy, contrary, and oft times, very funny glory.
As Mutchnick told EW, the process of bringing everyone together again took no time at all and was as wonderfully organic as you could hope for:
"The strangest thing about it is how comfortable and natural everybody has been with the whole thing. We did this having not seen each other for 10 years and then decided one day to show up to work and got right back to it. Here we are. That's a pretty bizarre thing."
With a commitment to address the future what-if sequence that ended the show's original run – it will include the four single friends back living in New York as if they never left, and the absence of Grace's theatrical mum(played by the late Debbie Reynolds), the return of Will & Grace is all about our sitcom dreams come true, the premiere of its first revival episode just around the corner (where, no doubt, Karen will find something enticing to lift her mood).
Will & Grace season 9 premieres on 28 September on NBC and will air in Australia on streaming platform Stan.