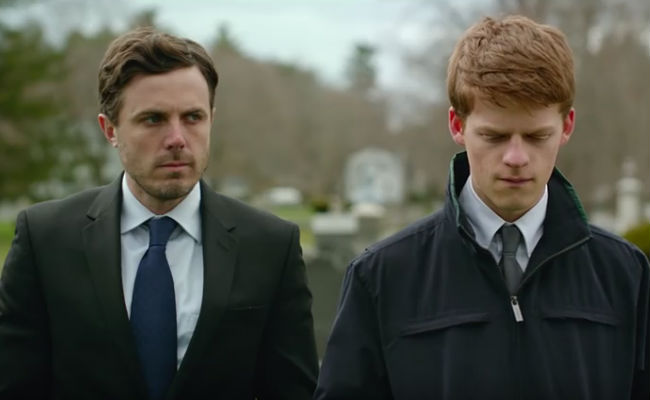 SNAPSHOT
After the death of his older brother Joe (Kyle Chandler), Lee Chandler (Casey Affleck) is shocked to learn that Joe has made him sole guardian of his nephew Patrick (Lucas Hedges). Taking leave of his job, Lee reluctantly returns to Manchester-by-the-Sea to care for Patrick, a spirited 15-year-old, and is forced to deal with a past that separated him from his wife Randi (Michelle Williams) and the community where he was born and raised.   Bonded by the man who held their family together, Lee and Patrick struggle to adjust to a world without him. In his first film since 2011's acclaimed Margaret, Lonergan once again proves himself a powerful and visionary storyteller as he seamlessly weaves past and present together, crafting a tension-filled tale that deftly eschews sentimentality in favor of penetrating emotional insight and deeply affecting human relationships. (official synopsis via Slash Film)
Hollywood would have you believe that grief is a quick, easy process.
That all it takes to get over the death of someone desperately close to you is some time, a meet cute or hobby and voila, grief falls cleanly away and life is humming along as it was before.
But therein lies the fallacy – life never looks the same again after you lose someone you love dearly (trust me I just lost my dad and I don't even recognise my life anymore) and Manchester by the Sea, directed by the impressively talented Kenneth Lonergan and the darling of this year's Sundance Film Festival seems to appreciate that if the review by Angie Han of Slash Film is anything to go by:
"It's easy to imagine a version of this story that smooths over ugly, raw emotions in service of a happy ending, or, alternately, a version of this story that devolves into simple misery porn. Manchester by the Sea takes a more humane approach, guided by Lonergan's deep empathy for his characters. The world around Lee may judge the way he reacts to the blows life has dealt him, or may not even realize what he's dealing with in the first place. But Lonergan presents a portrait of grief that feels almost honest in its ugliness, because it feels truthful. Redemption and hope are hard to come by for these characters, but they're apparently nearly as impossible to extinguish completely."
No grief isn't easy or clean – it's messy and unpredictable and wildly uneven but it also comes with hope and if nothing else that's worth hanging onto tightly.
Manchester by the Sea opens 18 November in USA.