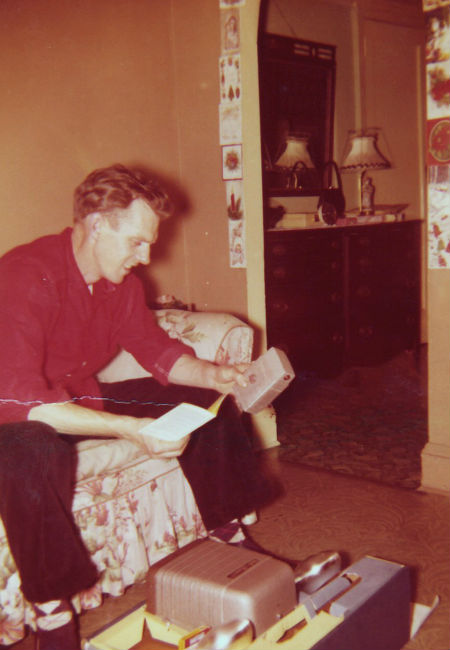 From indie to mainstream, and somewhere pleasingly in-between, this mixed bag of trailers offers pretty something for everyone.
While I am, as always, partial to festival-friendly movies, I am willing to also believe that Jason Segel and Cameron Diaz can be funny, and that Luc Besson's movie will make some sort of sense even as it looks all kinds of bewitchingly wonderful.
So dive right on in, check them all out and find if anything appeals in this latest cinematic lucky dip of trailers …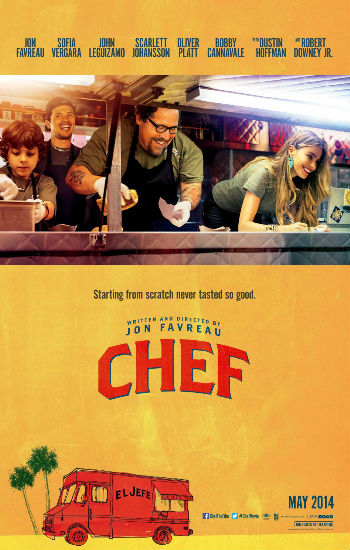 SNAPSHOT
Chef Carl Casper (Jon Favreau) suddenly quits his job at a prominent Los Angeles restaurant after refusing to compromise his creative integrity for its controlling owner (Dustin Hoffman), he is left to figure out what's next. Finding himself in Miami, he teams up with his ex-wife (Sofia Vergara), his friend (John Leguizamo) and his son to launch a food truck. Taking to the road, Chef Carl goes back to his roots to reignite his passion for the kitchen — and zest for life and love. (synopsis via Coming Soon)
There was a time at the start of his career when Jon Favreau was known for small, intimate indie films like Swingers and Made, that focused on well-constructed characters in tightly woven plots doing their best to figure out the confusing tangles of their lives.
They were clever, witty and insightful, slice of life dramas with comedic stylings, popular with people looking for movies that had some substance to them.
As his career progressed, and he moved into more mainstream fare such as the Iron Man franchise, his films naturally got bigger, louder and more blockbuster-heavy and yet never quite lost that attention to detail or willingness to laugh at themselves, even a little.
It's this eye for fully-fleshed out characters, intelligent plots and witty banter that made the Iron Man series of films one of the few blockbuster franchises I have time for, and which is back front and centre in Favreau's new film Chef, which combines an indie sensibility with some big name Hollywood stars such as Robert Downey Jr., Dustin Hoffman and John Leguizamo.
And he appears happy to be back in Indie Land as this quote from his introduction to Chef's screening at this year's SXSW Festival makes clear:
"You can do smaller movies again. You can make movies that aren't just about fantasy and escape."
It's everything I have ever loved about this talented director/screenwriter/actor and makes me excited about seeing Chef which opens in general distribution in USA on 9 May 2014.
(source: Indiewire)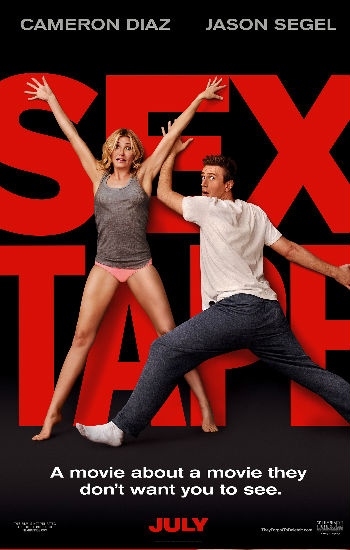 SNAPSHOT
When Jay (Jason Segel) and Annie (Cameron Diaz) first got together, their romantic connection was intense – but ten years and two kids later, the flame of their love needs a spark. To kick things up a notch, they decide – why not? – to make a video of themselves trying out every position in The Joy of Sex in one marathon three-hour session. It seems like a great idea – until they discover that their most private video is no longer private. With their reputations on the line, they know they're just one click away from being laid bare to the world… but as their race to reclaim their video leads to a night they'll never forget, they'll find that their video will expose even more than they bargained for.  (synopsis via Coming Soon)
I am always wary of a big blockbuster Hollywood comedy.
Not because I don't think the actors in it aren't capable of being funny – clearly Diaz (There's Something About Mary, The Other Woman) and Segel (Forgetting Sarah Marshall, How I Met Your Mother) both have comedic nous in spades – or because I'm worried that the movie won't be topical or interesting or have something to say (Sex Tape explores the dangers of the Cloud where everything is available to everyone).
It's usually because so many comedies, even the ones with an imaginative premised either use far too much gross out or raunchy humour – I'm no prude but if this is the only source for the film's humour, it isn't showing much creative flair – or recycle jokes or obvious set-ups we have seen in a thousand other films.
Even films by comedy greats like Judd Apatow, who isn't always to my taste but who at least tries to come up with semi-original ideas with which to tickle our funny bones, rarely hit the mark to the point where you can't wait to rush out and tell your friends to go and see the movie!
For some reason, and frankly I'm not sure why it is, but I have a feeling that Sex Tape could at least be entertaining, even if the script is so-so, largely because Diaz and Segel are both capable of being both verbally and slapstick-heavy funny, a major advantage in a film that suggests both comedy styles will be heavily in play.
I am even willing to leave aside the rather obvious question about why they didn't password protect their cloud site so people could only gain access once they let them in, so funny does it possibly seem to be.
I guess we'll find out just how funny guffaws per gag are to be had when Sex Tape opens in USA on 25 July 2014 and 31 July in Australia.
(source: Mashable)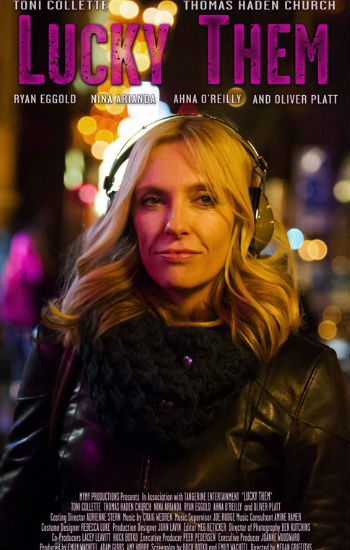 SNAPSHOT
More interested in partying and flirting with young musicians than work, veteran rock journalist Ellie Klug (Toni Collette) has one last chance to prove her value to her magazine's editor: a no-stone-unturned search to discover what really happened to long lost rock god Matthew Smith, who also happens to be her ex-boyfriend. Teaming up with an eccentric amateur documentary filmmaker (Thomas Haden Church), Ellie hits the road in search of answers. (synopsis via Coming Soon)
I am fairly confident there is almost nothing I don't like Toni Collette in.
Gifted with dramatic and comedic chops of the highest order, and the ability to bring appealing nuance to every character she plays, I have happily followed her from The Sixth Sense to About a Boy and The United States of Tara, and now to Lucky Them, the latest film from director Megan Griffiths (Eden, The Off Hours).
My anticipation has been further heightened by the last chance at redemption plot – Collette excels at playing characters near rock bottom who have very little left in reserve and w hole lot to lose should their current attempt to get their life in order fail – and the involvement of impressive acting talents like Oliver Platt and Thomas Haden Church.
It's Collette's first major leading role in quite some years and it looks like she has chosen well for her return cinematic vehicle with Justin Chang at Variety only having good things to say about the film:
"The journey proves as rewarding as the destination in "Lucky Them," a low-key charmer starring Toni Collette as a rock critic searching for the musician who mysteriously vanished 10 years earlier, abandoning her and his many fans. That may sound like a too-tidy road-trip setup on paper, but any excuse to stick Collette in an RV with Thomas Haden Church (as an amateur documentary filmmaker who tags along) turns out to be a good one in this terrifically acted dramedy directed by rising talent Megan Griffiths. Spiked with humor and lovingly set against Seattle's indie-music scene, the film should enjoy a modest theatrical run before settling into smallscreen rotation."
Lucky Them, which had its worldwide premiere at the Toronto Film Festival in September 2013, has just screened at the Tribeca Film Festival before opening wider in USA in May this year.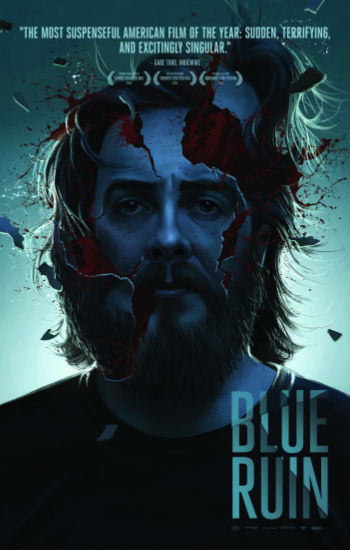 SNAPSHOT
Blue Ruin is a classic American revenge story that recently won the FIPRESCI International Critics Prize at the Cannes Film Festival where it screened in the Directors' Fortnight. The film follows a mysterious outsider whose quiet life is turned upside down when he returns to his childhood home to carry out an act of vengeance. Proving himself an amateur assassin, he winds up in a brutal fight to protect his estranged family. (synopsis via Coming Soon)
I am always pleased when a movie decides to take a very well worn genre and have some out of the box fun with it.
In this case, it's the almost overdone crime thriller, a staple of Hollywood since time immemorial, which gets the unorthodox treatment from writer/director Jerry Saulnier, an storytelling experiment which has evidently paid off with Blue Ruin generating all manner of buzz from critics worldwide after its premiere at the Cannes Film Festival last year and an almost unheard of 100% ranking on Rotten Tomatoes.
Fred Topel from Crave Online is one of those critics and had this to say about the different approach that Blue Ruin brings to the crime thriller genre:
"The film addresses expository exchanges in a fresh way, and those revelations are both true to life and true about conventions of cinema. We take certain things for granted in revenge stories so when a character points it out or alludes to it, we can question the assumptions of storytelling while we absorb the information. When Dwight gets more information, it shifts the paradigm or at least complicates it. Even what you think you know about the setup is wrong."
This kind of near unanimous film loving bodes well for not just a consistently good movie but one that has the potential to surprise and delight you, an always welcome development when you see as many movies as I do.
Blue Ruin opens in USA on 25 April 2014, followed by UK on 2 May.
SNAPSHOT
From La Femme Nikita and The Professional to The Fifth Element, writer/director Luc Besson has created some of the toughest, most memorable female action heroes in cinematic history. Now, Besson directs Scarlett Johansson in Lucy, an action-thriller that tracks a woman accidentally caught in a dark deal who turns the tables on her captors and transforms into a merciless warrior evolved beyond human logic. (synopsis by Coming Soon)
Luc Besson is blessedly, wonderfully, delightfully, fantastically idiosyncratic as hell, with an eye for a good story quirkily told.
His thoroughly left of centre visual and narrative movie making style won me over in a big way when I saw The Fifth Element, a sci-fi masterpiece that is loopy, wacky and plain gaga bananas but which works brilliantly, beguiling you every step of the way.
It's a pity that more film makers aren't willing to push the envelope as finely and far as Luc Besson does as a matter of routine.
He has now brought his innovative eye to the story of Lucy, the story of a woman thrust into a frightening situation in which she will either sink or swim.
This being a Besson flick, there is little doubt that she will not only swim but win a few gold medals, leapt onto the podium and take out all her competitors with a single flick of her very angry wrist.
And that it will all be done in the wildly imaginative way possible.
Lucy opens in USA on 8 August 2014 with UK following on 22 August.