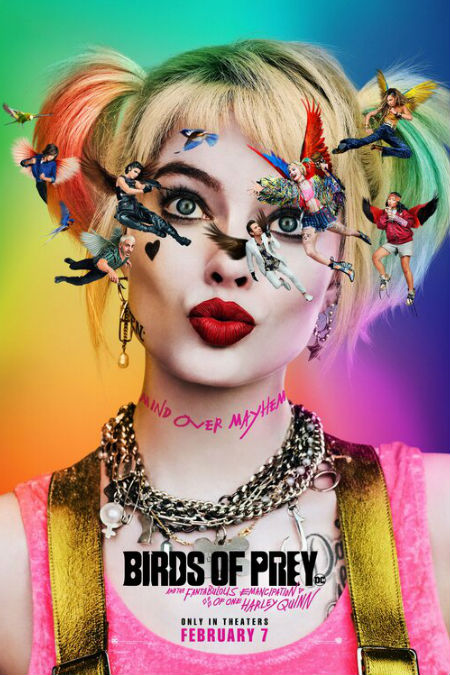 If you have ever wondered, and how could you not have, what it would be like to be plunged headfirst into gloriously twisted cartoonish mind of one Harley Quinn, then your answer, all one hour and 49 minutes is before you in the form of a garishly gorgeous film once called Birds of Prey and the Fantabulous Emancipation of One Harley Quinn.
Now rather unimaginatively retitled Harley Quinn: Birds of Prey, the result of Warner Bros. seemingly freaking out about the movie's poorer-than-expected showing at the box office in the U.S. – by way of contrast, the film is currently sitting snug at the number 1 position in Australia – the Margot Robbie project (she stars as the titular character) is a kaleidoscopically-violent trip into the gothically trip world that the character inhabits.
Now broken up with the Joker, the former psychiatrist-turned-colourful criminal is at first footloose and fancy free, happy to party until she is paralytic drunk in the ecstatically-brilliant nightclub of Gotham City's leading mobster, Roman Sionis (Ewan McGregor), to prance merrily through the streets setting fireworks-level fire to the chemical plant where she pledged her true manic love to the Joker, and to caress a bacon and cheese, hangover-ameliorating sandwich as if it is the most important thing in the world.
In fact, it is, and when the one upright cop in the Gotham City Police Department, Renee Montoya (Rosie Perez), surprises Harley Quinn with an arrest out of the blue so unexpected that the sandwich becomes roadside collateral, her world begins to implode, a sign that perhaps she's not handling the loss of her once-beloved fellow criminal all that well.
In Robbie's hands, Harley Quinn is both comedically wacko and a genuinely griefstricken person struggling to come to terms with losing the love of her twisted life, and as we watch her zigging and zagging from an array of disgruntled foes for whom she is now fair game since she's no longer under the Joker's fearsome protection, it becomes clear that here is a very broken, very fallible human being.
It's a masterstroke to imbue her with such grounded humanity right from the get-go because entertaining though she is, and she is captivatingly so all the way through a movie in which she is virtually in every scene, she is a LOT to take in.
A … LOT.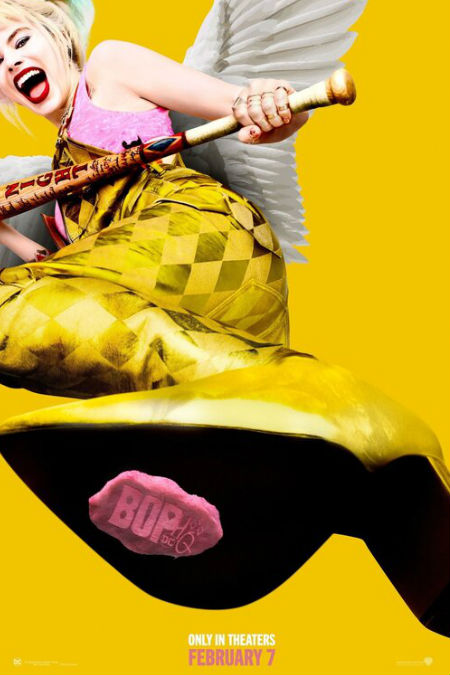 But honestly you don't mind because thanks to judiciously and playfully exercised exposition and a bravura performance by Robbie that channels a herd of rainbow-glitter drenched unicorns on speed, Harley Quinn is a freakishly-fun joy to watch.
Every movement is exaggerated, every emotion writ large and draped in vibrantly blinking neon, and every word spoken, and it is all cutting edge and exuberantly funny – kudos to screenwriter Christina Hodson for a screenplay that shimmers and sparkles and throw its verbal weight around with heady, giddy and wholly clever aplomb – and as a result you fall headlong in love with Harley Quinn and her thinly-disguised aching bruised humanity.
She is flawed to an almost broken extent but she is also possessed of enough nous and street smarts to know what needs to be done to protect herself, protect a much in-demand young teenage girl who comes into her charge (Cassandra Cain played by Ella Jay Basco) and to be likable enough that the likes of Black Canary aka Dinah Lance (Jurnee Smollett-Bell) and Helena Bertinelli / Huntress (Mary Elizabeth Winstead) are willing to work with her (though not without some profound misgivings).
It's this mix of cartoonish manic hilarity and wounded personhood that makes Harley Quinn so compelling, a necessary thing in a film that for all its plus points – vividly-realised characters, balletically-rich action scenes, a wired, totally left of centre ethos and dialogue so good you will wish you could memorise it all and perform as well as the actors charged with their delivery do – suffers from some pacing and narrative problems.
For all the things there are to like about Birds of Prey and the Fantabulous Emancipation of One Harley Quinn – I am ignoring the whims and bottomline propelled vagaries of the Warner Bros marketing department and sticking with the originally fun, cheeky title – it is very much a whole of wonderfully-executed elements in search of a cohesive plot.
It is also a little too stop-start in its pacing, uncertain if it wants to go into a full mania or pull back and allowed everyone to breathe a little.
Superhero films can accommodate both of course as Deadpool has amply demonstrated but in an otherwise delightfully entertaining film, the film's indecision about what it wants to be becomes palpable at times.
It's not fatal but it is noticeable and takes the film from being an absolute quirky entry in the annals of superhero filmdom to one that comes close to cinematic godhead but doesn't quite reach it.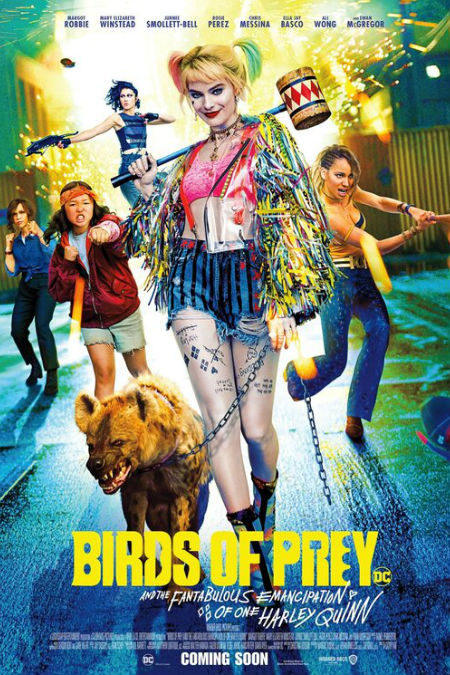 It's not for want of trying though.
A few slower first third pacing misfirings aside, Birds of Prey and the Fantabulous Emancipation of One Harley Quinn is a film that puts the pedal to the metal for much of its runtime and refuses, baseball bat in hand to relieve the pressure.
It is loud, colourful, violent and joyously over the top, a film which celebrates the fact that female superheroes are every bit the equal of their oft-favoured male counterparts, with the added bonus that every single one of the women in the film demonstrate the kind of raw, collegial sense of emotionality that should be far more prevalent in many of the more testosterone-overloaded movies of the genre.
In the final big action scene of the film, these women are fighting a teeming crowd of thuggish mercenaries, all while keeping an eye out for the welfare of the others that makes them feel so much more relatable than many other superheroes with whom cinema audiences have spent time.
Their presence is refreshingly kickass, grounded, real and hugely powerful, sending the message, and not thank god in some sort of tokentistic way, that female superheroes can do anything and keep our eyes utterly glued to the screen every single step of the way.
While the message of emancipation from the manipulative men in their lives is a resonantly powerful one, especially in the case of Harley Quinn who needs more releasing from masculine bonds (and also her own internal limitations, born of years of neglect and emotional abuse) than anyone, is a little lost in the closing act, finishing with more of a whimper than a resounding bang, it is nonetheless front and centre all the way throughout a film that is unapologetic in its depiction of women as they are and act and not as men perceive them.
Overall, Birds of Prey and the Fantabulous Emancipation of One Harley Quinn is a gloriously demented fabulous visually bombastic delight, full to the chaotically colourful and zestfully anarchic brim with brilliant characters especially Margot Robbie as Harley Quinn, snap cracklingly fun dialogue and eye-poppingly balletic action scenes, and though it does suffer from some pacing and narrative issues, it is for the greater part, a riotously good blast that shakes you to the core in all the very best of ways.