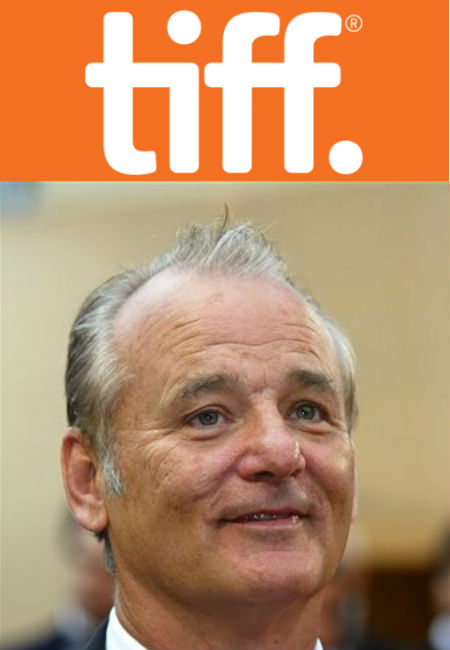 A veteran comic of 1980s comedy classics like Caddyshack, Stripes and Ghostbusters (1984), and a Saturday Night Live alum (he joined it in its second season in 1977, staying for three seasons in total, becoming romantically involved in his time there with fellow cast member Gilda Radner).
A justifiably lauded dramatic actor who won a Golden Globe in 2003 for the sublimely understated Lost in Translation, and who has brought real pathos and presence to movies like Jim Jarmusch's Broken Flowers and a suite of Wes Anderson films including Rushmore, Moonrise Kingdom, The Darjeeling Limited and The Life Aquatic With Steve Zissou.
A true creative type who adapted a favourite novel, Razor's Edge,into a movie that represented his first major dramatic role; sadly the film did poorly at the box office, even in the wake of the huge success of Ghostbusters.
A man who, stung by the failure of Razor's Edge, retreated to cities like Paris to study philosophy and history, and to his family's home in the Hudson River Valley, appearing only in a cameo role in Little Shop of Horrors in 1986, and on the stage in Bertolt Brecht's A Man's A Man.
An actor who refuses to this day to play by the Hollywood system, who doesn't have an agent or a publicist, nor a Twitter account or a Facebook page and who can only be reached by a generic 1-800 number; as filmmaker Theordore Melfi noted "You know what the truth is? You don't find Bill Murray, Bill ­Murray finds you."
And a gifted talent whose ability to convey the most powerful of emotions with just a raised eyebrow or a lingering melancholic glance makes him mesmerising to watch in just any role he chooses to take on.
Whether he is the voice of Garfield, or playing himself in movies like Coffee and Cigarettes or Zombieland, he is a one-of-a-kind, supremely talented man who is not only appearing in his latest film St. Vincent at the Toronto International Film Festival but being honoured at the event with his very own day at which three of his films, Stripes, Groundhog Day and Ghostbusters will be shown.
To mark this great honour, I've selected five of his movies which most struck a chord with me.
They may not all necessarily be career highlights or box office successes but there was something about his roles in them that spoke to me, and reinforced my great and abiding admiration for an actor so quirky, so unique and so clever that you can't help but like him and go and see everything he is in simply because he is in them.
Simple as that.
Happy #TIFF Bill Murray Day good sir and here's to many more years of films both funny and dramatic – don't go changing anything!
How would you react if you were au unlikeable TV weathermen, Phil Connors, with enough hubris to power an eternal loop of pride-preceded falls, who suddenly finds himself caught in the same day over and over and over again?
Would you rail at the injustice of it all? Attempt suicide as the despair of ever escaping this most intangible of prisons takes hold? Or would you make yourself into a better man, re-examining what's important, not just to you but to the people around you?
Murrays does all this more and so much, bringing warmth, subtlety, nuance, heartbreaking sadness and uplifting epiphany-induced joy to the role of Connors, a character who you are never less than totally invested in and connected to, even when he is the sort of repellent individual that could convince Punxsutawney Phil, the titular groundhog of the film, to stay snug in his burrow for another six weeks of winter.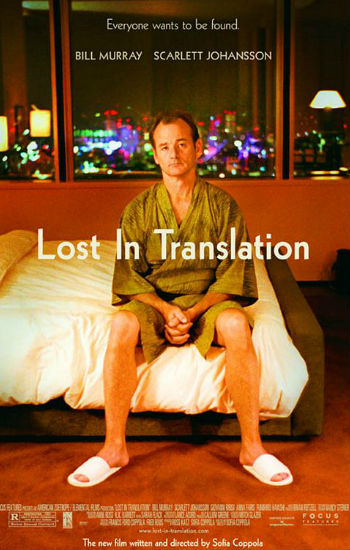 If ever someone deserved all the awards in the world, it is Murray as aging actor Bob Harris who, trapped in yet another beautifully appointed but soulless hotel, on yet another assignment in another big city (in this instance Tokyo) finds himself making an unexpected connection with recent college graduate, Charlotte (Scarlett Johansson), who is herself adrift and uncertain of where to head next in life.
Their touching, platonic relationship develops night after night in the hotel bar as each of these lonely souls finds in the other some sense of comfort and meaningful connection.
That the movie ends on a poignant note without the happy ever after finish so beloved of Hollywood is deeply satisfying as is Murray's endlessly-affecting and deservedly awarded portrayal of a man caught in the sallow, lacklustre middle of his life, unsure of the way out and even what awaits him when he does; a quiet introverted man who, thanks to Murray's gift for subtle but rewarding emotional expression, is compelling from the first scene to the sweetly-sad farewell between the two friends at the end.
THE MAN WHO KNEW TOO LITTLE (1997)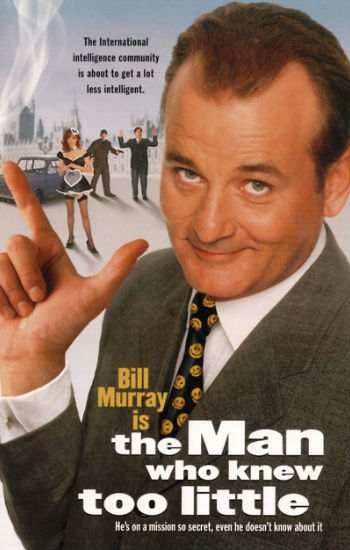 Why this didn't do better at the box office I will never know.
Making ample use of Murray's gift for keeping a straight face and maintaining a guileless persona in the most absurd of situations, The Man Who Knew Too Little, simultaneously based on the novel Watch That Man by Robert Farrar, and riotously fun play on Hitchcock's The Man Who Knew Too Much, is a joy to watch.
It centres on Wallace Ritchie, an eager, somewhat naive tourist from the States, who is blissfully and hilariously unaware that the spy drama in which he becomes unwittingly involved in not the ultimate in audience-participation theatre as he believes.
Murray excels in the role, making Ritchie seem less like a complete idiot than a simple man who simply takes life on face value, regardless of how many bombs go off, or corpses appear, or attractive woman in French maid outfits pay close attention to him.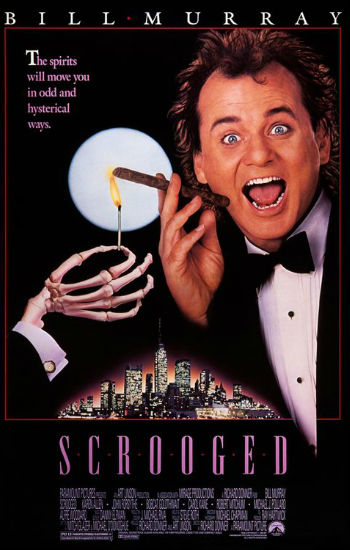 If you're looking to parody Dicken's immortal seasonal tale A Christmas Carol, while retaining some genuine emotional warmth and humanity, then Scrooged is the way to do it.
Cleaving reasonably closely to the well-known redemptive narrative while still having enormous fun with it – the three ghosts, a crazy New York taxi driver from years gone past, a slapstick-happy fairy (the gorgeous Carol Kane in fine form) and a silent seven foot tall headless being from the future are superbly rendered – Scrooged is a delight, and Murray is simply brilliant managing the transition from venal, cantankerous, cold-hearted TV network president to born-again human being with aplomb and nary an ounce of saccharine sentimentality.
A perfect combination of send-up and affectionate homage, Scrooged gives Murray to demonstrate his versatility as an actor, allowing him to be hilariously funny, touching and just plain nasty all in the one, very entertaining festive film.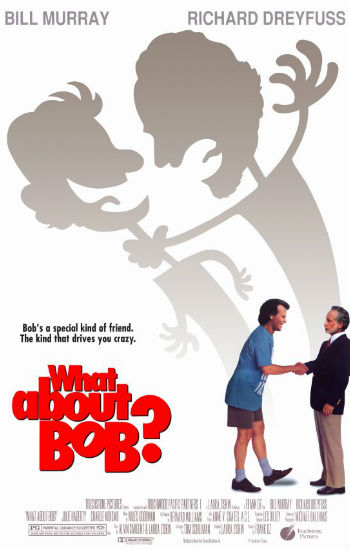 This is a film that could have quite easily gone off the rails, if only because the main character, the endearingly tenacious and unstoppably-inappropriate and needy Bob, could, in the hands of the wrong actor be stupendously, insanely annoying.
That Bob, a patient of beleaguered psychiatrist Dr Leo Marvin (Dreyfuss, also in exquisitely good form) manages to stay lovable and relatable even when he is crossing boundaries aplenty and taking over Marvin's life, holiday and family, is proof positive that Murray is an acting god and can do no wrong.