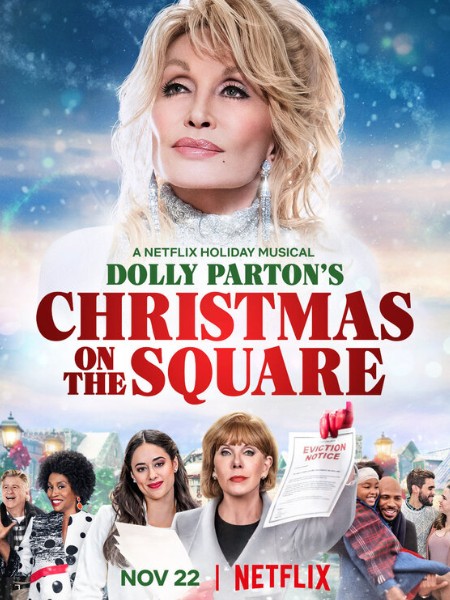 SNAPSHOT
The upcoming musical … centers [sic] on Regina Fuller (The Good Fight's Christine Baranski), "a rich and nasty woman [who] returns to her small hometown after her father's death to evict everyone and sell the land to a mall developer, right before Christmas. However, after listening to stories of the local townsfolk, reconnecting with an old love (Everwood's Treat Williams), and accepting the guidance of an actual angel (played by Parton), Regina starts to have a change of heart." (synopsis (c) TVLine)
If you are facing eviction on a Christmas Eve by a ruthless, uncaring, unhappy businessperson, then who do you want fighting on your side?
Dolly Parton? Good answer. As an angel? Even better!
In Dolly Parton's Christmas on the Square, we have everyone's favourite country singer-songwriter and all-round delightful human being fighting hard to ensure that Christmas will be the merry, joyous, most wonderful time of the year it is supposed to be.
Featuring 14 original songs, and positioned as part of Netflix's Here For the Holidays line-up, might look a little (or a lot) heavy on the treacly sentiment but if that works well at any of the year, then it's Christmas so it might just be the life-affirming, heart-lifting end to 2020 that we all need and crave.
Dolly Parton's Christmas on the Square premieres on 22 November on Netflix.