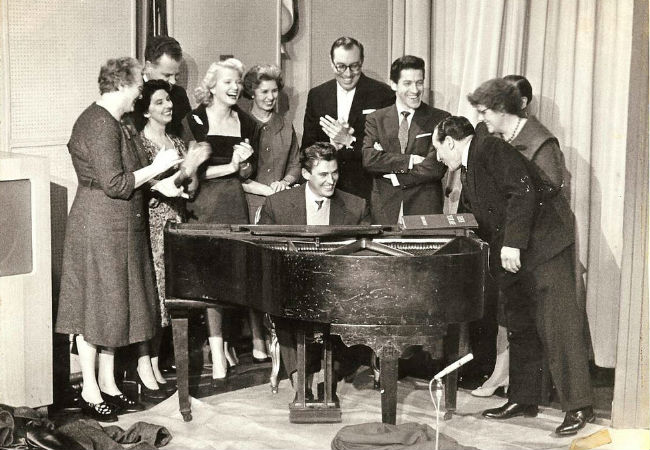 A TV show's opening theme music is something you either notice or you don't, love or you loathe but either way, it can vitally important in both giving you an idea of the show to come and establishing a mood or sense of time and place.
And while they have become somewhat of an endangered species of late, squeezed into almost non-existence by the requirements of broadcast and cable networks seeking to maximise the time given over to ad revenue – think New Girl or Girls which are almost blink and you'll miss them credits – they are not entirely dead and buried and some TV show producers continue to surprise and delight with the thought and creativity they give into their show's opening theme.
Case in point are the five themes that follow, some of which are tied to extravagant, visually rich opening sequences, some of which are mere blips on their show's running time but all of which have music or an sustaining idea that elevates their credits above the norm.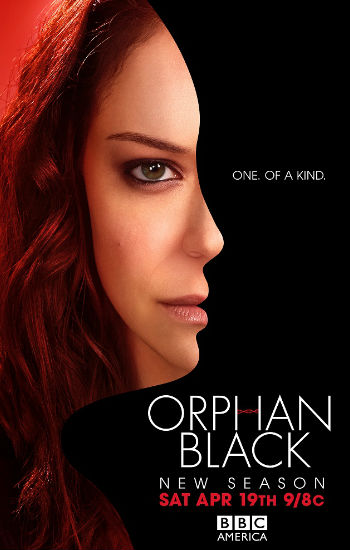 SNAPSHOT
Sarah has always lived the life of an orphan outsider. But a clone is never alone.

Sarah hopes that cleaning out a dead woman's bank account will solve all her problems. Instead, her problems multiply – and so does she. Experience a whole new side of BBC AMERICA with the channel's next original scripted series, Orphan Black, the exciting and ambitious new addition to the Supernatural Saturday programming block. Orphan Black features rising star Tatiana Maslany (Cas & Dylan, Picture Day) in the lead role of Sarah, an outsider and orphan whose life changes dramatically after witnessing the suicide of a woman who looks just like her. Sarah assumes her identity, her boyfriend and her bank account. But instead of solving her problems, the street smart chameleon is thrust headlong into a kaleidoscopic mystery. She makes the dizzying discovery that she and the dead woman are clones…but are they the only ones? Sarah quickly finds herself caught in the middle of a deadly conspiracy and must race to find answers about who she is and how many others there are just like her. (series summary via and (c) Aceshowbiz)
This is the water cooler show to end all water cooler shows at the moment.
It's a rarity in our increasingly fractured viewing landscape, drawing people from across all sorts of demographics and keeping them talking well after each richly-detailed, action-packed episode has aired.
And while they are more likely to be talking up a storm about the latest jaw-dropping revelation, or Tatiana Maslany's laudatory ability to portray 10 different characters with a flawless believability, I would like to think someone somewhere is remarking on the amazing opening credits.
Drawing on some of Fringe's retro-artistic sensibilities, Orphan Black's theme presents you with a trippy kaleidoscopic melange of drug-addled biological images, a fitting reminder of the show's central themes backed by music that alternates between frothy melancholy and darkening menace.
In one perfectly executed 41 second sequence, you are given a skillfully executed sense of the mood that pervades the show – the desperate race to undercover the truth about the vast conspiracy that has given rise to the clones of which central character Sarah Manning is one, the menacing might of powerful forces with all the knowledge and seemingly all the cards, and the lightness and banter of Felix, the much needed comic relief in a show fraught with a thousand different kinds of terror.
I love the way the theme looks, sounds and most importantly, the way it makes me feel, as if I am disappearing down a modern version of Alice in Wonderland's rabbit hole with no idea of when I will surface again.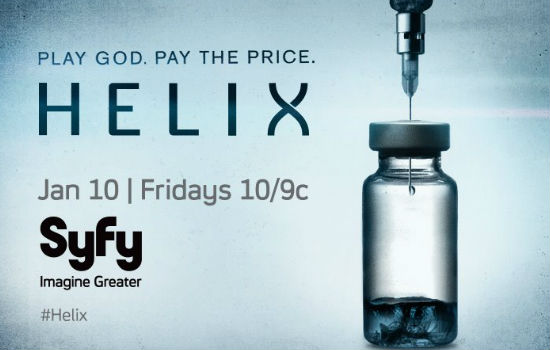 SNAPSHOT
Helix is an intense thriller about a team of scientists from the Centers for Disease Control who travel to a high-tech research facility in the Arctic to investigate a possible disease outbreak, only to find themselves pulled into a terrifying life-and-death struggle that holds the key to mankind's salvation or total annihilation. (series summary via and (c) Aceshowbiz)
Now this is how you do an opening sequence.
Admittedly it's brief, oh so brief but what they manage in a scant 10 seconds is impressive in the extreme.
First up is the cheesy '70s retro music, a tune backed by an almost a cappella series of "Oohs" and "Aaahs" that is the perfect counterpoint to the darkness of the material in the show.
Another show centring, like Orphan Black, on the opportunities and threats posed by the unprecedented 21st century advances in genetic technology, it is seriously dark, a ride through the murkier, almost black depths of humanity's soul with very little in the way of levity or humour.
So it is a stroke of genius to pair this overwhelmingly brutal story with music that would be more at home in an old bar somewhere in a part of town trading on its memories and days of glory past.
And having thrown that thoroughly imaginative juxtaposition of theme and music together, to finish the titles with one solitary drop of black goo falling to the floor is inordinately clever.
In one fell swoop we go from twisted Glee Club musical frivolity to a reminder that this show is about to walk into the dark places where monsters and sociopaths and the more frightening parts of the future dwell; a visual coda if you like that the music is a lulling you into a false sense of viewing security lead-in to the unrelentingly scary narrative main course.
I am beyond impressed by the work that went into this multi-layered theme, one of the most creative starts to a show I have ever seen.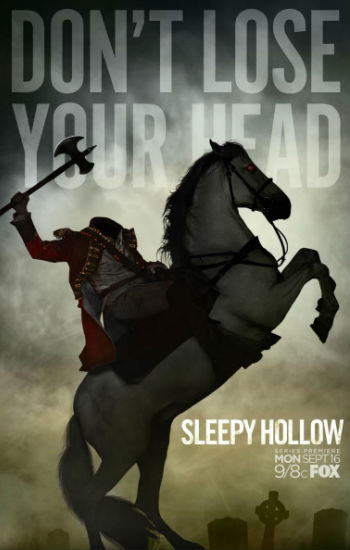 SNAPSHOT
In this modern-day twist on Washington Irving's classic, ICHABOD CRANE (Tom Mison, Salmon Fishing in the Yemen) is resurrected and pulled two and a half centuries through time to unravel a mystery that dates all the way back to the founding fathers. Revived alongside Ichabod is the infamous Headless Horseman who is on a murderous rampage in present-day Sleepy Hollow. Ichabod quickly realizes that stopping Headless is just the beginning, as the resurrected rider is but the first of the Four Horsemen of the Apocalypse and only one of the many formidable foes that Ichabod must face to protect not only Sleepy Hollow, but the world.

As Ichabod finds himself in 2013's Sleepy Hollow, he discovers a town he no longer recognizes and grapples to understand. Teaming up with Lt. ABBIE MILLS (Nicole Beharie, 42, The Good Wife, Shame), a young cop who has her own supernatural experiences, the two embark on a mission to stop the evil that has awoken along with Ichabod and that now is seeping into this once-sleepy town.
(series summary via and (c) Aceshowbiz)
Rather fittingly for a show that delights in throwing convention to the wind, mixing in all kinds of supernatural and far more down to earth elements in a winning postmodernist formula par excellence, Sleepy Hollow's theme is a return to the storytelling themes of old.
While we thankfully don't have a crooner singing the story of Ichabod Crane and Lt. Annie Mills and their battle to the apocalyptic death with the Headless Horseman, set to some sort of hillbilly country beat, we do have a series of visual vignettes that, if you're paying attention clue you in to what lies in wait in the show.
And what awaits you is frankly magical, mystical and downright haunting, a sense of the otherworldly that is enhanced by the music which races along with minor key madness, building and building to a forbidding crescendo.
Rather more conventional than either Orphan Black or Helix, it nonetheless does a fine job in setting the mood, giving a shorthand entree to the stories to follow and reminding you that this is not going to be a conventional show in any sense of the word.
And that suits me just fine, goosebumps and spine tingling follow through all.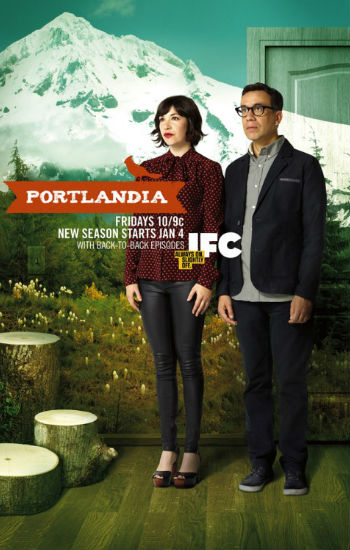 SNAPSHOT
Each episode's character-based shorts draw viewers into Portlandia, the creators' dreamy and absurd rendering of Portland, Oregon.

Portlandia's inhabitants include but are not limited to: the owners of a feminist book store; a militant bike messenger; an artsy couple who attach cut-outs of birds to everything ("put a bird on it!"); an organic farmer who turns out to be a cult leader; an adult hide and seek league; and a punk rock couple negotiating a "safe word" to help govern their love life. The first episode depicts Armisen and Brownstein meeting with the Mayor of Portland (Kyle MacLachlan) who solicits the duo to write a new theme song for the city. This segment features a cameo from the real mayor of Portland (Sam Adams) playing the assistant to MacLachlan's "mayor." Much of the series' original music is written and performed by Armisen and Brownstein. (series summary via and (c) Aceshowbiz)
I cannot express how much I love Portlandia's theme.
The work of US singer-songwriter and record producer, Ernest Green, better known as Washed Out, the music used in Portlandia's opening title is lifted from his song "Feel It All Around", as lyrical a symbiosis with the trippy hippy gently satirical tone of the show as you could hope for.
It honestly feels like it was written with Portland and the delightful weirdness of the Pacific Northwest of North America, an area I adore not least because it reminds of the flower power-influenced region I grew up in on the far north coast of New South Wales in Australia.
You could quite easily place many of Portlandia's set pieces and quirky characters into my home region with no trouble at all, with both areas possessing a New Age-ish mind set that is ripe for affectionate lampooning, just the way Fred Armisen and Carrie Brownstein do it.
The song fits things so perfectly because it gives you a sense you're about to watch a documentary of sorts, a sensation accentuated by the visuals and the following set pieces that are filmed in an amusingly faux docudrama style.
The music and visuals of Portlandia's titles are the consummate marriage of mood and sense of place, a fitting introduction to a show that loves where it's set but wants to have some fun with it too.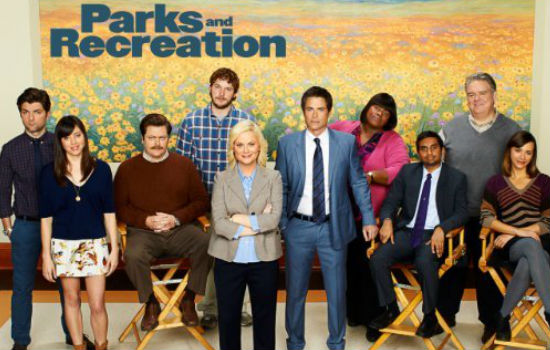 SNAPSHOT
In the Pawnee Parks and Recreation Department, Leslie's office mates include Chris Traeger (Rob Lowe, Brothers and Sisters, The West Wing), a health nut who wants to live to be 150 years old, and Tom Haverford (Aziz Ansari, Human Giant, Scrubs), a fashion-obsessed wannabe player whose greatest dream is to own his own nightclub. Leslie's boss, Ron Swanson (Nick Offerman, Children's Hospital), hates the very government he works for, and sports one of the most impressive moustaches on primetime television. Rounding out the cast are: Adam Scott (Friends with Kids, Party Down) as Leslie's husband and former campaign manager, Ben Wyatt; Rashida Jones (Celeste and Jesse Forever, The Office) as her best friend, Ann; Chris Pratt (Zero Dark Thirty, Moneyball) as shoeshine boy extraordinaire Andy Dwyer; and Aubrey Plaza (Funny People) as Andy's wife, April, who doubles as Ron's sullen assistant. Also starring are Retta (It's Always Sunny in Philadelphia) as the fun-loving Donna Meagle and Jim O'Heir (Castle) as the department's punching bag, Jerry Gergich. (series summary via and (c)  Aceshowbiz)
Ah Leslie Knope please be my best friend forever and forever!
I could happily watch this show all day every day, it's delightful mix of brilliantly-crafted characters, absurd yet oddly believable situations, witty dialogue and benignly blistering social commentary making it quite possibly one of the best shows to ever make it to TV.
And on a network too!
One big point, of many, in its favour is the jaunty, bubblingly happy theme music which pretty much sounds like the soundtrack I'd imagine is always playing in Ms Knope's head.
Written by Gaby Moreno and Vincent Jones, it's been described this way by Michael Schur, one of show's creators (along with Greg Daniels):
"It does a really good job of explaining what the town is like. (The) credits do a really good job of establishing it's just sort of a normal, every-day town in the middle of the country." (part of an audio commentary on the DVD release of the pilot episode )
That nails it perfectly.
It really does feel like you're driving into a town, a happy sweet though crazily flawed town, full of welcoming people, a slice of small town Americana in which you're going to spend some time.
Or in my case, lots and lots and LOTS of time.
* What are your favourite current TV show themes? Why do you like them?