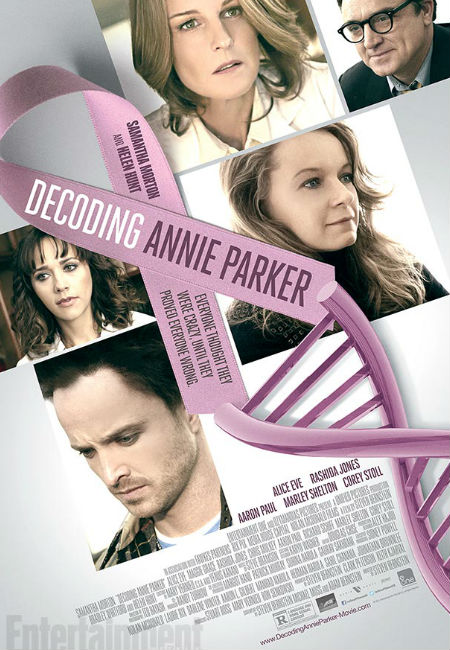 SNAPSHOT
Based on true events, this touching film follows a 15-year war against a cruel illness, waged on both scientific and emotional fronts by a pair of women demonstrating extreme bravery under pressure. Annie Parker (Samantha Morton) is on intimate terms with breast cancer, having watched both her mother and sister succumb to it. When she herself is diagnosed with the disease, she struggles to hold her family together, displaying a force of spirit that belies the odds. Elsewhere, geneticist Mary-Claire King (Helen Hunt) is researching the idea of an undiscovered link between DNA and cancer, a process that finds her scrambling for both funding and the support of her disbelieving colleagues. How the paths of these two women intersect is funny, irreverent, and heartwarming without the burn.

Director Steven Bernstein's feature debut deftly balances the seriousness of the situation with the all-too-human response, finding unpredictable grace notes of beauty and wit during even the darkest of times. Featuring stellar performances by Morton, Hunt, and a first-rate supporting cast including Aaron Paul, Rashida Jones, Bradley Whitford, and Maggie Grace, Bernstein's film pays ample tribute to one of the most important scientific discoveries of the 20th century as well as the people forever changed in its wake. (synopsis via SIFF)
What would you do if you discovered that all the good things in your life – your health, your family, your relationship with your significant other – were all in peril, pretty much at once?
Would you fight back or simply surrender to the inevitable?
It's an confronting question and one that most of would likely struggle to answer with any great certainty until we were in the midst of the situation in question, but Annie Parker, equipped with an irreverent and gleefully fatalistic take on life, very quickly works out what she would do, taking on this frightening change in circumstances with every last bit of wherewithall she has.
At the same time, leading geneticist Dr King is fighting a major battle of her own, which while not impinging on her own mortality, has the potential to profoundly change the way in which many women are treated for their breast cancer.
She has to fight every bit as hard as Annie Parker, both of them made of the same tenacious, never-say-die spirit (for Annie, that is literally the case) so when they meet it is a meeting of kindred spirits, the joining together of two women with an understandably vested interest in discovering the genetic mutation for breast cancer.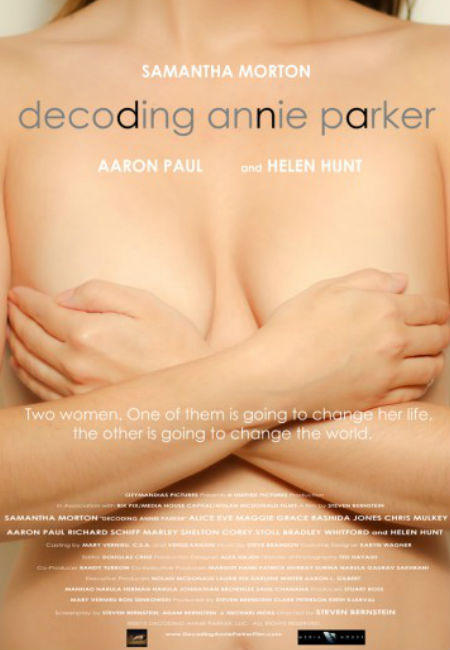 It is immensely moving by all accounts, as you'd expect, with Lisa Jey Davis having this to say about the film:
"The film stars Oscar winner Helen Hunt and Oscar nominee Samantha Morton. It also stars Aaron Paul who will shock you with his wildly different, heart warming, gut wrenching, fist clenching performance… a performance that's a vast departure from that of Walter White's side kick in Breaking Bad.

Needless to say the film is phenomenal – and I'd like to see it do extremely well. One scene where Samantha Morton is dealing with her disease and subsequent treatments choked me up. All I could see was my sister in her last weeks before she succumbed to ovarian cancer. But the truth is, Samantha deserves an Oscar for her work in the film. So does the director Steven Bernstein and the editor of that scene. Wow."
And it has become a powerful force for good, with the non-profit foundation founded by Annie Parker and Steven Bernstein, BRCA Gene Awareness, raising funds via the showing of the film in an exclusive window than ran up until 2013.
Screenings are also being organised in communities right across USA via Gathr which will work directly with the movie theatre you nominate to set up a screening as long as you promote the film to your local community and friends.
It's an amazing, impactful way to promote awareness, made all the more impressive by the fact that Decoding Annie Parker isn't simply a film with a message – which are usually too heavy-handed and hard to sit through, let's be honest – but one which tells an emotionally poignant story with authenticity, truth and sensitivity into the bargain.
No word yet on when this will reach Australia – although frankly I'm so inspired that I'd like to try and do something here if I can – but there are a series of gatherings across USA which you can access via the official site for Decoding Annie Parker.
And here's a sneak peek at this beautifully-made, vitally important film …