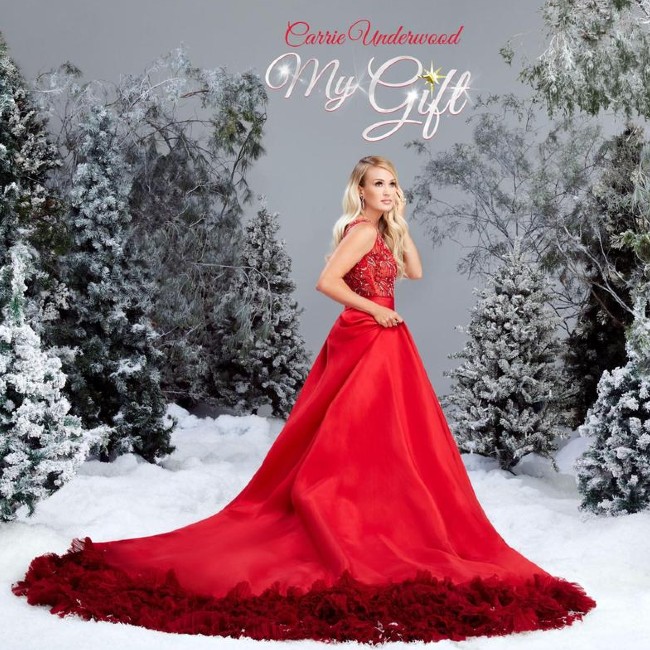 In its calmer moments, and yes, Christmas does have them, there is a hush and reverence to proceedings that calls for music that speaks to that quiet place of contemplation, love and thoughtfulness.
Carrie Underwood's My Gift is the perfect soundtrack for those moments, offering up a largely traditional slate of songs, with three originals including a duet with John Legend ("Hallelujah") which allow you to sit back, dial things sound and luxuriate in music which soothes the harried soul.
The interesting thing about My Gift which includes such Christmas staples as "Silent Night, "Little Drummer Boy" and "O Come, All Ye Faithful" is that while the song choice is pretty much Christmas 101, the arrangements used are anything but stodgy and been there, done that.
Take "O Come, All Ye Faithful" which sets off goosebumps by virtue of a simple acoustic guitar arrangement and Underwood's emotionally evocative voice which is allowed to surge to the front of a mix which is stirringly reverent and yet ethereally, transportively beautiful too.
This is the kind of version of the song that makes the heart swell and immediately takes you t a host of warm and happy Christmas memories without feeling like a tired retread that the artist and her producer threw together in a hurry.
This mix of traditional songs and piercingly touching delivery is emblematic of an album that time and again adds a wholly luminous and original aspect to the songs which speak of an artist who, finally having the opportunity to record a much hoped-for Christmas album, wants to record songs that speak emphatically off the season without simply ticking off the expected boxes.
Have a listen to "Little Drummer Boy" which Underwood recorded with her son Isaiah and you'll see the same dynamic at work.
The expected drums are there, of course, as is the slow and steady cadence of marching, all soulful concentration and deliberate execution, but added into is a sweetly inspiring beauty which feels like the slowly building entry into a movie soundtrack where great things of import are unfolding but in a quietly understated way that seizes the attention and stirs the soul.
This careful attention to the innate quietude of many of these songs can be found in the original recordings too.
"Hallelujah" is joyously lovely, written by John Legend who also sings on the track, the sort of music that takes you into a whole other wondrous place, quite a feat in a season where moments to take stick and simply be swept into something reverential are few and fat between.
Another track, co-written by Underwood, "Sweet Baby Jesus", is a country-influenced affair that addresses what it must have been like for the just-born son of Jesus to be in the manger and while it is raw and intimate in many ways, it is also a richly constructed song that gently builds over its course.
Granted "My Gift" is heavily pre-disposed to religious songs, as befits the more traditional aspects of the season and Underwood's own faith, but even so, it's an album that will appeal to anyone who wants to take a quiet second to take a breath and enjoy the many magical aspects of a season which is crying out for more of these stirringly quiet interludes.
vulture.com/2020/07/carrie-underwood-christmas-album-2020.html