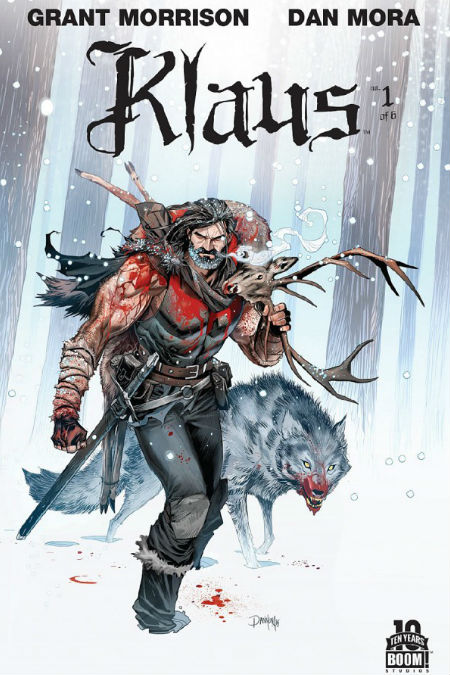 SNAPSHOT
Set in a dark fantastic past of myth and magic, Klaus tells the story of how Santa Claus really came to be. Where did he begin? What was he like when he was young? Why does he do what he does? How does he do what he does? And what happens when he faces his greatest challenge? Drawing on Santa Claus' wilder roots in Viking lore and Siberian shamanism-taking in the creepier side of Christmas, and characters like the sinister Krampus-Klaus is a "Santa Claus: Year One." (official synopsis via Flickering Myth)
Grimsvig is not the happy town it once was, its people beaten down, its children forbidden from playing with any kind of toys, ruled by the coldly, cruel Lord Magnus and a squad of soldiers, who with one exception, rule with cruelty and capricious violence.
Into this town, the town of Klaus which retells the pagan origins of Santa Claus, which is dark, cold – literally in the dead of winter and figuratively otherwise – comes a man, a "wild man" seeking to trade furs, skins and meat, a refugee of sorts from a world in which people are securing their borders and hospitality and acceptance is less important than looking after yourself and only yourself.
It is a grim world, one ill-suited to the arrival Yule Time, a celebratory season that knows little of the darkness and coldness of heart that seems to have supplanted most men's hearts.
Treated desperately badly, almost to the point of death, the so-called "wild man" ponders how to respond to a world he no longer recognises, one in which children are no longer allowed to play or have fun, save for Lord Magnus's spoiled, nasty son.
His solution, or rather than of the mystical spirits he summons through the playing of a beautiful pan pipe, are damn near miraculous and quite magical, and set the stage, though he does not realise it yet, for the emergence of what BOOM! Studios rightly calls "the biggest cultural myths in history".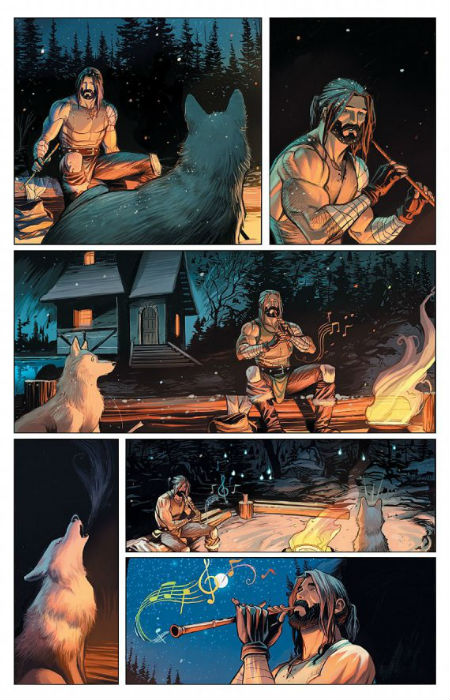 Drawing on what are described by BOOM! as "Santa Claus's wilder roots in Viking lore and Siberian shamanism", Klaus, of which one issue was released on 4 November with issue #2 hitting the shelves just in time for Christmas, or rather Yule Time, Klaus is a master work of reimagining.
Rising illustrator Dan Mora has crafted a suitably dark but vividly-realised world which springs to life instantly thanks to exquisite attention to detail and into which you walk, along with Klaus, with trepidation, sadness and finally a renewed purpose to bring change, even if the exact nature of that change is elusive at first.
Complementing this beautifully is the spare but richly-evocative writing of Grant Morrison which in only a few well-chosen words, gives us a sense that Grimsvig, and its wider surrounds are victims of humanity's propensity to  yield to tyranny and the darker impulses of the heart over the welcoming spirit of seasons of Yule Time with their emphasis on bonhomie, understanding, love and community.
Together these highly-talented men has begun a series, one which anyone who reads it will be eager to continue especially in the lead-up to what is called in modern times "the most wonderful time of the year", which succeeds in reminding us that good times, happy times, are not automatic.
That they can be taken away with the stroke of pen or the swinging of a sword as it is in Klaus, and that the real value of Santa Claus comes not from increased toy sales and food and beverage consumption but from the figure's original concern for justice, care for your fellow man and woman, and yes, some fun.
As reimaginings go, Klaus is finely-observed, a retelling that promises to turn the Christmas story – no, not that one; the other one – neatly on its head with a cast of characters that look at the good and bad of the season says Grant Morrison in an interview with Comic Vine:
"Most of the characters are new for this story but you will seen new takes on Santa's "elves" and reindeer and all the other familiar trappings of Santa Claus. The Christmas Demon Krampus plays the Joker/Moriarty role in this and I think we've com up with a fairly interesting "cosmic" approach to him."
It's a fascinating approach that adds much-needed muscularity to Santa Claus, turning him from what Morrison calls "a jolly rotund old man" into a figure of brooding justice, an intrinsically kind and honest but capable man who refuses to sit by while the world turns into a dark and threatening shadow of its former self.
If anything shouts Christmas time, it's that idea, making Klaus not simply a well-told and crafted tale but one whose message we all need to hear and heed, especially now.