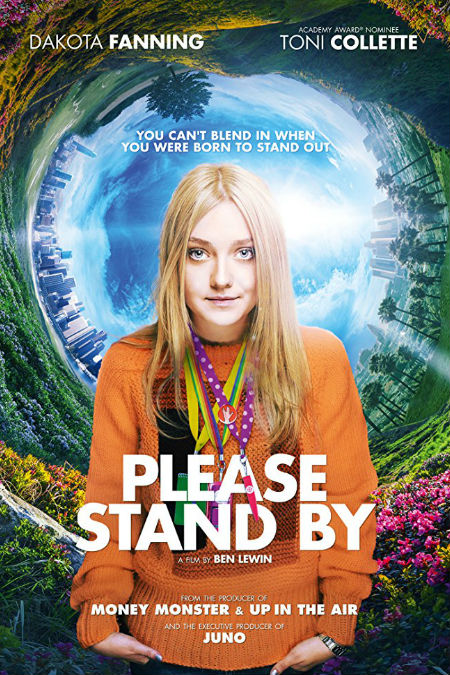 SNAPSHOT
A young autistic woman runs away from her caregiver in order to boldly go and deliver her 500-page Star Trek script to a writing competition in Hollywood. On an adventure full of laughter and tears, Wendy, played with exquisite delicacy by Dakota Fanning, follows the guiding spirit of Mr. Spock on her journey into the unknown. "It is there for us to conquer, not to fear." Please Stand By is directed by Polish-Australian filmmaker Ben Lewin, of the films The Sessions, Paperback Romance, and Georgia previously. (synopsis via First Showing)
Everyone has dreams. Often big dreams.
But not everyone gets to live them out.
Wendy, (Dakota Fanning) is determined not to be one of those people who misses out, a lofty goal but one hampered by her placement in a special needs facility in San Francisco by her sister Audrey (Alice Eve) who finds her autistic younger sister a little too hard to handle.
Encouraged by her caregiver Scottie to write a Star Trek screenplay as part of her calming therapy, Wendy decides to take things one step forward and actually enter the script in a competition which involves a scarily-intense road trip and all kinds of good and bad adventures along the way.
Granted it doesn't sound like it's an out-of-the-box premise but as Caffeinated Film notes in their review, that's OK.
"Despite its lack of subtlety, Please Stand By manages to be emotionally resonant and easy to watch. While the film doesn't reinvent the wheel, it spins it effortlessly."
They go one to observe:
"For the large majority of the time, Please Stand By proves to be a breezy and enjoyable heartwarming ride across a Californian highway, chock full of all sorts of Star Trek references for us nerds to get a kick out of, along with a short but supremely sweet Patton Oswalt cameo. Please Stand By won't change your life, but it will put a big smile on your face, and sometimes that's enough."
Given how brutal and unfulfilling life can be, especially at the moment, getting to watch someone set out to make their dreams a reality, even if it's touch-and-go if they'll succeed, seems like a lovely way to spend some time.
Please Stand By opens in theatres in USA on 26 January and via Amazon Video, On Demand and iTunes.