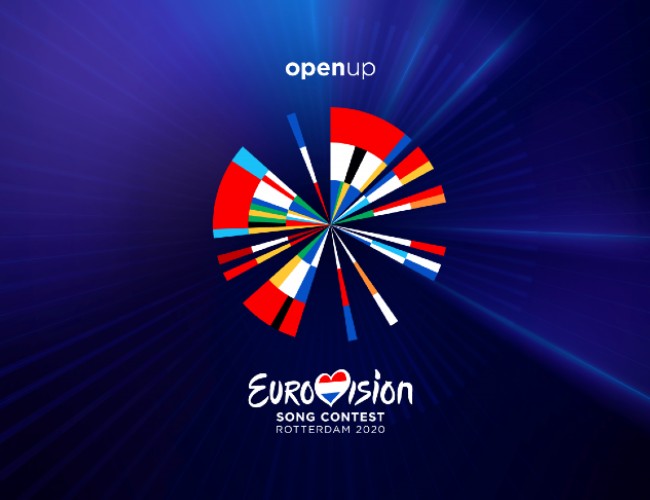 This is normally how I begin these review posts …

What is the Eurovision Song Contest?
Started way back in 1956 as a way of drawing a fractured Europe back together with the healing power of music, the Eurovision Song Contest, or Concours Eurovision de la Chanson – the contest is telecast in both English and French – is open to all active members of the European Broadcasting Union, which oversees the competition.
Each country is permitted to submit one three-minute song to the contest – a song which is selected by a variety of means, usually a winner-takes-all competition such as Sweden's renowned Melodifestivalen – which they perform in one of two semi-finals in the hopes of making it to the glittering grand final.
Only six countries have direct entry into the grand final:
The Big Four who fund most of the contest – UK, Germany, France and Spain
The host country (which is the winner of the previous year's contest)
Italy, who didn't take part for many years and was re-admitted in 2011 after a 14 year absence (it was one of seven countries that competed in the first event), making the Big Four the Big Five.
The winner is chosen by a 50/50 mix of viewer votes (you cannot vote for your own country) and a jury of music industry professionals in each country, a method which was chosen to counter the alleged skewing of votes based on political and/or cultural lines when voting was purely the preserve of viewers at home.
Past winners include, of course, ABBA in 1974 with "Waterloo" and Celine Dion who won for Switzerland in 1988 with "Ne partez pas sans moi".Above all though, the Eurovision Song Contest is bright, over the top and deliciously camp, a celebration of music, inclusiveness and togetherness that draws annual viewing figures in the hundreds of millions.
But of course, with the Eurovision Song Contest 2020 cancelled, like so many other things this year, by the viral threat of COVID-19, no one will be singing their songs all together in front of a huge crowd in host city Rotterdam, and we will have to make to do with weekly Eurovision Home Concerts and a recently announced replacement for the grand final show Eurovision: Europe Shine a Light which will "honour the 41 selected songs for Eurovision 2020 in a non-competitive format."
The decision to cancel the show is sad but makes perfect sense in the current situation; still, it begs the question, is there any point reviewing the already released songs for this year's contest?
I decided "YES", partly as a way of giving the songs and their artists their due and their moment in the Eurovision – many of the singers will be back next year but not the songs with rules prohibiting the same song being submitted again by a country – but also to keep alive that sense of Eurovision fun and artistry which for many of us makes this time of the year so very special.
So grab your glitter, fire ip the wind machine, gather together your appreciative hosting superlatives and enjoy these song reviews, the first of seven such posts, which are written as if the contest was still happening.
ALBANIA: "Fall From the Sky" by Arilena Ara
<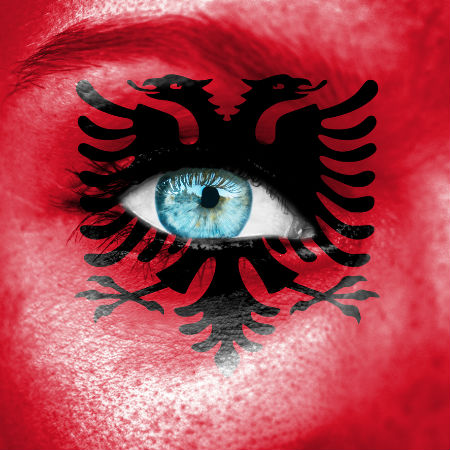 THE ARTIST
Shkodër is a city in northern Albania that is famed, so we are breathlessly told by Wikipedia (and why would it lie?) for for the influence it exerts in "culture, religion, arts and entertainment in northern Albania."
Why are you getting this impromptu, and likely quite unasked for lessons in geography? Because Shkodër and its marshlands and foothills are also home to Albanian singer Arilena Ara who begun her long and winding road to singing fame at the age of five, entering countless competitions before winning X Factor Albania barely into her teens at 14.
But that was seven eventfully-filled years ago and now the 21-year-old is representing her home country at Eurovision, the proud owner of a number of chart hits including "Aeroplan" and "Nentori" and a judge on The Voice of Albania.
If you're wondering if she has sufficient singing competition experience to make a real go of Eurovision, consider that as well as all the reality TV singing comps, she also 18th edition of Kënga Magjike and finished in the third place with the song, in addition to winning the 58th edition of Festivali i Këngës which determines who gets to go to the biggest European singing event of them all.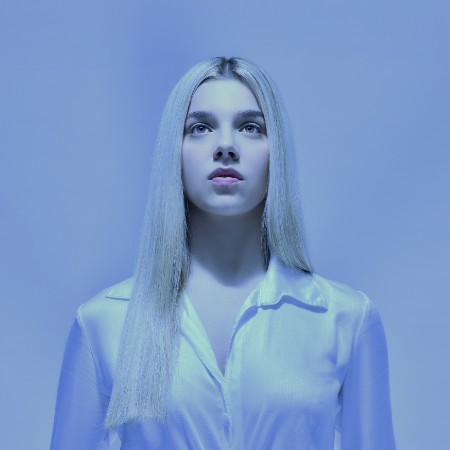 THE SONG
One listen to the aching balladry sadness of "Fall From the Sky" and you know that Ara has the goods to take it all the way to the grand final and perhaps even nab the top prize.
The song is as torch song as they get, Ara's voice seems to embody the pain and loss of the track rather than simply sing it, and with a knock it out of the park performance, of which she seems eminently capable, this could be Albania's year.
What elevates the track, apart from Ara's stunning vocals which take a fairly cut-and-dry ballad and make it fly (well, when she's not falling that is), are lyrics that, true to Eurovision tradition, bring defiance and hope to the table as much degradation and dreams violently dashed.
Perhaps lyrics that nakedly fitted to the contest's thematic traditions may seem a little calculating, and maybe they are, but Ara makes them live and breathe so convincingly that it's hard to not see her taking the audience right along with her.
ARMENIA: "Chains on You" by Athena Manoukian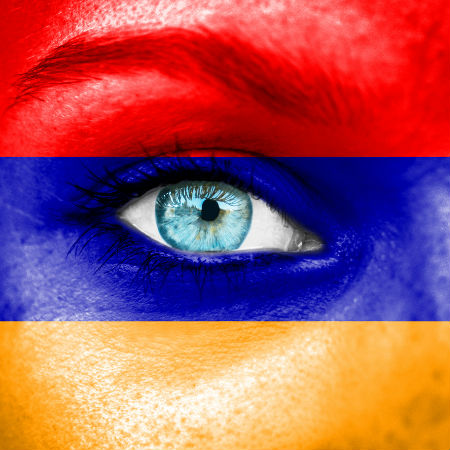 THE ARTIST
Starting as you mean to go in a truism that Greek-Armenian singer Athena Manoukian took to heart 13 years ago in 2007 when she won first prize at Greek television talent contest This Is What's Missing.
As entries into the music industry go, that was hard to beat but although she only placed seventh in an attempt a year later to represent Greece in the Junior Eurovision Song Contest, her early win did pay off for her later, according to her brief but action-packed Eurovision bio.
"In 2011, Athena, alongside DJ Kas, released her first single 'Party Like A Freak', which garnered over 1 million views on YouTube. Following its success, she was nominated twice at the Greek Video Music Awards. Other hits followed, like 'I Surrender', 'Na Les Pos M'agapas', and especially 'XO', which was a hit in both Greece and Armenia."
With tilts at X Factor UK and songwriting credits on 'Palia Mou Agapi', a staple in the repertoire of 2005 Greek Eurovision winner Helena Paparizou, Manoukian clearly knows her way about catchy songs and arresting performances … but can she win Eurovision?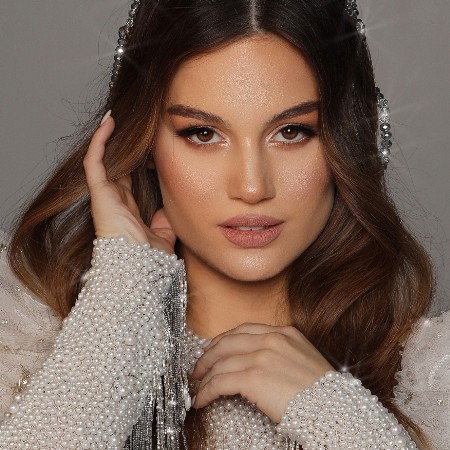 THE SONG
Quite possibly.
Having written and composed "Chains On You" which is all bare, minimalist pop and looking more than capable of a breathy, light-filled performance, the kind so good you can't help it but pay attention (helps if there's lots of white and glitz), Manoukian could make quite the splash at the contest.
Leaving aside the song that she's a few years out of style, she delivers the song with the appropriate amount of provocation and raw sexuality, folding in some Armenian musical folk influences in a very edgy song that is all simmering desire.
It's a lo-fi piece of pop but Manoukian gives it vitality and life, a remarkable effort given songs like "Chains on You" can disappear with a trace in the wrong hands.
She clearly has what it takes, as does the song; it won't get Armenia the win but it will make for a captivating performance and likely entry into the grand final which may not be the win Manoukian is used to but a pretty impressive addition to the resume even so.
AUSTRIA: "Alive" by Vincent Bueno
THE ARTIST
Moving between Austria and the Philippines, where he has established a thriving musical career after winning competitions or making a splash competing in one – he won Musical! Die Show (Musical! The Show) in 2008 and competed successfully on ASAP XV on Philippine TV in 2010, Vincent Bueno (returning in 2021 for Austria to Eurovision), started performing with his dad and making his own music at just the age of six.
A tenor, whose voice Wikipedia rather charmingly (or not) describes as "smooth, mellow, and sometimes mildly abrasive", Bueno kicked off his professional career in his late teens in 2003, training at the Vienna Conservatory in Musical Entertainment Theater – Musical and graduating in 2007.
It's training that obviously stood him in good stead with Musical! Die Show (Musical! The Show) demanding a great deal of its entrants who, thanks to the program's theatrical focus, have to do far more than simply belt out a song.
Bueno nailed his performances including "I Wanna Be Like You" (Jungle Book), "Superstar" (Jesus Christ Superstar) and a German language take on "Supercalifragilisticexpialidocious!" from Mary Poppins, earning some effusive accolades, making it onto Dancing Star (He can sing! He can dance!) and opening his own production studio SUITCASE MEDIA which sets him up nicely to be firmly in control of his own career.
But you can't control the good voters of Europe, so has Bueno got what it takes to win them over?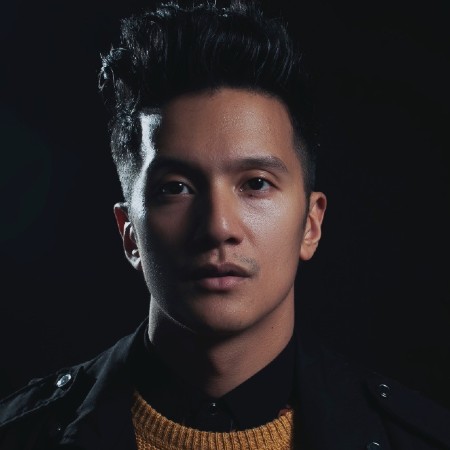 THE SONG
Every chance in a world with a song "Alive" that is bright, fresh and joyous, soaked in an easy R&B vibe that inspires some carefree dancing pretty much from the word go.
The track, which Bueno wrote and played a role in composing, is very vintage JustinTimberlake and thus a little been-there-done-that but a spirited and zesty vocal performance gives the song, well, a great deal of life.
Oozing easy sophistication and style, Bueno clearly has what it takes to not just nail a superlative vocal performance but deliver the kind of breathtakingly good Eurovision live staging that can go a long way in the contest.
Good though it is, and it pretty much demands repeat listens, "Alive" just have quite what it takes to win Eurovision; it will take Austria into the grand final well and truly, and a likely top 10 finish, but it doesn't have quite the vivacity or originality to go all the way to number one.
BULGARIA: "Tears Getting Sober" by VICTORIA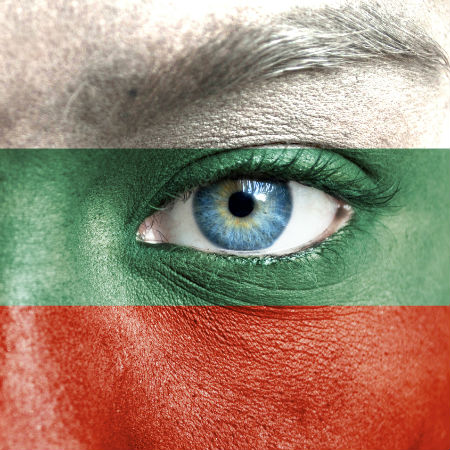 THE ARTIST
VICTORIA (back for Eurovision 2021), who is not shouting at you mononymically or is she, clearly has a love of singular stage names and upper case lettering.
She also has, and this is handy when you're representing your country in a contest like Eurovision, songwriting credits to go along with her singing prowess.
Kicking off her career with participation on X Factor Bulgaria, VICTORIA (her professional moniker is screaming out, quite literally, for an exclamation mark), or Victoria Georgieva to the Bulgarian tax department, has been singing since she was 11.
An ardent animal lover and Bulgaria's representative for Earth Hour 2020, VICTORIA has her first EP in the works, a clear sense of what and how she wants to achieve in her career (she turned down an offer of a recording contract following X Factor preferring to record on her own terms) and, we can't say this enough, is still not yelling at you …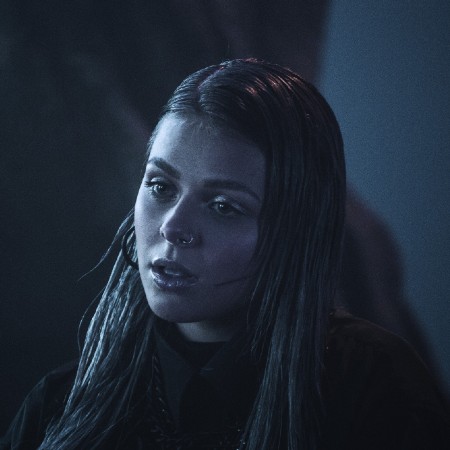 THE SONG
But she is singing at you, and doing a damn fine job of it,
"Tears Getting Sober", which suggests her lacrimal glands may have a drinking problems, is all about facing the very worst of things and not being defeated by them.
"I've got this dirt inside me
I've got some space to grow
Your lies burn like sugar in my wounds
So I have sweet bruises."
It's a pretty, affecting song that may not make a lasting mark on Eurovision but it's sweet, fey melody and VICTORIA's (ironically) softly-delivered vocals are a thing of emotionally transportive beauty.
The song likely won't win the contest with Bulgaria but it will make for a touching performance where you should have the light of your mobile ready to wave in hopeful back-and-forth movements.
CZECH REPUBLIC: "Kemama" by Benny Cristo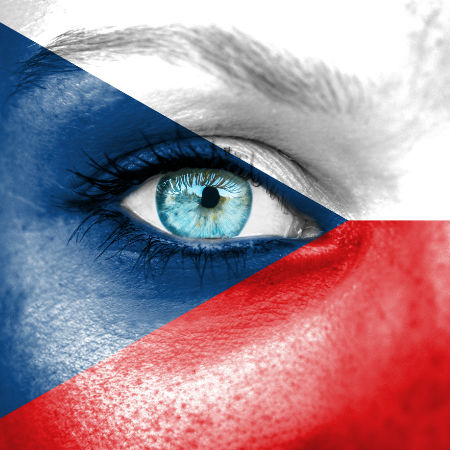 THE ARTIST
Ben da Silva Cristóvão, better known professionally as Benny Cristo, must be tired.
Not only is the talented man born in the Czech city of Plzeň a singer and a songwriter but he is also a sportsman and an actor, as apt once to compete in tennis and snowboarding (is it just me or does a combination of the two sound like a very good, highly-viewable idea?) as he was to enter a Czech singing contest Česko Slovenská Superstar at the age of 21 in 2009.
Singing in Czech and English, Cristo is a very big deal in his home country, kicking off things in 2010 with the album Definitely Different, followed by a slew of other releases, massive performances in Prague's O2 Arena and collaborations with a host of other artists from the Czech and Slovak republics.
A vegan and animal rights activist, Cristo is also a professional BrazilianJiu-Jitsuu fighter (does he never sleep?), an advocate for plastic bottle disposal schemes and an educator of children on the dangers of the internet.
Add to all that activity, representing the Czech republic at Eurovision and you have a man who could well fall asleep on stage at the contest from exhaustion … or not …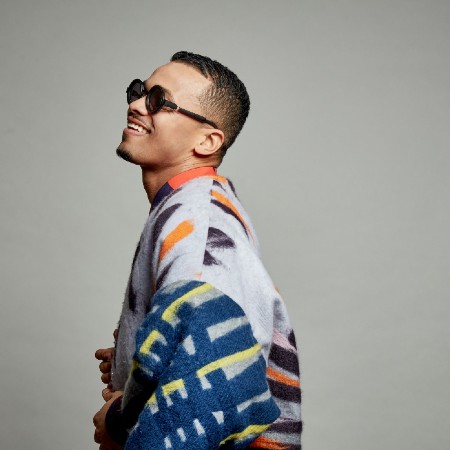 THE SONG
We say "not", not simply because it would be a weird look but because "Kemama" is enormously upbeat and catchy, a song with a distinct African flavour; his dad is Angolan) that pulses with a fantastically danceable beat.
Lyrically Cristo, who appears to have a fairly health performer's ego, is putting it out there that he doesn't care if you like him or want to be with him – he's just here to "dance on my own", with the warning that if you do dance with him, you may end up a little singed so hot is he.
A judge of the talent competition Česko Slovenská Superstar since 2018, Cristo knows his way around a great state performance and you can imagine this easy, breezy piece if lo-fi pop perfection doing quite nicely at Eurovision.
It is by no means a contender for the main trophy but the song will make a for a brilliantly-captivating performance which should send the Czech Republic into the grand final or least have a lot of fun trying.
DENMARK: "YES" by Ben & Tan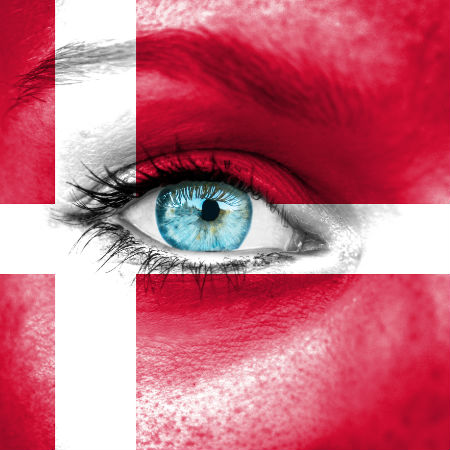 THE ARTIST
It has to be said from the outset – Ben & Tan look freaking adorable together; like, Hallmark movie-of-the-week, Miley Cyrus and Liam Hemsworth when they were still an item adorable.
But Eurovision is more than just looks, and thankfully Benjamin Rosenbohm and Tanne Balcells, to use their less stage-friendly actual names, have got the musical goods, meeting as competitors on X-Factor Denmark last year and deciding they would make, in the words of their official bio, "a charismatic duo".
It's unclear who thought they'd be cutely charismatic but they are, they really are, and they come to Eurovision with a song that has a considerable pedigree to it.
"'YES' has some notable songwriters behind it, including prolific Swedish composer and former Melodifestivalen act, Jimmy Jansson. Also included is Linnea Deb, who co-wrote Sweden's Eurovision 2015 winning song 'Heroes' and Emil Lei co-wrote and produced last year's Danish entry 'Love is Forever'." (Eurovision.tv)
So they have talent, cuteness and charisma and a song that comes from songwriting royalty but does that stand them in good stead for winning the contest?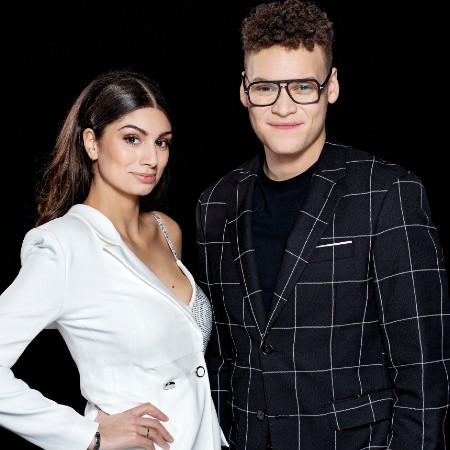 THE SONG
Channelling decidedly Dutch folk/country, which has proved pretty successful for their E.U. compatriots, "YES" is a joyful gem of a song, exuberantly in melody and lyrics that is all kinds of wonder and sunshine.
Guitar-driven as you might expect, the song shouts the glories of restorative love from the rooftops, declaring with passion and starry-eyes passion that:
"I think my heart is beating me to death
I have got an arrow through my chest
I am so in love I must confess
Say Yes Say Yes Say Yes."
Even if you are not a fan of country and western musical flavourings, "YES" will win you over with its ardent entreaties, its joie de vivre and music that sends the spirit soaring.
It's musical candy of the highest order' delivered with youthful, lovestruck exuberance and a sense that no matter what happens at Eurovision, love will win the day.