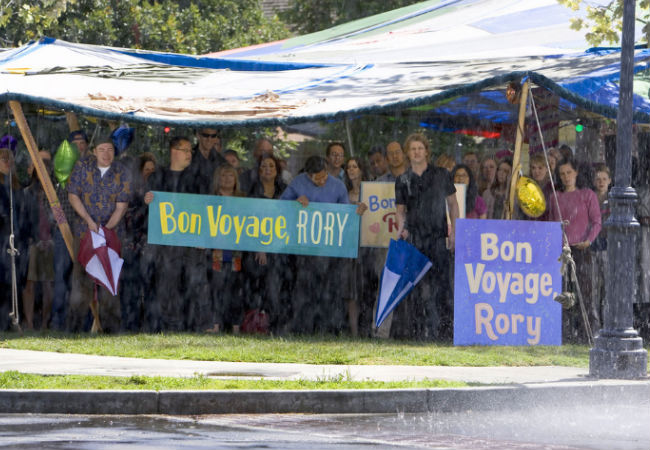 And so it is that we say goodbye to Gilmore Girls (well the original incarnation anyway; there are four new episodes in the form of A Year in the Life currently on Netflix to enjoy).
Now saying goodbye is never easy, no matter how exciting the new opportunities and challenges ahead might be, but it's even worse when you have to say goodbye with little or no warning and all those catch-ups and conversations you meant to have over an extended period of time are suddenly compressed into a much tighter timeframe.
That's the situation facing Rory (Alexis Bledel) when the long, slow summer between graduation and gainful full-time journalistic employment (one enforced on her by her rejection by The New York Times), during which she and her mum Lorelai (Lauren Graham) had planned to ride rollercoasters the length and breadth of there here United States, is cut down to just three all too short days.
72 fleeting hours which begin ticking down with frantic certainty at Friday Night Dinner – it seems only right to capitalise an institution which Emily Gilmore (Kelly Bishop), Lorelai's mum, is surprised to learn will endure beyond Rory's departure; how things have changed! – and keep racing on through Saturday filled with bumbag shopping (that's a negative on suitability), mini book lights finding (hello Dragonfly Inn lost-and-found box) and the cancellation of a planned reenactment of Rory's Yale graduation ceremony, complete with copious numbers of hotdogs and accompanying buns.
It's a blurred rush and while Rory is excited – she'll be on the road with the Obama Presidential campaign, the first time around, as the correspondent for an up-and-coming new blog she's been freelancing for – she's also dismayed that childhood has well and truly come to an end and she has to leave Stars Hollow, and more importantly her BFF and mum, Lorelai behind for goodness knows how long.
Lorelai, like any good mum would, is being resolutely upbeat and chipper, despite dying with sadness inside, determined that Rory be sent off with the biggest, brightest and sunniest of sendoffs.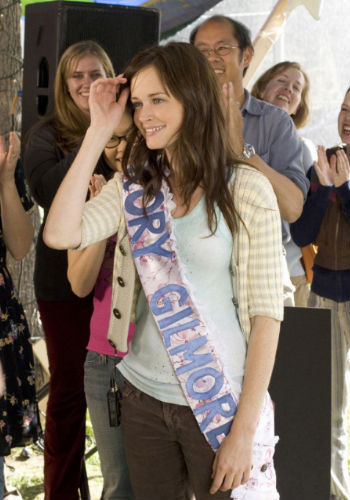 Rory, of course, begins to wonder if her mum and by extension Stars Hollow, which will continue on without her in the interim, are really going to miss her, a common fear when you're the one departing and relinquishing the certain, the beloved and the familiar.
But hey this is Gilmore Girls which, while willing to stare the grim realities of life in the eye and acknowledge their existence over their seven consistently well-made seasons, also possesses a magical warmth and quirkiness which will not countenance sending Rory with anything less than the most fairytale of farewells.
So it is that the graduation reenactment ceremony – which is given a short and hilarious Luke's Dinner version which fails to satisfy Miss Patty (Liz Torres) or Babette (Sally Struthers) – morphs into a gigantic, all the bells and whistles farewell extravaganza (without the proper permits gasps Taylor, played by Michael Winters), set in motion by Luke who "just wants to see [Lorelai] happy". (Of course Sookie is supposed to tell Lorelai this, who along with Rory, has no idea the party is even happening.)
With rain beckoning, Luke stays up all night creating a massive tent out of everyone's tarps and sheets so that the party can go ahead as very hurriedly planned.
It is, as you might expect in the blissfully storied world of Gilmore Girls, every bit as wonderful, heartfelt and emotional as you could wish for with even Richard (Edward Herrmann), fresh from a heart attack, paying a moving tribute to Lorelai for the way in which she has built a life for herself in Stars Hollow, such hat the entire town would drop everything to say goodbye to Rory.
Given the fractious relationship Lorelai has often had with her parents it is momentous statement, which functions as a backdoor apology too, one which Emily seems distinctly uncomfortable but which she, interestingly, does not counteract.
It's a beautiful wrap-up episode, where Rory gets a long goodbye chat on the porch with best friend Lane (Keiko Agena), Lorelai gives Luke a hearty kiss (thanks for organising the party) and we all get to say farewell to the delightful, quirky, sweet, odd people of Stars Hollow.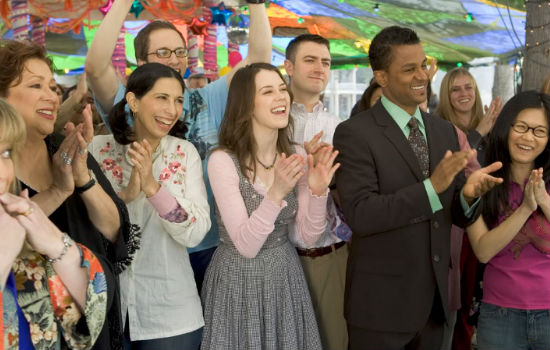 Containing some brilliant pop culture moments – the appearance of Christiane Amanpour at the Dragonfly Inn makes Rory's day – including music by Kool and the Gang, The Jackson 5 and the Mighty Lemon Drops, and a closing shot which artfully and evocatively mirrors that in the pilot with Lorelaid and Rory in Luke's Diner, "Bon Voyage" is the perfect send off  for Rory and goodbye to Gilmore Girls.
Granted it is missing the sure hand of creator Amy Sherman-Palladino and the whippet-smart, crackling dialogue of seasons one through six, but it is heartfelt, it captures with exquisite melancholy what it is to say goodbye to those you love, and it is as quirky, sweet and magical as you could want.
It recalls too that weird mix sadness and excitement, of moving fully into the adult world, knowing all too well that things will never be the same again.
Granted it may not be the ending that Sherman-Palladino envisaged nor the one that many fans wanted, but it is fitting sendoff for Gilmore Girls which captures all the quirky grandeur and emotional resonance of a show that managed to be both dramatically muscular and idiosyncratically odd simultaneously, all the while reminding us that home is most assuredly where the heart is, and in a world where allegiances can be changed at the drop of a hat or a big enough financial inducement, that is a rare and precious thing indeed.