If there is one thing the good, fast-talking, quip-ready people of Stars Hollow love, well more than yet another festival – First Annual Stars Hollow End of Summer Madness Festival anyone? It fills in September! Taylor Doose (Michael Winter) is well pleased – it's having an opinion on something … and naturally, sharing it.
In the season opening episode for season 3, "Those Lazy-Hazy-Crazy-Days" a title drawn from the only song that Taylor's hired barbershop troop seem to know, summer has given everyone a chance to think about life, the universe and everything (which includes, of course, the best use of Divine Secrets of the Ya-Ya Sisterhood references) and thus reunited after time apart, to give full vent to the resulting opinions.
Richard and Emily (Edward Herrman and Emily Bishop respectively) have been away in Martha's Vineyard, sampling divinely-delicious scones – hilariously they buy a packet of the beautifully-packaged mix for Lorelai (Lauren Graham), a known non-baker, who looks at it like an alien drawn from extra-dimensional ether – and looking forward to spending time with Lorelai, Christopher (David Sutcliffe) and Rory (Alexis Bledel), who has been away herself with Paris (Liza Weil) in Washington DC, interning and reading books in closets by torchlight (long story).
Alas, the vision Emily has of Lorelai and Christopher playing much-delayed happy families – a supremely over-optimistic that Richard curtly dismisses as "pictures of Norman Rockwell family Christmases dancing in your head" leading to a "discussion" so heated that Lorelai, sans Rory who is with Dean, sadly slips out of Friday night dinner unnoticed – is dashed and as is the way of things with Lorelai's highly-demanding mother, it shall not go unremarked.
Sadly, the whole sorry episode is yet another example of the great gulf that still exists between Emily and her daughter, who doesn't want to bake scones, does not want to be reminded yet again that she is a disappointment to both parents – in this instances it's Richard who is especially cruel, blithely slipping in stinging critiques of the many failures of Lorelai's life; it's almost too painful to watch, testament to creator Amy Sherman-Palladino's emotionally-insightful dialogue and Herrman's pitch-perfect delivery – and is deeply saddened by losing Christopher to his pregnant girlfriend.
In one absolutely emotionally-insensitive sense Richard and Emily are bang on – its good that Christopher is stepping up and wanting to be a present dad for his second child; that observation alas reminds Lorelai that despite the best of intentions when Rory was being born, that simply wasn't possible back then for her and Christopher,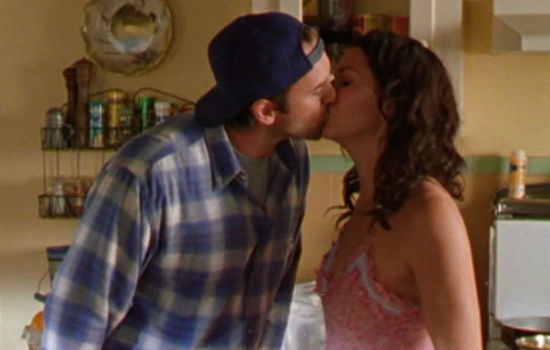 So deeply saddened, Lorelai heads back into town where the festival is STILL in full manic swing and the barbershop troop still knows just the one song to have some coffee at Luke's Diner.
Alas, despite dreaming, along with a thousand alarm clocks waking her up, that she and Luke were pregnant, blissfully in love and shacked up at the beginning of the episode – Rory, pretty correctly, interprets this as Lorelai mourning what she lost with Christopher and what he gained with his girlfriend – the reality is that they've fought, aren't speaking and relations are strained.
A deeply-sad Lorelai, in one of those heartrending performances by Graham that underscores that her character is not just a witty oneliner-making machine, pretends to be new customer Mimi who pours her own coffee, sits at the far end of the counter pouring out her grieving heart while the "bar keep" Luke (Scott Patterson) gruffly reassures her that everything will be all right.
Well,of course it will be eventually – shhh! SPOILERS – but for now, Lorelai is sad, coffee is, as always, her comfort in times of need, and she and Luke have made up and at least one thing is right in her world.
OK, make that two things with Rory back from Washington where she has interned with a typically amped-up Paris, who, in-between terrifying legislators such Tom Daschle and Barbara Boxer at mixers, has got a date!
Yes a date, an event which delights and terrifies her in equal measure and is apparently the harbinger of the apocalypse if you are to believe her.
Thankfully her date with Jamie (Brandon Bash) looks like it will go well – he has chosen a restaurant from the Zigat's Guide, Paris's holy bible of eating out in cities with which you're not overly-familiar – which means Rory, now back home can get back to deciding if she likes Dean (Jared Padalecki) or Jess (Milo Ventimiglia) better.
It helps when she gets to the festival, that Jess is kissing a blond, and Dean is puppy dog-sweet available, but it doesn't help that Lorelai lambasts her daughter for her cruel indecision.
Of course, they kiss and make up as the perfect mother-daughter friends are always wont to do, but the reality is a romantic time bomb is ticking, and in the lovely balance that exists between drama and humour in Gilmore Girls, Rory will have to deal with it sooner or later.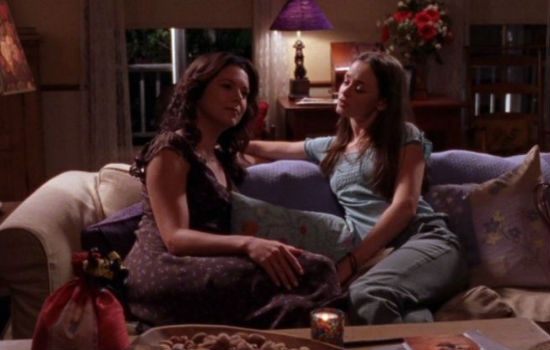 One couple dealing with emotional ups-and-downs right now is Sookie and Jackson (Melissa McCarthy and Jackson Douglas respectively) who are arguing over how manly their home, which was Sookie's alone back in the day, should be.
Sookie, in her sweet klutzy way is convinced Jackson wants giant stuffed bears in the corner of the living room and Leon Troutsky mounted on the wall but he does not and their argument, one of many that you know will blow over for the feisty but lovable twosome provides some light relief in a fairly emotionally hefty episode which reminds us once again of how masterfully written Gilmore Girls is, and how well it sits astride its quips and its laments.
For many people the show is all fast-talking silliness, and yes the quirky element is an important, easily-recognisable part of the show's essential DNA, but it is also heartfelt and emotionally authentic, a show that recognises that for all the joy of being alive, there's more than enough drama and sadness to accompany it and that two together make the kind of whole of which truly fulfilling lives are made.
This episode, more than most, understands and articulates that, delivering up a handy lesson in life's great complexity and why the deep friendships that sustains our Gilmore Girls, including the deep bond between them, are necessary to navigate life's many tricky moments.
Pop culture, as you would expect and nay could well demand once you've had your fully caffeinated java, is front and centre and includes references to …
MUSIC
References to Peaches and Herbs, Bauhaus and "It's a Small World" the only solutio, reasons Lorelai to getting "Those Lazy-Hazy-Crazy Days of Summer" out of their heads. But then how do they get ride of "It's a Small World"? Quelle dilemma!
FILM
Sid and Nancy, Divine Secrets of the Ya-Ya Sisterhood, Nell and Reversal of Fortune get a look-in, leading to this delightful observation by Paris.
"They give up careers and become alcoholics, and if you're Sunny von Bülow, wind up in a coma, completely incapable of stopping Glenn Close from playing you in a movie."
And the name-dropping of many a celebrity of the day (and yesteryear) including Colin Powell, Freddie Prinze Jr., Oscar Wilde, Dan Quayle and Connie Chung, among many others, all artfully included in Sherman-Palladino's rich, nuanced storytelling.