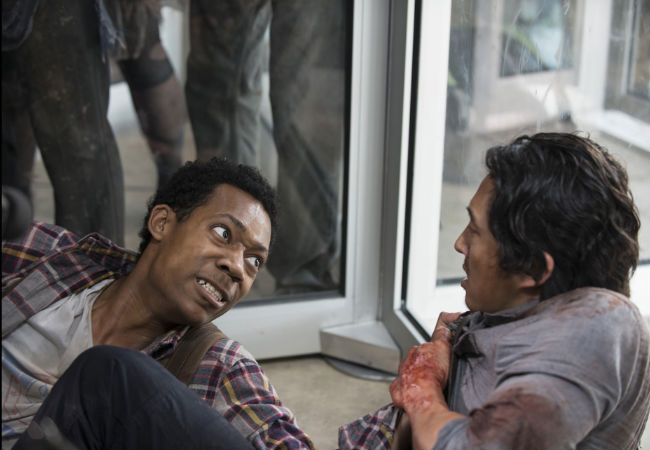 * THERE ARE SPOILERS AND REVOLVING DOORS O' DEATH AND SATAN DRESSED AS GABRIEL … I MEAN, AN ANGEL OF LIGHT … AH, SAME SAME *
All my greatest fears were realised in this brutal-as-a-summer-day-is-long episode of The Walking Dead.
No, not my fears of what might happen to Rick and the gang, or to Deanna and her placid fellow citizens, or even to Carol (Melissa McBride) should her cookie recipe fall into the wrong early-teen hands (I'm looking at you Sam (Major Dodson) but not in a creepy Carol abusively-feed-you-to-the-walkers kind of way, just, you know, looking).
Rather, the culmination of all my greatest fears about using revolving doors, those nefarious contraptions which turn the simple business of entering and exiting a building into a Russian roulette-like gauntlet of scuffed heels, potentially lethal tripping and awkward self-esteem  shredding moments from which is no elegant way to recover.
To be fair to the revolving door in question, which did nothing other than stand there waiting to be used – it's how they get you in; they look warm, welcoming and useable and then bam! before you know it, you're on the ground eaten industrial quality matting – wasn't really at fault, and quite a bit led up to what ended up being one of the most ferociously awful moments in the history of ferociously awful The Walking Dead moments.
SOME PEOPLE GOT A LITTLE TOO COCKY … AND SOME JUST EXPRESSED A HOPE FOR THE FUTURE POOR SODS
What is the one thing you never, ever do in an apocalyptically horror-filled movie or TV show? Anyone, anyone, undead Bueller?
Why, you never, EVER express any kind of hope for the future in any way shape or form … you hear me?
Granted Deanna (Tovah Feldshuh), head of the Alexandria Safe Zone (ASZ) has somehow managed to escape the Bluebird of Happiness/ Glass Half Full invitation to Death to come and rip your throat out with rotten hands, but she is a rarity in a genre where being happy/content/expressing optimism/falling in love are like red flags to a karmically-pissed off bull.
Not so lucky was Noah (Tyler James Williams) who made the literally fatal mistake of meeting with Deanna's architect husband Reg (Steve Coulter) the morning before a supply run to pick up some micro-inverters for the ASZ's failing power grid to discuss becoming an architect-in-training/archivist of memories.
My lord he even wrote "This is the beginning …" in the notebook Reg gave him! Noah, Noah, Noah, did you not watch a single horror flick before the apocalypse? Not one?
I bet you're the person who walks back into the dark house without a torch to see what that weird noise is aren't you? Thought so.
Nor was Deanna's often douchebag-inclined son Aiden (Daniel Bonjour) paying much attention to fate's dead, cold, well-telegraphed hand, firing up the van containing his right wing idiot in crime, Nicholas (Michael Traynor), Glenn (Steven Yeun), Alanna (Tara Masterson), Noah and the cowardly lion himself Eugene (Josh McDermitt) and tearing out of the ASZ rather recklessly playing Knife Party's "Internet Friends" at an insanely loud van-rattling, Noah eye rolling, walker-attracting volume guaranteed to wake the dead … oh wait that's already happened … as you were …
Cocky to a fault, a great big San Andreas-wide fault, Aiden and Nicholas initially listened to Glenn, Tara and Noah's sage advice – not so much Eugene's with everyone's favourite white feather-carrying fella still adamant that he is not warrior material and never will; he affirmed though that he is a very good liar with his fibs being instrumental in getting them to the ASZ, something with which Tara disagreed not surprisingly – to take things softly, softly and carry a sharp, animated corpse-skewering stick.
All was well to begin with, and it's a tribute to Matt Negrete's script and Jennifer Lynch's just-so, less-is-more direction, that it was possible to believe it would stay that way.
Yes all the signs were there but there were only a few walkers loose in and around the warehouse, those that were there in great abundance securely locked behind a nice strong wire fence – OK not as strong as it first appeared – and it took Tara and Eugene no time at all to locate the box of micro-inverters, the better to see your face with my dear.
Then, as is the way of these things, especially when they are are skilfully written and directed as "Spend" was, things went to undead hell in a basket so big all the walkers in the world seemed to be hungrily trying to get into it.
It might have been an eminently containable situation if Aiden and Nicholas had held their nerve but they, as you might have guessed, did not, and before you knew it, Deanna's less attractive son – c'mon Spencer (Austin Nichols) is beautiful; let's leave it at that shall we – had unleashed a hand grenade, Tara got knocked out, the walkers behind the fence got free … and it was on for the young and undead.
Again, it might have been a salvageable situation if Nicholas, who abandoned Aiden not once but twice to his eventual walker-banquet – the force of the explosion impaled him on a forklift arm and despite Glenn and the others' best efforts, he was a goner before he was actually gone – had held his head.
He did not.
Instead, following the idea that there is no such thing as  a panic-generated bad idea, he pushed his way to freedom out of the revolving door, leaving enough room for the walkers near Noah to elbow on in and rip him to bloody, gruesome in one of the most visceral, nightmarish deaths seen on the show, its atrocious nature only made worse by happening up close and personal, separated only by glass, to Glenn who could only watch on in horror, trapped in his own powerless pocket of revolving door hell.
Eugene, surprisingly, did his best to avert such an outcome, amping up Aiden's mixtape and luring, via noisy van, a great number of the walkers away from the door; but it wasn't enough and the group sped back to the ASZ with Tara bleeding badly and unconscious – only alive because Eugene vowed and declared he would protect her come what may (looks like the Wizard gave him his courage after all) – and Nicholas punch drunk thanks to a ferocious jab from Glenn outraged than he not only caused Noah's death but was going to steal the van and leave them behind to boot.
Messy, messy, awful and messy and a sure sign you should never, ever, EVER give your latent optimism an airing.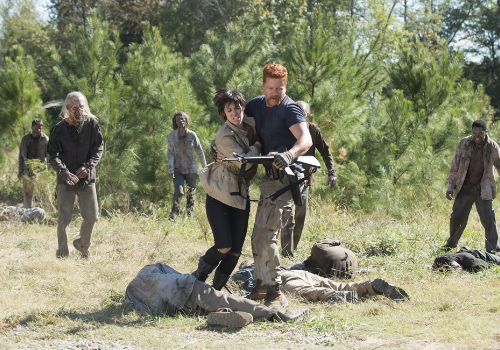 Meanwhile back at the ASZ, Abraham (Michael Cudlitz) found himself on the work crew out at the not-quite-ever-built mall gathering all manner of wall-bolstering supplies.
Everything was going nice and smoothly with nary a walker in sight or even rustling out of sight as they're wont to do, until head of the crew Tobin (Jason Douglas) decided he need to go and "send a fax to Cleveland" – which I am guessing is an American colloquialism that has little to do with superfluous use of non-working electronic equipment and everything to do with bowel movements – unfortunately picking, in the process, the most walker-infested stand of trees to do it in.
Once again, all hell broke loose, and once again we saw that the good, upright and Cleveland fax-loving citizens of the ASZ have not clue one about to do when the real world comes a-chomping its way into their bucolic existence.
It was up to Abraham, who sprang into Rambo mode faster than you can say "There's a walker behind you!" to rescue the lookout Francine (Dahlia Legault) who tumbled, through no fault of her own, out of her roost and was abandoned by a panicked Tobin, kill a passel of walkers without a second thought and get everyone back to work once the dust had settled.
Tobin, rather sensibly seeing the writing on the wall – let's just say that Francine was none too impressed with his potentially life-ending management techniques and wouldn't have been the most compliant of employees going forward – told Deanna he would stand aside in favour of the big strong strapping ginger lad who, in a quiet scene earlier in the episode, managed to face down another of his hovering-on-the-fringes panic attacks.
It was dramatically full-on in an episode filled to the dismembered body parts with full-on moments, one which put yet another one of Rick's group into a position of leadership and authority, something which might not be a problem except that …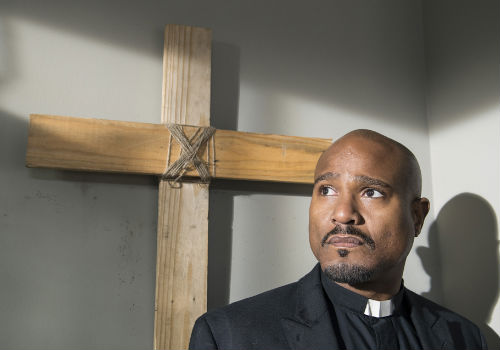 Father Gabriel (Seth Gilliam), in a sign that cowardice, psychotic breakdowns and overwhelming guilt should never be allowed to fester in the one wholly inadequate soul, and his is as inadequate as they come, decided it was high time he visited Deanna and warned her of the duplicity, the "Satan dressed as an angel of light" nature of the group of which he is grudgingly a part.
Now we all know that Rick and the gang aren't exactly the most together or violence disavowing of folks – why Carol was at it again in "Spend" finally caving in and making Sam more cookies but only if he stole the chocolate for her; of course if he was found out she'd do unspeakable blah blah violence violence death by walker things to him – but frankly, it appeared that Father Gabriel, who spent the opening scene in the episode ripping a Bible to shreds like all sane priests do, was doing more than his fair share of projecting.
Accusing Rick and his group, who Deanna was starting to have niggling thoughts about anyway thanks to Maggie's (Lauren Cohan) quietly enthusiastic affirmation of every leadership implementation involving her travelling companions, of every last play out of Machiavelli's book of underhanded political tricks, and possibly being a demonic force into the bargain, Gabriel sowed the seeds of even further discord with the ASZ's lamb to the slaughter denizens.
Quite whether Deanna will fully believe him is another matter entirely – he did have the whole rambling, googly-eyes, not quite right in the head vibe going on; not a good look when you're trying to be masterfully persuasive surely – but it won't help that Nicholas is going to come thundering back him loudly announcing Aiden's death followed by "I didn't do it, it wasn't me!" a watertight defence beloved of naughty five year olds and pretty much everyone who stuffs up in the ASZ.
And if Deanna loses faith in Rick and his violence-prone horde – Carol's solution to Jessie's (Alexandra Breckenridge) alcoholic husband and ASZ's doctor Peter (Corey Brill) being a drunken abuser is to kill him naturally; it's something Rick may not object to since he LIKES Jessie a LOT – then it will be ON, and no amount of smooth talking from the one time senator or her Hallmark-esque evocations of future bliss will be enough to stop Sasha and Carol grabbing machine guns, and cookies be damned Sam!, going house to house to take what, um isn't theirs.
* I'm thinking that next week's episode "Try" is not going to be all pixies, happiness and bucolic bliss y'all … Deanna's grand experiment may yet implode from the inside, a victim of suspicion, mistrust and too many cookie-baking requests …