It's one thing to see a long ago period of history portrayed on television where you have no direct links and no real emotional connection, and another entirely to watch a decade you lived through (yes all of it) come to life again.
But The Goldbergs, a comedically dramatised recreation of creator Adam F Goldberg's own family which he assiduously filmed during the 1980s when he was growing up, manages to mostly bring the era of ALF, Ghostbusters, Rubik Cubes and weirdly shaped colourful clothing, all of which I experienced firsthand, to life quite nicely.
Granted it relies primarily in the pilot on using physical props and references to then current events as the cultural touchstones, and renders the 80s largely in superficial terms for the most part, but there's a lot to pack into a pilot and using products and programs from a period is a great way to quickly establish a broad brushstrokes sense of time and place.
No doubt as the series progresses, and it is one of the new crop of sitcoms that deserves a chance to find its ongoing voice, references of a more substantial nature will be woven in.
But really, it's not the props that defines the show anyway.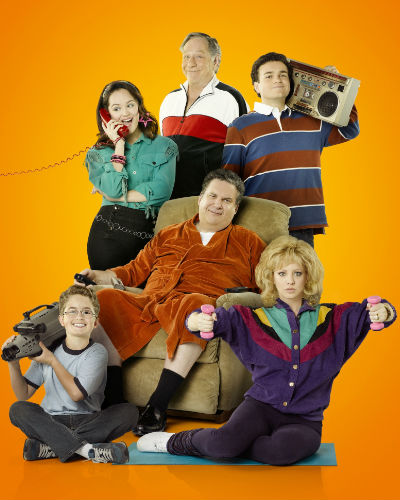 What really made The Goldbergs come delightfully alive for me were the wonderful portraits of a family that was dysfunctional as hell in one very normal sense, but ultimately loving and caring through that.
There's the usual push-and-pull dynamic between kids in, and entering, their teens, and their protective parents, all played out in comic caricatures that are fleshed out beyond the cartoonish by episode's end, the sense of claustrophobia that comes from living in the same house as people you love love and barely tolerate (and whom you will travel great distances at great expense to see later in life), and the messy business of growing up, with all its attendant mistakes, both by the kids and the parents alike.
But through all the yelling, squabbling and expected cries of "It's not fair!", came the delightful sense of a family that deep down loves each other, even if they're loathe to make too big a deal of it.
Most noteworthy cast wise are Jeff Garlin as dad Murray, Sean Giambone as Adam and George Segal as Albert Solomon as the grandfather railing against the dying of the light in ways flamboyant and worldly-wise but my favourite character was mum Beverly (Wendi McLendon-Covey), who is also the most fleshed out of the crew by the time the credits roll, who struggles with letting go of her growing brood, and defining who she is once she's done.
The two older teenage children, Barry (Troy Gentile) and Erica (Hayley Orrantia) don't move much beyond glib characterisations but it is only the first episode and they hopefully have room to grow.
The Goldbergs has laughs, wry recognition, and dollops of heart and soul – some of it overly saccharine, much of naturally occurring as the result of sharp, insightful writing – and is a worthy successor to shows like The Wonder Years (1988-1993), which manage to accurately capture an era while still bringing to eternally funny and touching life lessons that we can relate to, no matter which decades we have lived through.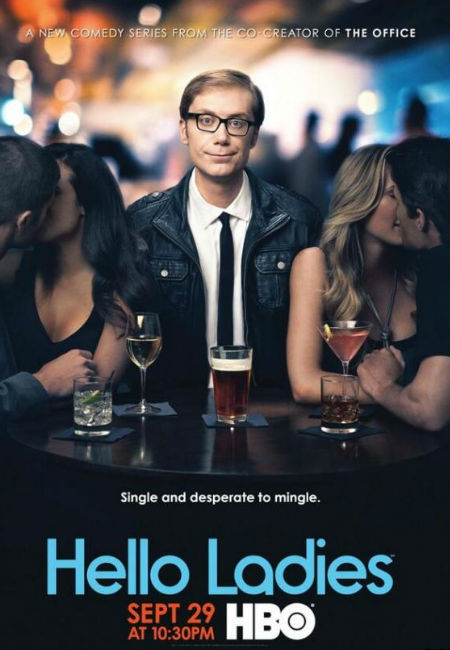 "Captain, I dinnae think I can't give it anymore! The Cringe-o-meter is set to maximum."
I am fairly certain that dialogue was never uttered by anyone ever but that is possibly because they haven't yet seen the pilot episode of HBO's newest comedy vehicle Hello Ladies.
The brainchild of Stephen Merchant, who has made a career of either playing socially-awkward, ethically-inept men or creating them in tandem with Ricky Gervais (The Office, Episodes), Hello Ladies is the latest entry in that rich British comedy tradition of having people behaving so badly you cringe every time they open their mouth or take even a baby step to interacting with another human being.
Shows like Fawlty Towers, Absolutely Fabulous, Mr Bean and The Office, to name a few, have all had flawed, cringeworthy protagonists at their core, people with such an inability to get basic social niceties right that you almost wish they'd simply walk into a small, tiny closet, close the door, and lock it tight, never to speak with another person again.
Except that they're so damn funny, and vulnerably damaged at their core, that you simply want to hug them inbetween laughing with embarrassment at their core, and not seeing them do their thing, however awkward, is unthinkable.
The key is of course to make sure they're likable enough that you can withstand their endless verbal and physical pratfalls and given how badly they often behave, that means they have to be really, really likable or the whole thing falls apart.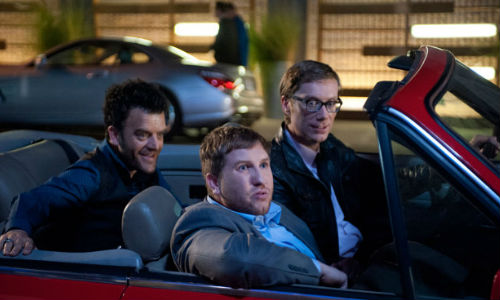 And that's where Hello Ladies, which is a genuinely warm, funny and engaging sitcom at its maladroit heart, almost comes undone.
Because Stuart (Stephen Merchant), a tall gawky British web designer on the cusp of software richness and glory in L.A. (or so he tells everyone), who is confidant about talking to "the ladies" but absolutely rubbish when he does, almost veers into unlike-ability more than once in the pilot.
He approaches his quest for romantic fulfillment with narcissistic obsessiveness, happily riding roughshod over the needs of his tenant unsuccessful actress Jessica (Christine Wood, Go On) and supposed newly separated best friend Wade (Nate Torrance, She's Out of My League) when it suits him.
He is similarly sycophantic and brusquely dismissive respectively of the two men he knows who are "successful" at love and romance, Glenn (Sean Wing), Jessica's agent and her brutally insensitive sometime lover, and Kevis (Kevin Weisman), a lothario in a wheelchair with the sort of self-deprecating schtick that has women clamouring to climb into bed with him.
All in all, not the most appealing of people but what saves him from being utterly unlikable is his inspired ability to bring physical and emotional ruin down upon himself, which though sad is deserved and funny (especially the nightclub scene where he ends up wearing more booze than he imbibes), and those rare moments when you see him abjectly alone in his apartment, cooking for himself and eating alone, bereft of even the hint of human companionship.
He talks a big game but never quite translates that into reality and its these all too rare moments of vulnerability, which will hopefully build him into a more fleshed out person as the 8 part series progresses, that ultimately make him endearing enough to sort of hang around with.
If Hello Ladies is ultimately not going to outstay its welcome, it will need to balance Stuart's propensity for emotional and social buffoonery with the explorations into the layers of his person that lie buried deep somewhere the man-in-a-hurry-to-have-any-kind-of- contact-with-a-woman exterior which is on show most of the time.
There is a genuinely complex character just waiting to burst out if Hello Ladies has got the patience, palpably lacking in Stuart's approach to the opposite sex (where whatever you can give him is enough), to let him reveal himself.
Maybe then we can wind down the Cringe-o-meter and breathe again.