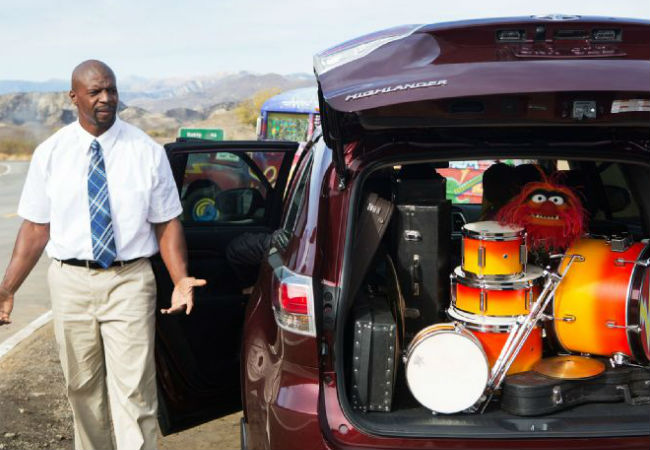 ROAD TRIP!
That's all I could hear in my head, in Animal's super-enthusiastic voice naturally, when I found out that The Muppets were starring in one of the much talked about Superbowl commercials alongside actor and one time NFL player Terry Crews.
Now while I have little to no interest in cars, except to check that they're (a) air conditioned and (b) will get me from here to there and back again, and have little to no interest in football (regardless of the country), I LOVE The Muppets and in that regard, the ad does not disappoint at all.
Featuring everyone from Kermit the Frog to Rowlf the Dog, Dr. Teeth and the Electric Mayhem and the incomparable, insanely over the top delight that is Animal, it's a rollicking good ride  for everyone concerned.
There are even chickens galore which frankly every commercial worth its salt should have.
It's apparently something that was uppermost in Toyota's mind too:
"Our game-day spot shows how Toyota Highlander puts the 'fun' in function," said Jack Hollis, vice president of Toyota Division Marketing at Toyota Motor Sales, U.S.A., Inc. "Toyota vehicles are built to last and can even endure the most boisterous Muppets, a former NFL player as well as a center console full of chickens."
(source: comicbook.com)
Kermit was equally as enthusiastic, especially about Animal not being allowed to drive anywhere – "He doesn't quite get the whole concept of brakes" – so we can only hope there are more Muppet/Toyota pairings in the future.
Until then, hit the road with The Muppets in this spot entitled "Joy Ride", which is scheduled to air during Super Bowl XLVIII on Sunday, February 2, 2014.
And of course don't forget it isn't long till The Muppets are back on an even bigger screen in Muppets Most Wanted which is released in USA on 21 March 2014 and Australia on 24 April 2014.