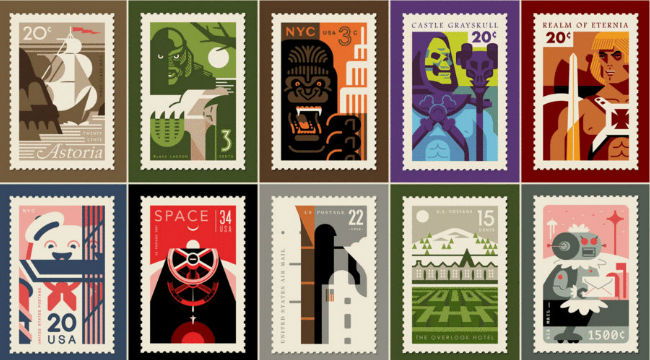 These stamps are gorgeous aren't they?
Not real unfortunately, and you won't be licking them onto an envelope any time soon or at all, but they are, nevertheless, gorgeous.
They are the work of Clark Orr, who has imagined in the most visually arresting of ways, what an impressive number of pop culture icons might look like if the US Postal Service commissioned a series of stamps celebrating the likes of E.T., The Creature From the Black Lagoon, Back to the Future, and more.
They were part of an exhibition at Gallery 1988 in Los Angeles called Pop-Culture Postage which ran from 3 – 18 February this year and we can only hope that one day the postal gods will smile upon us and good old fashioned snail mail missives will be adorned with these wonderful pieces of art.
You can still buy some of the prints at Gallery 1988 (see past exhibits).
(source: Gizmodo)