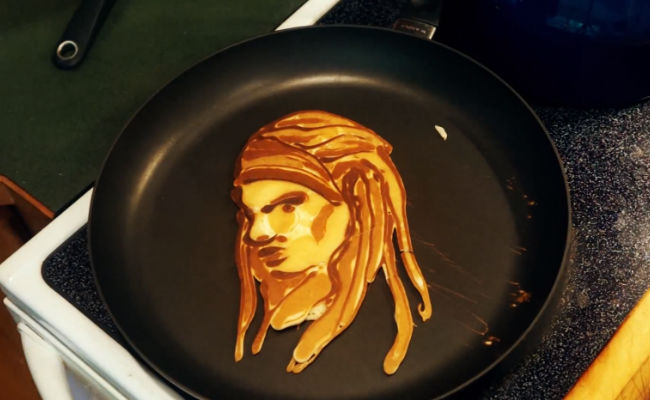 Ask Rick (Andrew Lincoln), Daryl (Norman Reedus), Michonne (Danai Gurira), Maggie (Lauren Cohen) or even scared-of-his-own-quivering shadow Father Gabriel (Seth Gilliam) – being stuck in the middle of a zombie apocalypse is hungry business!
Why even the zombies themselves can't get enough to eat what with the remaining human population doing everything in their power to stay alive and the undead too rotten and slow of foot to catch up to them much of the time.
So it is deliciously ironic and utterly inspired that Nathan Shields and fellow pancake artist Kevin Blankenship have crafted likenesses of the cast of The Walking Dead using what Paste Magazine notes is "nothing more than delicious pancake batter, a 12-ounce squeeze bottle, a spatula and a nonstick pan."
And the results are simply amazing.
Now if only the cast could make enough of them to throw out behind them, they might distract the zombies long enough to make a complete escape and find somewhere nice and safe to wait out the end of the apocalypse.
But that would of course mean the end of the show, so it's probably best we make and eat the pancakes and leave them to head off, a little hungry and pancake-less still, to Washington DC in search of Eugene's (Josh McDermitt) possible but unlikely, cure.
You can see more of their creations in the video (below) as at saipancakes and Random Breakfasts tumblr.