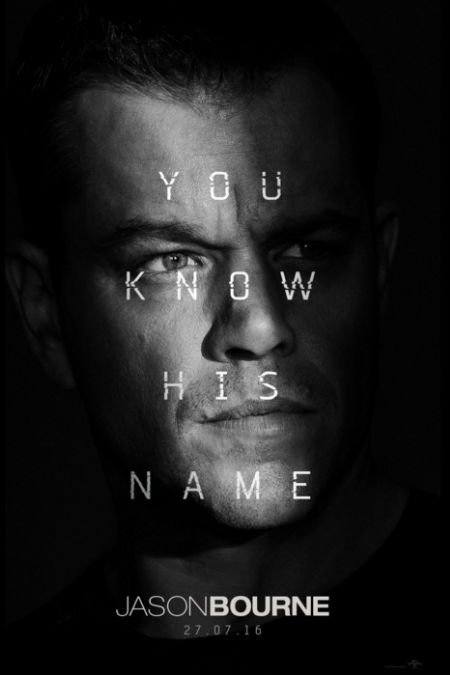 SNAPSHOT
Matt Damon returns to his most iconic role in "Jason Bourne." Paul Greengrass, the director of "The Bourne Supremacy" and "The Bourne Ultimatum," once again joins Damon for the next chapter of Universal Pictures' Bourne franchise, which finds the CIA's most lethal former operative drawn out of the shadows.

For "Jason Bourne," Damon is joined by Alicia Vikander, Vincent Cassel and Tommy Lee Jones, while Julia Stiles reprises her role in the series. (synopsis via Coming Soon)
I was never one for spy movies growing up.
Sure I'd occasionally sample a Bond film – to be honest they were a tad to camp and overblown for my tastes) or watch a gripping espionage thriller such as Three Days of the Condor, but by and large I ignored this particular genre.
That was until the Bourne franchise came along.
Directed by the superlative British director Paul Greengrass and starring Mat Damon as Robert Ludlum's titular amnesiac killer spy, the Bourne movies elevated the genre, delivering in your face action combined with brilliant characterisation, taut storytelling and genuine emotional angst that range true.
Here was a man, stripped of his memories and sense of self, trained to be an unthinking ruthless killer by the CIA, who must grapple with who he is as his old sense of self comes bleeding through.
The series, while delivering clever, penetratingly intelligent thrills and spills were at heart an exploration of what happens to someone when they are rebuilt from the ground up but the past refuses to lay down and die.
And now Damon is back in Jason Bourne after taking a break from the last outing in the franchise 2012's excellent The Bourne Legacy which starred Jeremy Renner as one of Bourne's compatriots who's targeted for elimination by the program's architect, Eric Byers (Edward Norton).
While Renner more than ably subbed in for Damon, it's good to see the man who is and will always be Bourne back in the role and discovering even more about who he is and what all his reclaimed memories actually mean.
But as Nicky Parsons (Julia Stiles) reminds her long-time ally in the first trailer for Jason Bourne, remembering who you are doesn't necessarily mean you instantly have all the answers you need.
BOURNE: "I know everything."
PARSONS: "Remembering everything doesn't mean you know everything."
BOURNE: "Tell me."
It's a theme picked up by Robert Dewey, a senior CIA officer who tells Bourne:
"You're never going to find any peace; not 'til you admit who you really are."
All of which means that Bourne may have his memory back but he's a got a way to go before his life is once again his own.
Jason Bourne opens 28 July 2016 in Australia and 29 July in USA.