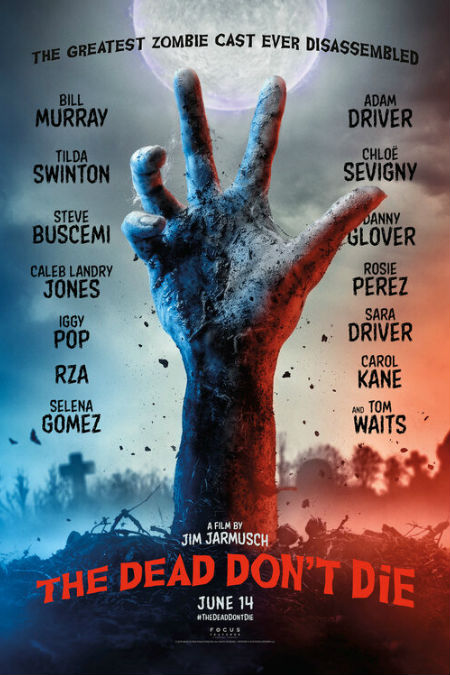 Zombies aren't dead!
Well, OK yes they are technically but as robustly-rambling leading lights of the pop culture zeitgeist, they are alive and kicking.
Take the fact that not only does Fear the Walking Dead have a fifth season coming up on 2 June at 9/8c this year on AMC and Foxtel in Australia, but Jim Jarmusch is giving us a zombie comedy too starring Bill Murray, Adam Driver and Tilda Swinton!
That's a lot of undeadness, both deadly serious and humourously silly, and it augurs well for the undead staying very much at the centre of things … well, until they rot and fall apart …
FEAR THE WALKING DEAD (season 5)
SNAPSHOT
In Fear the Walking Dead Season 5, the group's mission is clear: locate survivors and help make what's left of the world a slightly better place. With dogged determination, Morgan Jones leads the group with a philosophy rooted in benevolence, community and hope. Each character believes that helping others will allow them to make up for the wrongs of their pasts. But trust won't be easily earned. Their mission of helping others will be put to the ultimate test when our group finds themselves in unchartered territory, one which will force them to face not just their pasts but also their fears. It is only through facing those fears that the group will discover an entirely new way to live, one that will leave them forever changed. (synopsis via TVLine)
Is it possible to make the make the zombie apocalypse a better place?
Possibly, but it's clearly going to take more than a lick of paint and a nice vase of flowers to fix up the Darwinian fetid swamp that humanity has now become, not that Morgan (Lenny James) looks all that perturbed.
Although he is given a start when Dwight (Austin Amelio) shows up, prompting the good old "Do you two know each other?" line – yeah, sure, they tried to kill each other which doesn't exactly fit the whole make the world a better place mandate – as is Victor Strand (Colman Domingo) when he comes face-to-face with Daniel Salazar (Ruben Blades) at the wrong end of a gun.
Make the world a better place? Sure, but bear in mind it won't be easy, something Morgan acknowledges in typically facially-dour but thematically-upbeat fashion.
Fear the Walking Dead premieres 2 June.
SNAPSHOT
In a small peaceful town, zombies suddenly rise to terrorize the town. Now three bespectacled police officers and a strange Scottish morgue expert must band together to defeat the undead.(synopsis via Wikipedia)
I may not love everything Jim Jarmush does but my lord has he managed to assemble one hell of a kickass cast for this zombie comedy film.
Alas, the zombies aren't doing stand up routines or doing Lucille Ball-esque pratfalls but you won't care when the likes of Bill Murray, Adam Driver, Tilda Swinton, Chloë Sevigny, Steve Buscemi, Carol Kane and a host of others are involved.
If you're going to be fighting off the undead, then you want these people by your side, or even in the case of a couple of these storied actors, across from you as zombies; after all, is there anything more fun that undead Carol Kane demanding chardonnay?
I say not, and frankly this looks like it will be a much-welcome addition to the zombie genre and to the massaging of our thankfully, still very much alive funny bones.
The Dead Don't Die releases in USA on 14 June; Australian release date TBA.