Yes we have posters!
So many posters and it's time to share them with you.
Yes you – watch and be visually tantalised …
First up is the latest poster for one of J. J. Abram's new TV season offerings, Almost Human, which is set 35 years into the future where police partnerships are made up of one human, and one highly-evolved android. While most offices accept this as routine, some of the less orthodox officers do not including one played by Karl Urban, who thanks to a significant injury which almost got him discharged off the police force, is now part-machine himself. Resistant at first to his new old model android, played by Michael Ealy, they eventually formed a partnership that transcends any initial reservations either party might have had.
It's one of my most promising drama picks for the upcoming US fall season and the poster is as striking as the premise: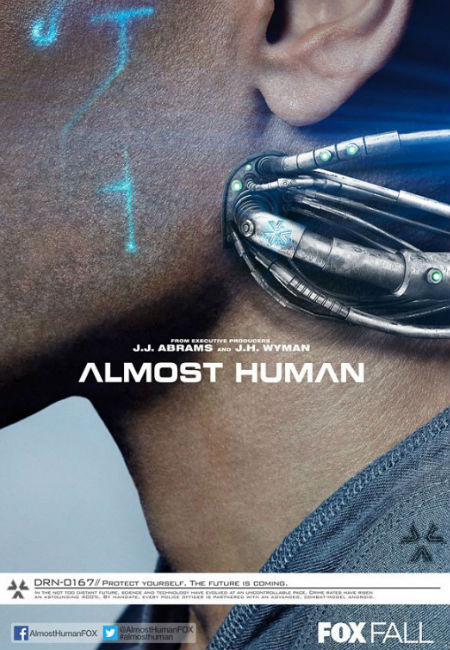 Next up, some extremely nifty posters for Banshee,  which "is set in a small town in Pennsylvania Amish country and features an enigmatic ex-con posing as a murdered sheriff who imposes his own brand of justice while also cooking up plans that serve his own interests." (source: wikipedia)
While I have yet to see the show (from the creators of True Blood), which premiered on Cinemax for a 10 episode first season in January 2013, and has already been renewed for a second season starting next year, these posters, designed especially for this year's San Diego Comic-Con have inspired me to search out what looks like a fascinating series.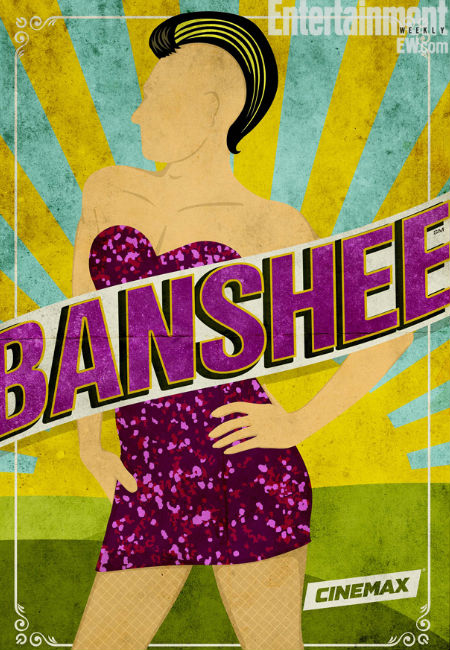 You can see all the posters for Banshee here.
Next we see the return of an old favourite – well favourite radiation-soaked terror anyway – Godzilla.
Directed by Gareth Edwards, and with a screenplay by Max Borenstein, Dave Callhan and Frank Darabont, and starring, among others, Bryan Cranston, Ken Watanabe and Juliette Binoche, it is scheduled to come thundering back onto the big screen, and scaring the bejeezus out us, on 16 May, 2014, all courtesy of, appropriately enough, Legendary Pictures.
Here's the official synopsis, containing more than a hint of a monster-sized morality lesson for humanity:
An epic rebirth to Toho's iconic Godzilla, this spectacular adventure pits the world's most famous monster against malevolent creatures who, bolstered by humanity's scientific arrogance, threaten our very existence.
While there isn't a trailer just yet, there are some awesome teaser posters that have just been unveiled at this year's Comic-Con: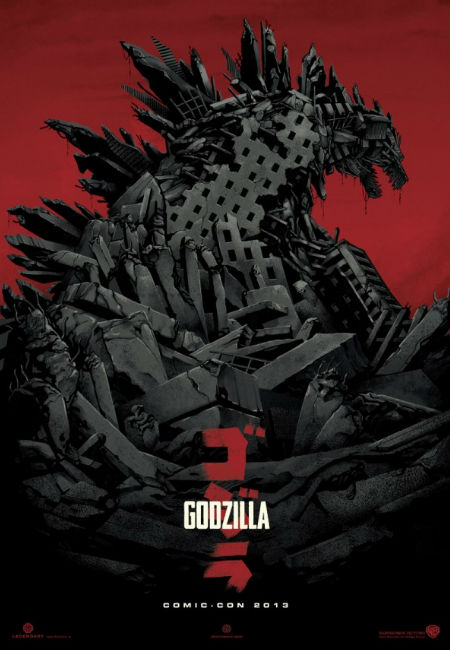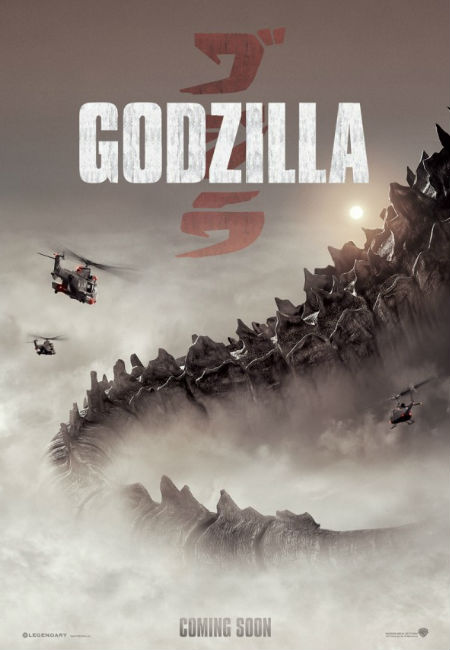 And last but not least, for this is an equal opportunity, all show and movies are created equal post, come new promotional artwork released for Comic-Con for Captain America: The Winter Soldier, which features our long-lived patriotic hero locked in battle with The Winter Soldier, a re-animated version of one of his old fighting buddies, Bucky Barnes, and Thor: The Dark World, where we see the norse god's new enemy Malkeith featured alongside Thor's estranged brother and would be dictator of Earth, Loki, and Heimdall.
Both promise to be bigger-than-Ben Hur blockbusters and if the first films in both franchises are any guide, superhero flicks with intelligence, strong story lines and real humanity.
Those lucky enough to be attending Comic-Con should hear more about both movies as well as other untitled Marvel projects.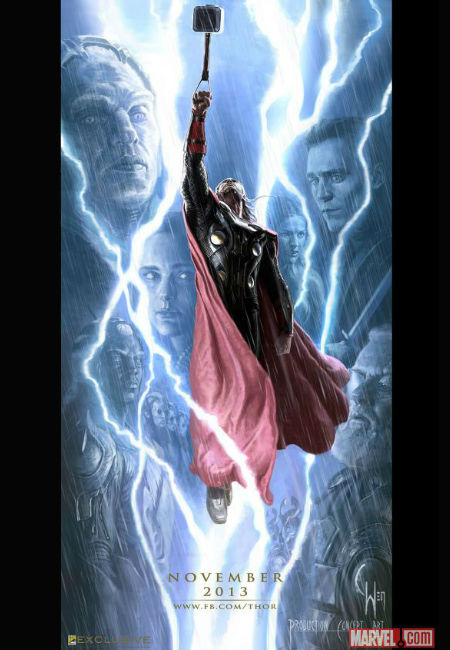 SNAPSHOT
Marvel's Thor: The Dark World continues the big-screen adventures of Thor, the Mighty Avenger, as he battles to save Earth and all the Nine Realms from a shadowy enemy that predates the universe itself.  In the aftermath of Marvel's "Thor" and "Marvel's The Avengers," Thor fights to restore order across the cosmos…but an ancient race led by the vengeful Malekith returns to plunge the universe back into darkness.  Faced with an enemy that even Odin and Asgard cannot withstand, Thor must embark on his most perilous and personal journey yet, one that will reunite him with Jane Foster and force him to sacrifice everything to save us all. (source: screen rant.com) 

Thor: Dark World opens in Australia on 31 october 2013 and in the USA on 8 November 2013.
SNAPSHOT
Steve Rogers struggles to embrace his role in the modern world and teams up with Natasha Romanoff, aka Black Widow, to battle a powerful yet shadowy enemy in present-day Washington, D.C. (source: imdb.com)

Captain America: Winter Soldier opens around the world in April 2014.