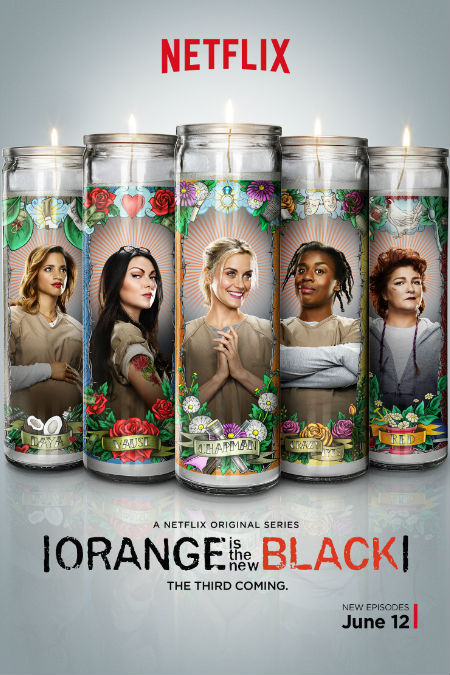 It is a blessed third coming indeed.
To the pounding sounds of Imagine Dragons' "I'm So Sorry", we're reunited with the inmates of Litchfield State Penitentiary, all of whom are worthy of our time although some, so the poster suggests, are more deserving of our devotion than others.
Netflix's newly-released poster for season 3 of Orange is the New Black, which drops 14 episodes on June 12 for your peek-behind-the-bars binge-watching pleasure, features a set of prayer candles showcasing five main characters who aren't so much heavenly or hell-ish as somewhere awkwardly, and hence rich with dramatic possibilities, inbetween.
On display for our devotional pleasure are Piper Chapman (Taylor Schilling), Dayanara "Daya" Diaz (Dascha Polanco), Galina "Red" Reznikov (Kate Mulgrew), newly re-incarcerated Alex Vause (Laura Prepon) and Suzanne "Crazy Eyes" Warren (Uzo Aduba) and as Indiewire notes, there are "a ton of hidden gems like Daya's candle (including Bennett's prosthetic leg), Red's candle (highlighting that pesky chicken) and more" included in the arresting poster.
Saintly they may appear but as we know all too well, the ladies of Litchfield as are flawed as they come, and season 3 promises a host of complications including the return of Vause, the re-appearance of "Lolly" (Lori Petty) who made a cameo in season 2, and the introduction of Stella (Ruby Rose) as a potential love interest for Chapman.
And as we've seen in two engrossing seasons of Jenji Kohan's dramedy, sparks will fly and fires of passion will erupt, and it will likely take the lord almighty himself, or his appointed representatives in the prison system, to restore order, if that is even possible (although through it all there will always be some humour to leaven the tension).
Orange is the New Black season 3 will be available via download on June 12.
And here's the updated trailer as of May 12, 2015 …