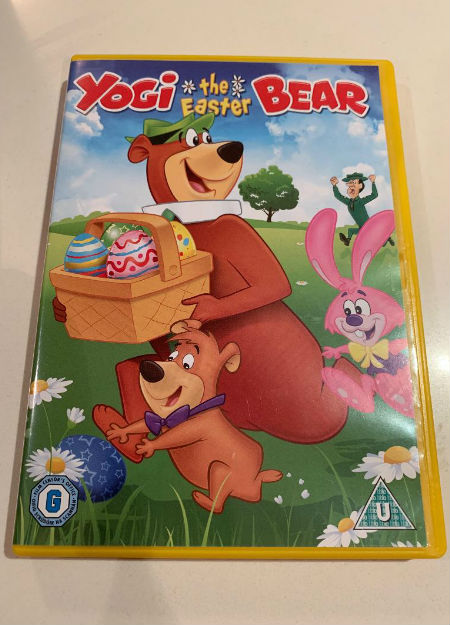 Yogi Bear, as we all know thanks to his constant recitation of the self-ascribed fact, is "smarter than the average bear."
But Yogi, who first made his appearance as an extra on The Huckleberry Hound Show in 1958, is not always as smart as he claims to be, at least when there's not to eat lying around.
In the case of Yogi the Easter Bear, first released in 1994 and one of the last voice roles for Hanna-Barbera's beloved Don Messick before he died of a stroke in 1997, any park smarts he might have, or claim to have, are undone when he eats his way through an entire truck of Easter candy intended for Jellystone Park's annual Easter Jamboree.
Granted, Yogi is smart enough to outwit shortsighted Ranger Mortimer, who is tasked with keeping the candy out of harm's way until all the children bused into the park can enjoy it, but that's not saying much – Mortimer is a sweet guy but he's REALLY shortsighted, like Coke bottle shortsighted and so it doesn't take much for Yogi to finagle his way and eat all the eggs.
So far, so successful; alas, as Ranger Smith (Don Messick, who also voiced Yogi's kindhearted pal, Boo Boo) told Yogi, those eggs were key to a successful Jamboree, an outcome even more important than usual this year with the Supreme Commissioner, head of all rangers who puts our forest fires with his bare hands, in the park with his grandkids (all of them threateningly, and unsmilingly, dressed in military gear) who are expecting the "time of their lives".
Uh-oh Yogi! Uh-oh is right and with Ranger Smith staring down the barrel of a spectacular, career-ending failure, Yogi is told he's off to the Siberian Circus the very next day.
(Yeah, it's odd that Ranger Smith has these connections but then this is also a park with a decrepit polluting factory in its midst and the home of the Magical Easter Chicken, so really should this surprise us?)
Thus is the stage set for the entry of the actual Easter Bunny, a member of the Mythical Creatures Union and enemy #1 for Paulie (Charlie Adler) – and her dimwitted, Easter Bunny-impersonating sidekick Ernest (Jeff Doucette) – who must be gotten rid of so that Paulie, who has an unhealthy fixation with plastic (her ode to it is disturbing and hilarious all at once), can take over as the sole purveyor of Easter goodies.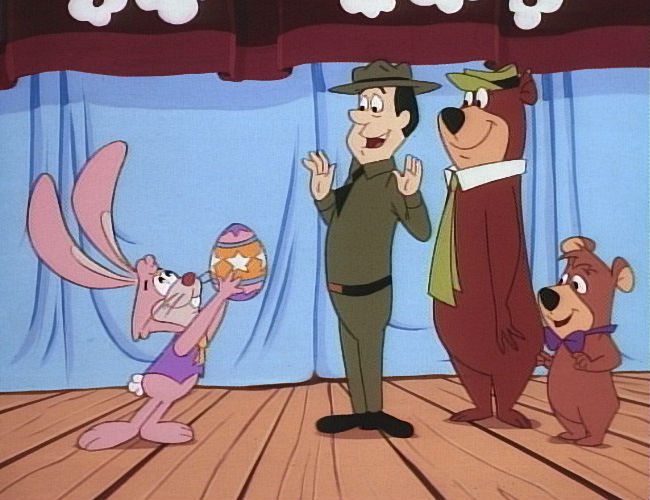 The delightful part of Yogi the Easter Bear is that while its set-up may sound like a standard Hanna-Barbera plot, writers Davis Doi, Jeff Holder, Scott Jeralds, Bob Onorato and Pat Ventura have a ton with executing on it.
Everything from the humourously-disturbing declaration of love for Paulie to the rules governing who can and cannot see the Magical Easter Chicken (no carollers or salesman!) – the fact that there is a Magical Easter Chicken at all, who's named Mildred by the way, is fun in and of itself – to the lebgth Ranger Smith goes to keep the kids entertained (or not; nothing pleases them) is way more substantial in execution that you might expect.
Yogi is in pure Yogi mode, which is not a bad thing since it's a schtick that works, much like Scooby Doo's obsession with Scooby Snacks and running from monsters, but it's the added touches that really make the special a delight.
Take the Easter Bunny who is utterly unflappable and as tenacious, not letting broken limbs, Yogi's clumsiness – there are plenty of sight gags in the 45-minute feature – or his kidnapping by Paulie derail his plans for Easter or saving the Jamboree for Ranger Smith, who, of course, he's known since he was a little boy, his sole desire at that time, apart from becoming a ranger, to receive a double-decker raspberry-filled dark chocolate egg.
Much like Santa Claus, whom he helps out at Christmas by creating the lists he checks not once but twice, the Easter Bunny knows everyone and everything, and while Paulie temporarily gets the better of him, Yogi, employing a distraction routine of which Bugs Bunny would be proud, frees him and he's off to save the day.
The fact that the Easter Bunny becomes so three-dimensional so quickly, as does amazingly Mildred the Magical Easter Chicken (you honestly cannot type that title too much) and more than holds his own against Yogi, Boo Boo and Ranger Smith, adds to the rich, substantial fun of this wonderfully well-crafted animated Easter special where the day is saved, chocolate eggs are eaten and Yogi, god bless his habitually messing-up socks, gets to utter a riff on his classic phrase – "I'm smarter than the average Easter Bunny!"
As it turns out, he's not, but thats OK – Yogi the Easter Bear, is an escapist, life-affirming festive laughfest from start to finish that delights and entertains and yes, makes you want to eat all the chocolate eggs you have until you're lying, belly-full, unable to move.
You're welcome.