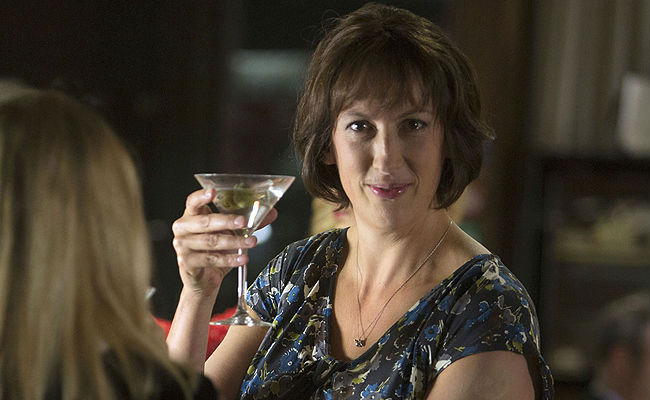 Saying goodbye to a TV show you love is never easy.
These days, of course, you never really say goodbye to a TV show with streaming, good old fashioned DVDs, cable re-runs and yes fan-fic keeping the characters you know and love alive long after the credits have run on the finale.
But even so, there is still something about a final episode that is filled with melancholy, in much the same way that farewelling someone who is going to live in another city or country is tinged with a niggling sense of loss.
You know you'll see them again but it won't be as often, and when you do connect, whether it's over Skype or via email, there won't be the same freshness or richness of experience that you got from seeing them live and in person.
The same applies to TV shows which though their episodes can be viewed over and over again until kingdom comes or the zombie apocalypse erupts, whichever comes first, will lack that initial joyful sense of discovery that first run episodes always seem to bring.
So with that in mind, how you say goodbye is vitally important.
The history of TV is littered with TV shows that didn't quite nail their finales as most people would have wanted – think LOST, Seinfeld and How I Met Your Mother for starters – but I can safely say that quirky, much-loved British sitcom, Miranda, starring the delightfully offbeat Miranda hart, won't be one of the them.
To keep persevering with the farewell to a friend analogy, the final two episodes of Miranda, "I Do, But To Who?" and "The Final Curtain" – broadcast in UK on Christmas and New Year's Day; yes I have waited a while to watch and review them giving some indication of how reluctant I was to bid Miranda goodbye – were like warm, lingering goodbyes that contained everything you love about the friendship, all those special shared moments that belong to just you and your friend, those quirky in-jokes and silly word plays, bringing a sense of completion that though you will always love them, things won't quite be the same and farewells of some kind must be made.
And Miranda said farewell in this manner very well indeed, particularly with her closing to camera piece, a hallmark of the sitcom which regularly broke through the Fourth Wall with gleeful, mischievous, intimate abandon:
"Dearest chums. I don't know about when or if we'll see each other again but thank you for being the most amazing friends. Love U."
It was a particularly special way to finish things off because Miranda had always been about co-opting its audience into the narrative of the show, almost as if they were good friends coming along for the ride, unseen but valued members of the cast who never got to speak a line but were as vital to the storylines as any one of the characters.
And what a cast of characters they were.
There was Miranda's overbearing, interfering, "what I like to call" mother Penny (Patricia Hodge) whose catchcry of "Such fun!" was usually uttered when the event in question was really only going to be enjoyable for her, and best friend Stevie (Sarah Hadland) who ran Miranda's gift shop for her, often quoting the song "Proud" – What have you done today to make you feel proud?" while holding a headshot on a stick of its singer Heather Small (when she wasn't being pushed off stools by Miranda, a recurring and always hilarious piece of slapstick).
"Fear not for I am into this like whipped cream all over Gary Barlow!" (Stevie referring to planning Miranda's girls weekend away before the wedding, which naturally enough didn't quite go as planned)
Who can forget good friend Tilly (Sally Phillips), one of Miranda's private school friends, who was most well known for saying "Bear with, bear with" while she checked incoming texts, usually in the middle of conversations, and referred to Miranda by her school nickname Queen Kong (an appellation chosen on account of Miranda's stature, and which she hated it).
And, of course, the love of Miranda's life, Gary (Tom Ellis), the chef of the restaurant next door, with whom Miranda had an on-again, mostly off-again relationship until – SPOILER! – true love ran its course and they married in the final episode at the wedding reception for the owner of the restaurant Clive (James Holmes) and his partner Jim the Customer, a man who kept walking into Miranda's shop where he was usually involuntarily swept into the dramas of her life.
(The impromptu exchanging of vows followed one of the most pricelessly funny scenes in the whole series, when full of re-discovered love for each other, Miranda and Gary and all of Clive and Jim's guests as well the grooms themselves galloped to the reception to the theme song of Black Beauty).
Each of these characters were given their moment to shine in the final two episodes, most notably best friend Stevie, and Gary naturally with judiciously well-used and none-too-long flashback sequences give us a chance to remember the interactions between Miranda and her wacky friends and family members.
That was really one of the highlights of the two final episodes, the way in which Miranda balanced the recurring jokes and motifs – Stevie getting pushed off the stool, Miranda's "Fruit Friends", the appearance of both Gary Barlow and Heather Small, Tilly's use of "Bear with", Miranda's pratfalls, Penny's uttering of "Such fun" and "What I like to call", the episode-ending song and dance routine, and a host of others – with Miranda getting the happy ending she's longed for through all three seasons and sundry specials.
As with any sitcom worth its salt, the path to true love and completion wasn't a normal one and there were jokes and slapstick aplenty, but bravely, there were also gravely serious moments, an unusual infusion into Miranda's usual lighthearted vibe, which worked well.
After all what good are giant roadblocks to eternal happiness such as – SPOILER! – Miranda and Gary calling it quits after they're engaged because he won't say "I Love you" and Miranda admits she doesn't trust him to stick around as a result, or Miranda finally telling Penny in no uncertain terms to butt out of her life, if they aren't going to mean something.
In most sitcoms, scenes that serious would be a deadening blow to comedic flow, and while they are unusual in Miranda they worked perfectly, rounding out Miranda's character and giving us the sense that she was getting what she deserved and needed, and growing up at last.
"I just don't want to do my life without Gary." (Miranda realising what she wants, what she really, really Spice Girls-like wants)
But not too much as she hastened to assure her friends who, worried in the aftermath of her breakup with Gary that she was depressed  thanks to her forgetting to eat (!), starting to say "sex" like normal people (normally she'd garble it), drinking her fruit friends (but not Aubrey the Aubergine thank god!) and forgoing making a giant bouncy castle for adults because it was "childish" (!) , had staged an intervention in her apartment with the therapist she'd infamously had a session with in an earlier episode ("Just Act Normal", S2, E5).
After all, even though she now knew who she was, and had realised she needed to cut herself adrift from her mother, she was still going to do whatever it took to "jolly the world up" including but not limited to "galloping with gay abandon", "always finding a euphemism in anything", always singing if someone inadvertently sang a song lyric and loving the word "plunge … PL-UNGE".
In other words, the kooky, pratfall-prone, awkward Miranda of old would remain but with many of the quirky, slightly odd attributes we have come to love very much intact.
In that regard, "I Do But To Who" and "The Final Curtain" which also saw Tilly find true love, and Stevie find, ahem, a traffic warden, was the perfect way to say goodbye to Miranda, full of grown up moments, classic tropes and quirks, a happy ending and a lovely sense that though we were saying goodbye to Miranda, she was going to be just fine.
We on the other hand without her … well, now that's another matter entirely isn't i?