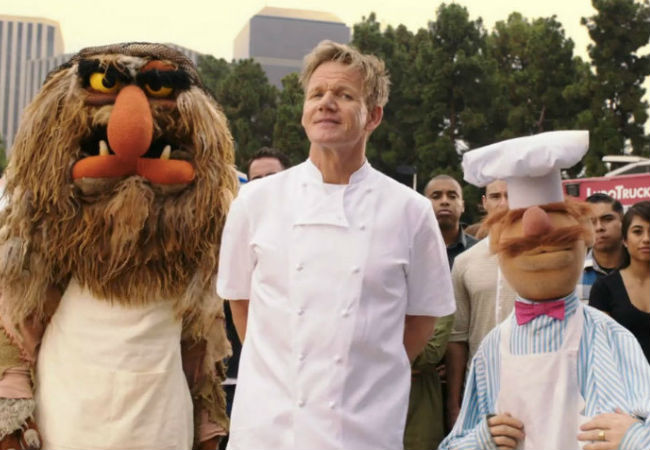 There is one movie I am looking forward more than any other next year, Muppets Most Wanted – for proof see here, here and yes all the way over here – and I am thrilled to bits that the promotional effort leading up to it is every bit as zany, madcap and over the top as the movie itself promises to be.
In the first of a series of Muppisodes launched to herald the arrival of the film in March/April 2014, "Food Fight", which Disney is releasing via buzzfeed but which you can also watch on The Muppets Facebook page, a surprisingly clean mouthed Gordon Ramsey with assistance from Sweetums dukes it out, Iron Chef-style with The Swedish Chef and his beleaguered assistant Beaker at his Børk Børk Førk food stand.
Frenzied cooking, interesting critiques from the judging panel comprising Statler and Waldorf, Miss Piggy and Dr Bunsen Honeydew (whom in the spirit of inept scientific curiosity decides to see what happens when you combine the competing dishes with explosive results), and cameos by the likes of Fozzie Bear, Gonzo, Animal and Walter all add up to the most sensational inspirational celebrational Muppetational Muppets Most Wanted promo yet!
And there's more where that came from making the intervening time between now and March something to really look forward to!
And here's the extended 6 minute version posted via WWE YouTube channel, featuring WWE's Mike "The Miz" Mizanin and announcer Michael Buffer (source: the examiner.com) …