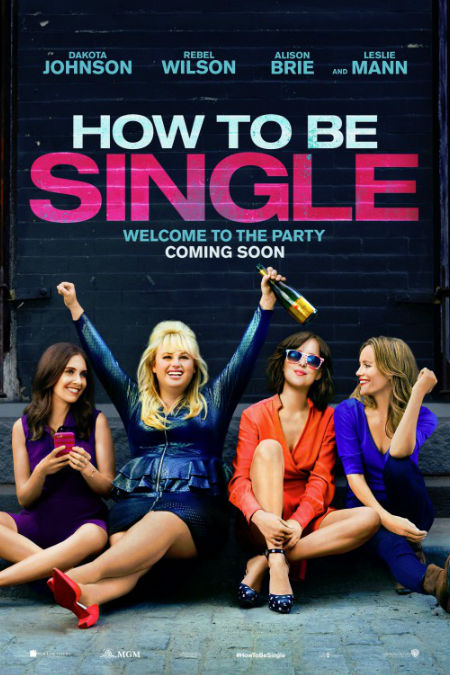 SNAPSHOT
There's a right way to be single, a wrong way to be single, and then…there's Alice. And Robin. Lucy. Meg. Tom. David. New York City is full of lonely hearts seeking the right match, be it a love connection, a hook-up, or something in the middle. And somewhere between the teasing texts and one-night stands, what these unmarrieds all have in common is the need to learn how to be single in a world filled with ever-evolving definitions of love. Sleeping around in the city that never sleeps was never so much fun.

"How to Be Single" stars Dakota Johnson (Fifty Shades of Grey), Rebel Wilson (Pitch Perfect), Damon Wayans, Jr. (Let's Be Cops), Anders Holm (Neighbors, The Intern), Alison Brie (Get Hard), Nicholas Braun (The Perks of Being a Wallflower), Jake Lacy (HBO's Girls), with Jason Mantzoukas (Neighbors, TV's The League) and Leslie Mann (This is 40). (official synopsis via YouTube)
It ain't easy being single.
It ain't necessarily awful either what with free nights, few commitments and only minor limitations, but it ain't, ultimately easy since despite what we say when we're single we all want that special someone.
We say we don't but we do, and so being single is all about making life work and work well without that person while you expend a lot of effort finding them.
Kinda confounding right, made all the more complicated by the options out there in a world rapidly accepting that binary models of love, sex and relationships simply doesn't reflect the complexity of human love and sexuality.
So there's a lot to deal with but also, as How To Be Single, a film based on He's Just Not That Into You scribe Liz Truccillo's book, a lot of fun to be had.
Just how good the advice is and how fun is to be had exactly will be discovered when How To Be Single opens on 12 February just in time for Valentine's Day.