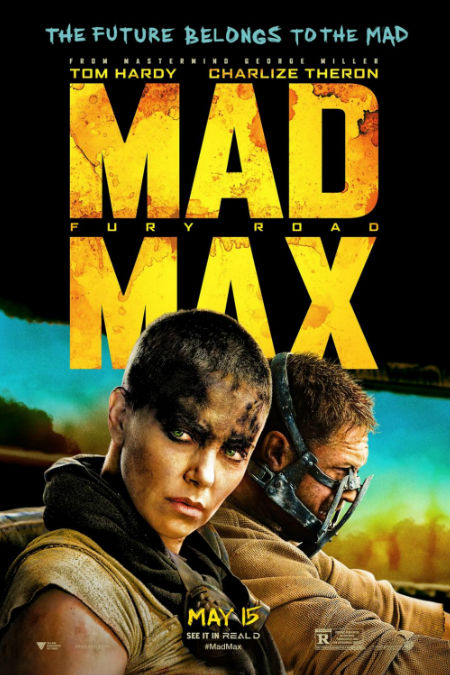 Humanity is manifestly, irretrievably broken.
That much is clear within seconds of the bleak opening of Mad Max: Fury Road when the eponymous hero, staring out into the burnt orange desert surrounds that spread out remorselessly in every direction, acknowledges that the Earth is broken, humanity is broken, and by extension, so is he.
Bearing the loss of people close to him, people he swore to protect and couldn't, Max (Tom Hardy, stepping into Mel Gibson's titular role) is a lone wolf, unwilling to get close to anyone, survival the only mantra he is willing to utter in a world where faith and hope seem to have lost all meaning.
But though it is undergirded, suffused and constructed out of a thousand and one deeply intellectual ruminations on humanity, life in general and gender roles among many other things, Mad Max: Fury Road, the latest magnum opus from one of the most gifted, literate filmmakers working today, George Miller, and quite possibly the action thriller of the year, does not have time to dwell excessively on all that has been lost in this gas and water-starved apocalypse.
No sooner has Max shared his burdens with us, and crushed a mutated two-headed lizard underfoot and eaten it raw, than he is back in his car, speeding away from scavengers whose only goal is securing the man, who is a rare universal blood donor, to act as a human Blood Bag for the sickening War Boys of the Citadel, the fortress of local warlord, a man who styles himself as a demonic-looking Christ figure, Immortan Joe (Hugh Keays-Byrne).
As you might expect in this ultimate dog-eat-dog of worlds, Immortan Joe is a ruthlessly tyrannical figure, his face hidden by a breathing apparatus which, ironically for a piece of equipment designed to keep someone alive, is covered in a stark symbol of death, a skull.
In fact, skulls, and a blatant disregard for life are everywhere; people are simply seen as things, except by a minority who wisely keep their own counsel until they are forced to take action, resources along with breast milk, gasoline, water and blood to be used, and more often than not, abused as necessary.
In this horrific new world, death is fetishised to such an extent that Immortan Joe's fighters only see value in the end of life, their calling to Valhalla, not its sustaining, a fateful philosophy that Max, for all his losses small and mostly large, his endlessly mocking regrets which seem to take physical form so ever-present are they, has no time for despite his unenviable prospects.
In that respect he shares a great deal in common with one of Immortan Joe's leading warriors, Imperator Furiosa (Charlize Theron) who, in direct contravention of the prevailing ethos of the day, steals away her lord and master's prime breeding stock, five beautiful, healthy women who are treated as little more than cattle, to  new life far away in the mysterious "Green Place of Many Mothers".
No one knows where this is exactly but setting out to find it, even with three war parties made of a spectacular array of trucks, bikes and cars from the Citadel, Gas Town and the Bullet Form hot on the tail of your War Rig, is worth all the sacrifices that it will entail.
And this is where Mad Max: Fury Road is a triumph in every sense of the word.
In this one defiant act, which essentially mean declaring war on Immortan Joe and his whole sickeningly deadly apparatus, George Miller encapsulates the central idea of the film, that even in its brokenness, humanity is still capable of acts of great nobility and purpose, of the pursuit of objectives high and lofty, of the valuing of life even in a place where it hangs on but barely.
That the fight to reclaim humanity's soul is spearheaded by a woman, who rescues women, to take them to a collective place of safety and nurturing established and sustained by women is no accident – men have wrecked the Earth, women will restore it.
This has led some to reject the film as some of weary feminist polemic but it is anything but; just as it is not simply a series of explosive car chases across the salt plains and through the canyons of Australia (the role of which is played in the film by Namibia).
Bombastic, big and explosive it might be, a war movie of epic proportions where much as in the wars of old where drummers would accompany soldiers into battle, a lead guitarist emboldens the War Boys around him to acts of mindless valour against a wall of crunching amplifiers, but at its heart, and it has an enormous one worn most proudly on its tattered, bloody sleeve, Mad Max: Fury Road is a treatise on the durability of the human spirit, even in the most catastrophic of situations.
Against backdrops brought to vivid, eyeball-searing life by cinematographer John Seale, Miller seamlessly weaves in a host of ideas that you don't normally fight in the average blockbuster – people are not things, life has value even when the many say it does not, women are no less valuable than men, the horror of violence and abuse can be conveyed without showing it, and even the most autocratic of regimes have no legitimacy if they refuse to recognise the primacy of human rights.
The genius of Miller's screenplay, which he penned with Brendan McCarthy and Nico Lathouris, is that it doesn't seek to force these ideas down peoples' throats; rather they are integrally woven into the storytelling, which relies on the show don't tell approach, assuming that audiences are intelligent enough to work out the messages, not that this is necessarily a message movie as such, for themselves.
Yes the film is gloriously, poetically, epically and explosively loud, crammed with fast moving action and vehicular carnage on a scale rarely seen before, and yes Max, along with Furiosa and the five women he unexpectedly comes to aid and who given him a renewed sense of purpose in return, must fight and fight brutally to save himself and others, but onto and into the truly spectacular, amazingly-choreographed gasoline-fuelled melee, Miller has firmly affixed an intelligence that influences everything in the film.
Mad Max: Fury Road then is that increasingly rare animal – the knowing blockbuster that delights the mind with its ideas as much as it titillates the senses with its action sequences, that gives as much value to its characters and what matters to them as it does to the dramatic, survival-driven world they inhabit.
There's no need to switch off your mind in this particular blockbuster, a movie so broad and expansive, so revolutionary in its ambitions and so all-engrossing that it will likely change the face of cinema in ways not yet conceived for many years to come.