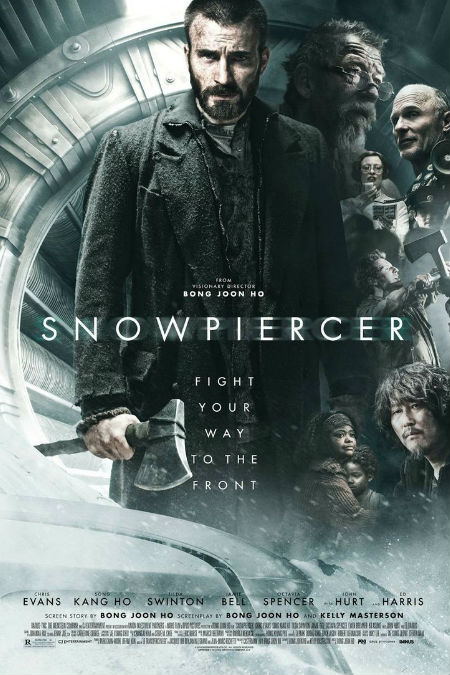 It is a tale, sadly enough, as old as time.
The rich and the powerful, hoarders of resources and advantage, reckless, hedonistic spenders of time and life span, lording it over the poor, the downtrodden and the dispossessed who must eke out a living on the decayed breadcrumbs that fall from the tables of the eternally privileged.
Old the tale may be but it is a fair bet you have never seen it rendered quite like Bong Jooh-ho's epic dystopia on train tracks masterpiece Snowpiercer, based on the French graphic novel Le Transperceneige by Jacques Lob, Benjamin Legrand and Jean-Marc Rochette, which presents the divisions between rich and poor, those at the luxurious front of the train and those squashed into its dark, dirty nether regions, in ways so stark you will likely wince at the disparity.
And that is likely the general idea, to show that even in the midst of an icy apocalypse, the result of the nations of the world trying in 2014 to combat climate change with man-made ingenuity and failing, that the rigid hierarchy of the "Old World" as it is dispassionately referred to – it might as well be make believe for all the relevance it has to humanity's current direct circumstances – remains intact even as the physical world in which it once existed is buried under multiple tons of hardened ice and snow.
We join the remnants of humanity, all of whom are essentially "trapped" onboard the seeming never-endingly long train , some in far greater comfort and luxury than others, in 2031 as it hurtles on its ceaseless journey around the globe, each circumnavigation taking a calendar year, with rebellion fomenting deep in the last carriage of the train where those without money and privilege are crammed like cattle, one on top of the other, forced to eat gooey, almost pitch-black protein bars made out of goodness-knows-what (that is revealed in all its stomach-churning horror later).
Boon Jong-ho, and fellow screenwriter Debbie Masterson (Before the Devil Knows You're Dead) quickly and cleverly dispense with the scene-setting exposition in the brief opening credits, plunging us straight into the fetid world of the literally great unwashed whose unofficial and somewhat reluctant leader Curtis Everett (Chris Evans in a finely-wrought nuanced performance) is readying himself for what will be, by necessity, a violent push to reach the front of the train where the "Sacred Engine", whose existence is granted almost mystical, divine status, is to be found.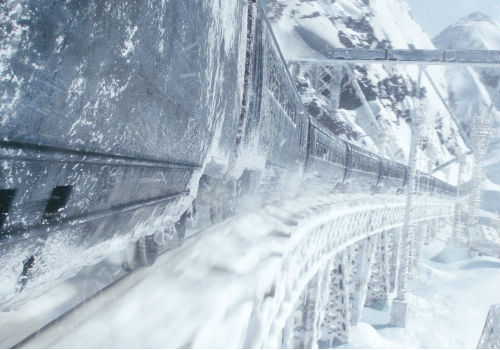 It is, naturally enough, the key to all power, both physical and political, abroad the train, and securing it, though no one has done it before – rebellions onboard the train have a dismal record with few making it past the few carriages that abut the final car – is the only way that Curtis, second-in-command and eager friend to the point of worshipping Curtis, Edgar (Jamie Bell), Tanya (Octavia Spencer) and gnarled and broken elder statesman Gilliam (John Hurt) will ever have any control over their own destiny.
All the characters, though stock standard archetypes in their own way, are given life and purpose by deftly added touches here and there which give you the necessary emotional investment in whether they reach their goal or not.
Granted, their quest is likely to end in death and ignominious failure, but no one has much choice but to pursue it, given their blighted day-to-day existence which is controlled by cruel and capricious guards, cruelly interrupted by the sporadic and unexplained theft of some of their children (including Tanya's son Timmy – Marcanthonee Reis – and circumscribed by decrees delivered by feisty true believer bureaucrat and possessor of horrendous teeth and oversized glasses Mason (Tilda Swinton), who, oblivious to the oppressive lives of the people of the last carriage, delivers sermons about balance and harmony to people who have long stopped listening.
And when the insurrection finally begins, it is every bit as brutal, fierce and hotly resisted as you would expect it to be with the inhabitants of the front end of the train, who dine on sushi harvested from an aquarium carriage, walk through gardens of fruit and vegetables and dance their nights and days away in a nightclub car high on a drug called Kronole, having as much to lose as the denizens of the last carriage have to gain.
With the help of a Kronole-addicted security expert Namgoong Minsu (Song Kang-ho) and his similarly afflicted 17 year old daughter Yona (Go Ah-sung), the rebels race through the carriages, their more successful-than-expected rebellion succeeding beyond their wildest dreams.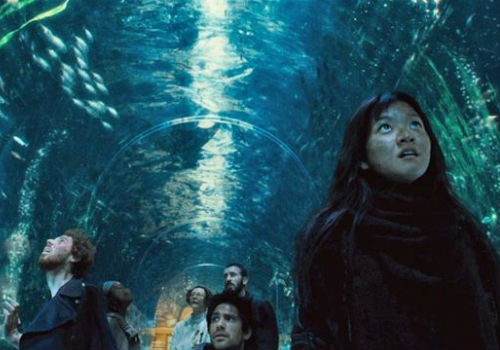 The genius of Snowpiercer's mastefully-delivered storytelling, apart from it lushly realised and visually-striking world-building (made all the more impressive by the fact that each part of this sealed universe can only only occupy the width and length of a train carriage), is that it never telegraphs its narrative intentions in advance.
You are left guessing right to the end about the success of the rebellion, where it will all ultimately lead, and the motivations of those both for and against it, meaning that the final act's revelations are genuinely shocking in a way that many action films fail to execute even half as well.
There is a subtlety and poetry to Snowpiercer, both visually and verbally – much of the dialogue is inspired, with Mason particularly being given the lion's share of lines that are both cruel and bleakly humorous all at once ("My friend, you suffer from the misplaced optimism of the doomed") – which is quite a feat given the bloodshed and destruction involved in pushing through a train specifically designed to prevent just such an occurrence.
The greatest achievement of the film though is that it manages to strike an entertaining balance between the gritty, epic, action-oriented spectacle of the poor and dispossessed rising up against their pampered oppressors, led by the god-like Wilfred (Ed Harris, who is more Wizard of Oz than a genuine figure worthy of adoration), and its underlying themes of inequity and inhumanity, weighty themes that slide seamlessly into the storyline, adding compelling substance to what could have simply been a bang-'em-up, shoot-'em-up film and nothing more.
None of us really want the world to end, but if that were to happen, you would want Boon Jong-ho orchestrating every last minute of it, such is his gift for crafting engaging, thoroughly immersive dystopian tales, which though authentically-apocalyptic, nevertheless contain a kernel of hope, a sense that humanity isn't so much damned as simply derailed for a time.