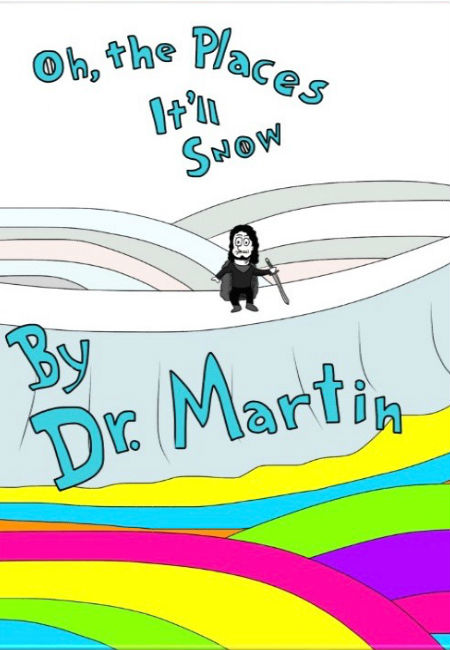 Oh the weather outside is frightful
Adn the White Walkers are not delightful
And since we've no place to go
Let It (Jon) Snow! Let It (Jon) Snow! Let It (Jon) Snow!

Granted those lyrics are from the famous song by lyricist Sammy Cahn and composer Jule Styne, "Let it Snow! Let it Snow! Let it Snow!" but they go to illustrate just how very differently we view winter (for the most part) to the residents of Westeros who see the impending. or not-so-impending arrival of winter, given we're neck deep in a freezing season 6 of HBO's monster (literally) hit of a show, as something to be feared not welcomed.
After all it lasts for a really, REALLY long time, and with it comes hardship, deprivation and snowy zombies known as White Walkers who mean to have this wintery world for themselves.
Sounds pretty scary right?
Well yes, but in the hands of illustrator Alex Cohen, whose books Oh, the Places It'll Snow lends a whimsical, jaunty Dr Seussian air to winter's arrival in the Seven Kingdoms, it isn't as scary.
At the very least, its playful and it rhymes, and it features the adventures of one Jon Snow – current state of actual deadness TBA – and his faithful direworld Ghost as they venture out into the tumultuous lands around them.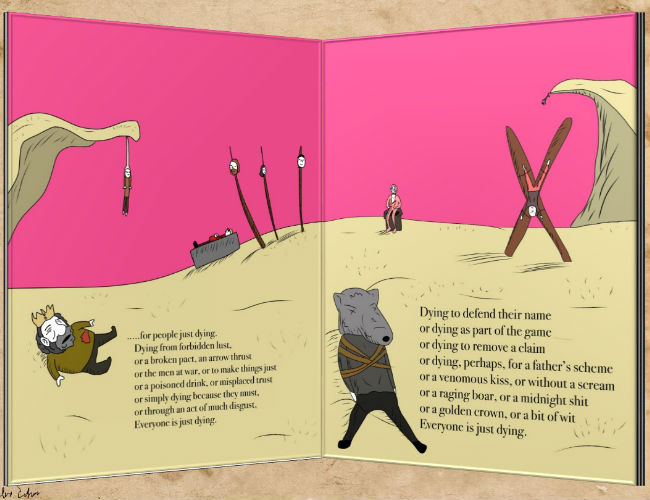 But that's not to say, as Bonnie Burton observes in her c|net article, that everything is absolutely hunky dory since this is, you know, George R. R. Martin's tale of rivalry, power and bloodlust.
"Needless to say, just as in the Game of Thrones TV series, this book parody also shows many deaths and the Dying Place."
But not to worry there is "also a very uplifting message about flying dragons."
And oh not-so-uplifting tales of White Walkers but hey when you talk about them poetically they seem almost fun and quirky right?
OK, not so much? Right then, moving on.
If you would like to join Jon Snow and Ghost on their playfully poetic trip through Westeros, you can read the full story of Alex Cohen's fan-made book at Imgur.
And wish that somewhere someone would make this into a real book, hold the zombie-filled winter please.