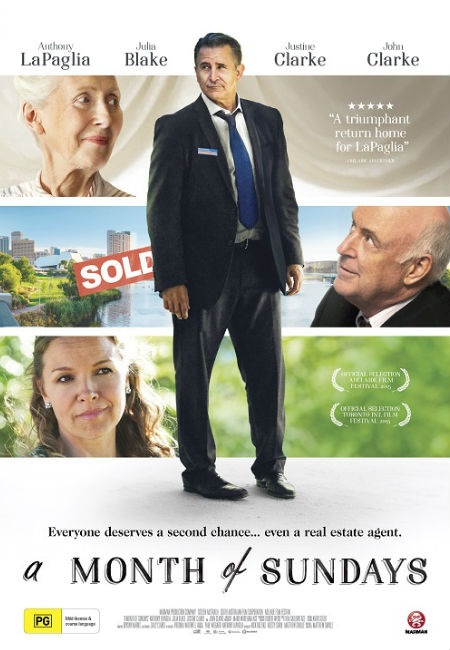 Frank Mollard (Anthony Lapaglia) has fallen out of love with life.
The result of losing his marriage to TV medical drama actor Wendy (Justine Clarke) eight months earlier, and the recent death of his mother which has overwhelmed and consumed him, Frank is a listless, enervated man, lacking any meaningful engagement with his job, his ex-wife and son and the particulars of day-to-day living.
To his credit he is painfully aware of this but lacks the motivation and the desire to change anything.
And given Frank's job as a real estate agent, which requires active, upbeat engagement with customers, and a teenage son looking for some kind of affirmation and love from his father, that sense of being stuck is causing real problems.
The depth of Frank's sense of emotional becalming is shown effectively and with more than a little bit of humour, at the start of A Month of Sundays, where an auction for a "home in a well-sought suburb" – a running joke is Frank's internal monologue habitually listing every house he walks into in terms of its saleability to prospective buyers – takes place around him with any active engagement by him.
He is physically present but miles away, a mindset that repeats itself over and over at every open house, every house showing and even in his conversations with his affable, slightly eccentric boss Phillip Lang (John Clarke is fine deprecating form) whose understanding of Frank's situation is the only thing keeping him in a job.
They both know something has to change, and John gently, and on one occasion, robustly chides Frank on a couple of occasions, but by and large, their friendship sustains the divorced and motherless through a dark period in his life that has robbed of his trademark wit and enthusiasm for the world around him.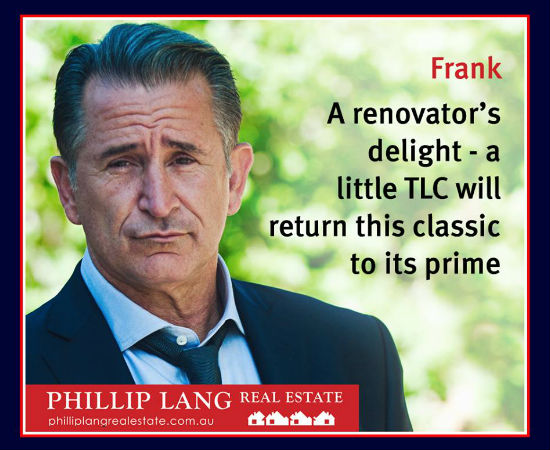 To LaPaglia's credit, Frank never comes across as unbearably morose.
Despite his emotional entanglement with the darker side of life, there are enough sparks of individuality and humour – his regular pranking of his wife's TV production crew is one of his enduring avenues of fun – to remind us that with a little bit of tender loving care that Frank could come back from the abyss.
That TLC comes unexpectedly in the form of elderly booklover and retired educator Sarah (Julia Blake) who mistakenly rings Frank one evening, thinking he's her son Damien (Donal Forde).
That wrong number ends up being Frank's lifeline back to normalcy with Sarah reminding him of his mother in countless ways, and together these two disparate souls coming together in an odd but mutually-satisfying relationship.
Written and directed by Matthew Saville, with a perfectly-judged jaunty, almost playful score by Bryony Marks, A Month of Sundays sparkles with wit, understanding and insight.
Throughout its quietly-unfolding, heartwarming narrative, the film never shies away from the stark realities of life, admitting that life can be a very dark and lonely affair times.
But it also rather delightfully, and without an ounce of twee sentimentality, reminds us that life can also surprise us with the very people we need to come back from a suffocatingly dark place in our lives.
Refreshingly, both Sarah and Frank are very much their own people with Sarah particularly uncertain at first whether her life really has room for some with the emotional needs of her newly-found accidental son-like friend.
But it turns our Sarah has a need for Frank too, perhaps not as the great as the one has for her but it is there and even as he takes his steps back into the living world, he is able to provide some support for Sarah who's harbouring some secrets of her own.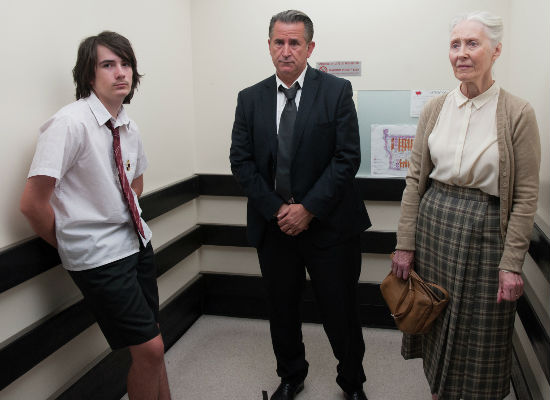 There is a genuine warmth and sweetness to A Month of Sundays that is present throughout the film.
But allied with that is a grim acknowledgement that life can challenge us in ways we never even see coming.
And Matthew Saville is wise to not try to paint some sort of happily ever after ending either.
Yes Frank does come alive and relationships with everyone from Frank Jr to Sarah's emotionally distant son Damian are enriched or mended but there is never a sense that all the trials and tribulations of life are now done and dusted.
What you witness instead is the lifting of the burden and the renewal of a sense of purpose and hope; in other words, the reemergence of the ability to successfully tackle life again in all its myriad good and bad forms.
Still we'll always need a shoulder to lean on, no matter how well we handle life and A Month of Sundays provides a strong assurance that there are relational ports in the storm of life and that we should embrace them wholeheartedly whenever we find them because we never know where they'll lead or how much difference they will make to our life.
In Frank's case, finding Sarah is life-changing, not just for our dejected real estate agent protagonist who ends up providing sage advice and needed perspective to Sarah's son Damian as well as his son, but for Sarah who finds an unexpected friend when she needs them most.
A Month of Sundays is a gem – intelligent, astute, insightful, heartfelt and slyly funny, it is rich with brilliantly-realised characters, life truths and a mesmerisingly impressive performance by Anthony LaPaglia who, as a disillusioned-cum-reawakened real estate agent, father and friend reassures us that there is a way to come back from the precipice and fall in love with life all over again.