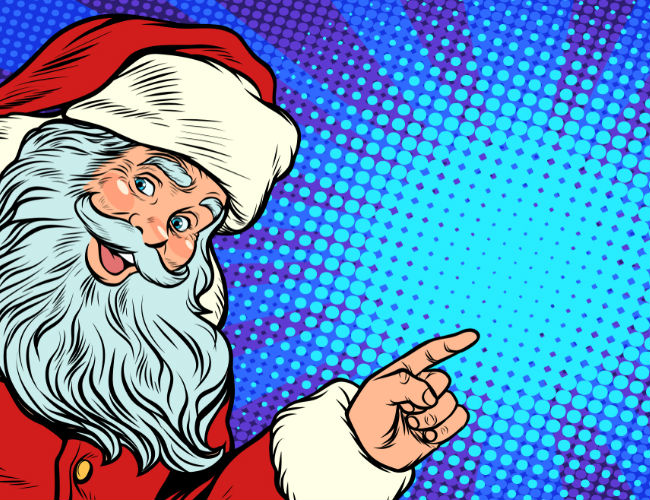 I am not a Christmas traditionalist.
Well, I am and I am not, said as I pivot, rather precariously on the fence of what sounds dangerously like festive decorating ambivalence.
What I mean is that while I love all the warm-and-fuzzy, bright-and-shiny trappings of the season so much so that Christmas is not so much a period of time as a complete state of mind and being, I am not the kind of guy who decorates my tree with beads, baubles, popcorn chains or tastefully-symmetrical strands of tinsel.
Don't get me wrong – that style of decorating can be knockout beautiful; but it's not me, with my style leaning towards bright red thick strands of tinsel placed with a jauntily-random air, silver sequined and red with silver swirls baubles, and pop culture ornaments collected over 20 years that stretch as far as the eye can see.
OK to be fair, the tree is only 6 foot tall so not a whole lot of endless stretching going on but there are lots of ornaments, they represent pretty much the gamut of my pop culture obsessions (save for the Sandra Bullock ornament of which there is, thus far, sadly not one) and they look brightly-colourful and make me very happy.
And that is what is Christmas is all about for me.
(Btw I picked 10 this year instead of the usual 5 because I figured why the freaking hell not … it's Christmas and anything is possible – well, at least on my blog …
Rowlf the Dog (Muppets)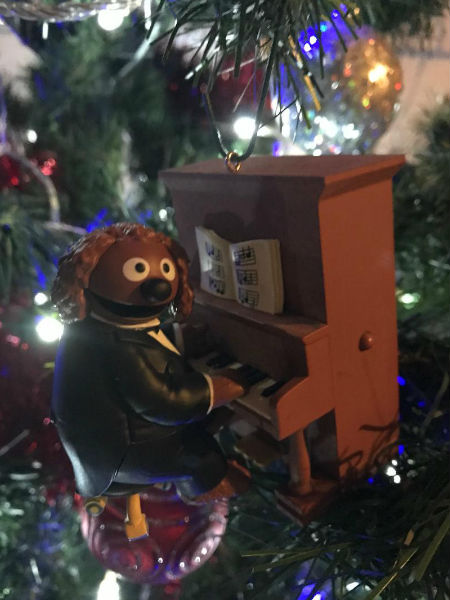 A musical mainstay of The Muppet Show, which premiered on 18 September 1976, Rowlf the Dog, created and performed by the late, great Jim Henson first made his appearance on The Jimmy Dean Show on 26 September 1963, making him the first big Muppet star (sorry, Kermit). A great lover of classical music, I adore Rowlf's chilled artistic persona, and his sheer love of being creative; he is, in lots of ways, the epitome of the Muppet spirit which powers a group of characters for which I have long held a great deal of affection and who dominate my tree as few others do.

Lady and the Tramp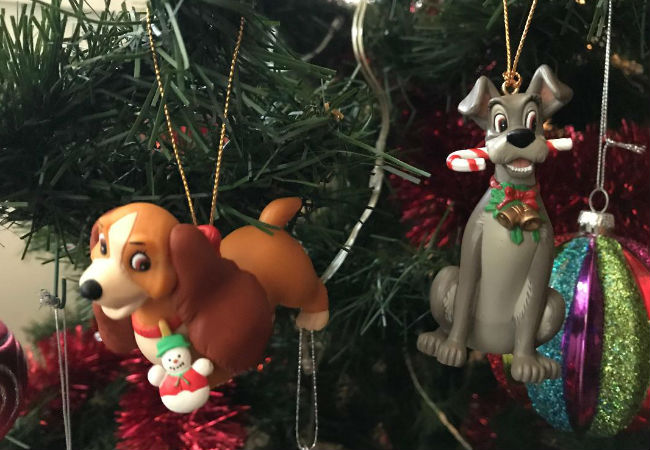 I, along with a great many people, have long been in love with Disney's epic but emotionally-intimate classic animated feature films. Released in 1955 and based on the book The Cynical Dog by Ward Greene, Lady and the Tramp is one of my great favourites, a delightful story of love and justice between the high end of town but terribly mistreated Lady and the loyal and protective Tramp. These two Grolier ornaments, of which I have more than a few, beautifully capture the tone and feel of the two characters whose story is the stuff of romantic dreams.
Thomas the Tank Engine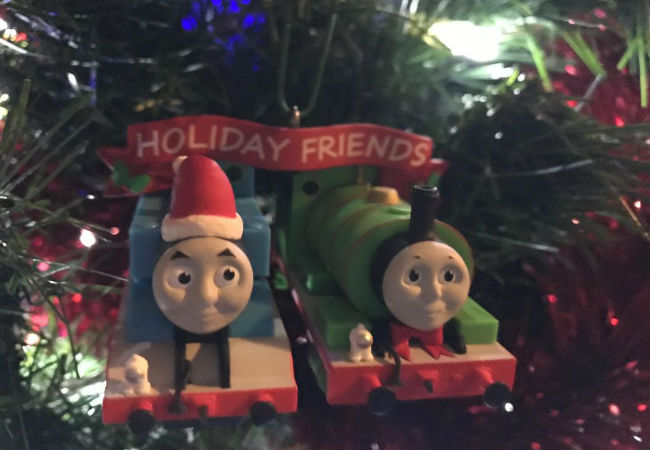 I'll be honest here – I don't fall into the core demographic for Thomas the Tank Engine and even though the first book Thomas appeared in released in 1946, it wasn't until 1984 that a TV series debuted. It was, of course, a huge success and remains so, with my nieces and nephews besotted with the character for quite some time at various points. It's largely for them, and Thomas's place in modern pop culture, that I've added this 2018 Hallmark ornament to the collection.
Mean Machine (Wacky Races)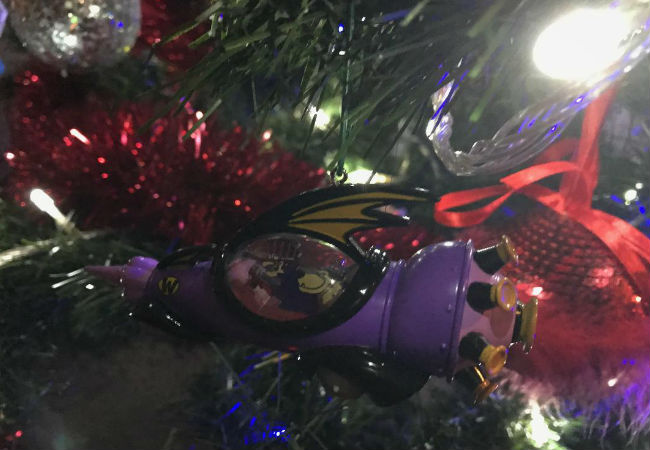 Oh how I love Hanna-Barbera! While I was also a devotee of Warner Bros. Looney Tunes cartoons growing up, which were witty, clever and subversive, there's something about the likes of the Wacky Races, and its many short-lived studio mates, that captured my heart, largely because they featured heavily on TV when I growing up in the '70s, but also because their quirky offbeat charm appealed to me on a whole heap of levels. Adding Dick Dastardly and Muttley to the collection has a been a joy, a tribute to the many hours I have spent watching Wacky Races (impressive since the original late '60s series only ran for 17 episodes).
E. T.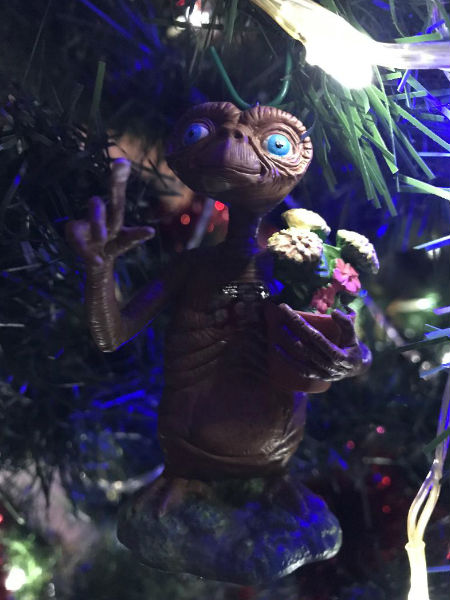 E.T. was for all kinds of reasons a behemoth of a success at the box office in 1982. It wasn't simply the fact that it was about an alien needing help from the people on the planet it had been left behind on, or the titanic David. Vs Goliath battle involved in getting him to safety; there was something innately touching and resonant about the way the way Elliott (Henry Thomas) bonded with E.T in the midst of a disruptive time for him and his family and went all out to help him. This ornament was released on the 30th anniversary of the film's release in 2012 and belatedly acquired by me this year.

Deep Space 9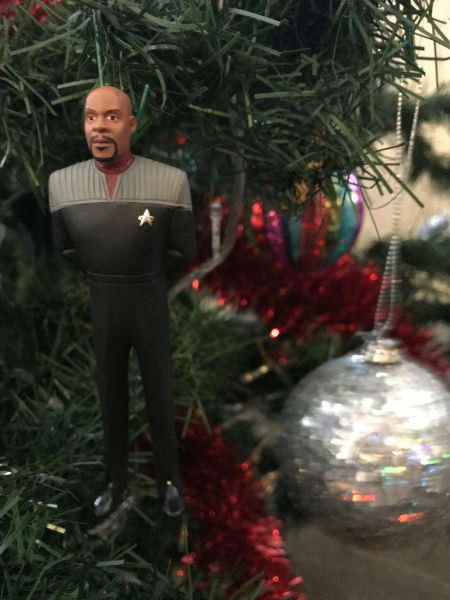 Rather controversially in a franchise where The Original Series or Next Generation are often hailed as the gold standard, my favourite Star Trek series was, and shall always be Deep Space Nine (DS9). A marked step away from the utopian feel good nature of the two series which preceded it, DS9 was gritty, full of flawed people and impossibly messy scenarios but also wildly disparate people who came to see themselves as family. Commanding officer Benjamin Sisko (Avery Brooks) was the calm leader in a control, a man whose destiny came to be far greater and bigger than anything he imagined. This ornament captures him perfectly – wise, quietly-authoritative with just a hint of the mischievous sense of humour that leavened many a tense situation.

Trolls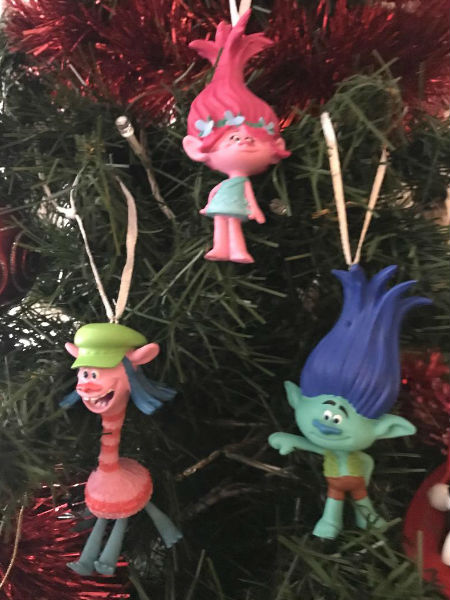 This 2016 animated film is most definitely not a remnant of my childhood but I fell head over heels in love with its bright, splashy visual palete, its sense of undeniable fun that sat quite happily alongside side a heartfelt, meaningful narrative. My love of animation has never left me and watching films like Trolls, based on the 1959-created toys who were back in vogue bigtime during the '80s, all by myself feels entirely natural and right, as do these adorable ornaments which have added more fun (like that was needed) and colour to my tree.

I Love Lucy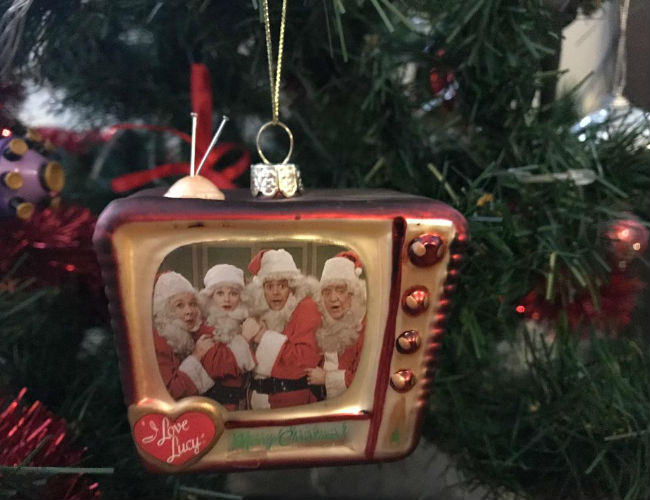 To be honest the Lucille Ball sitcom that I am most familiar with (thanks to it being telecast often when we visited my grandparents in Sydney where there were three – gasp! – commercial TV stations, not the one back home) is Here's Lucy, which ran from 1968 to 1974. But of course it is I Love Lucy (1951-1957) that started it all and with so many gif-worthy iconic scenes and social consciousness to its credit, not to mention a health love of slapstick comedy, it is the show that I'm honouring with this ornament.

Harry Potter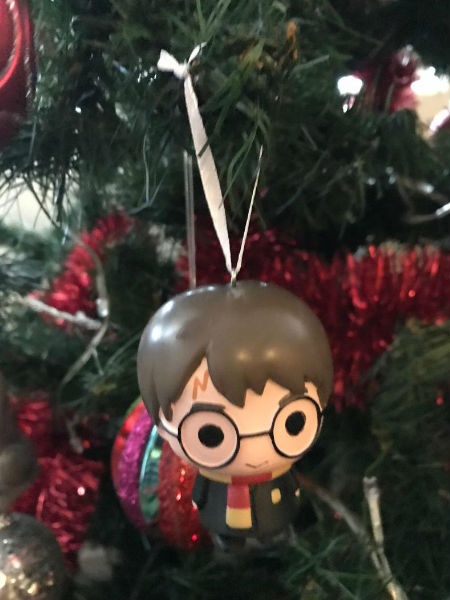 I am an avid reader of fantasy novels, but not, thus far at least, Harry Potter. Yes, I know, hang, draw and quarter me now! The first book arrived well after my childhood reading years, and while I've read the start of the first book and loved it (how could you not?), I've never found the time to read the books (I was also writing a fantasy novel at the time and didn't want J. K. Rowling to influence me at all.) But I have seen the movies, as has my boyfriend who loves them, and so getting a Harry Potter ornament makes perfect, almost romantic, sense.

Wreck-It Ralph and Vanellope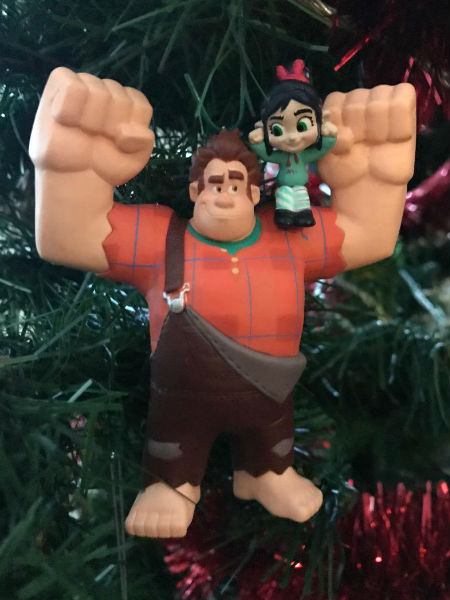 OK full disclosure here – I have not yet seen the first film. No idea how that happened given my enduring love of animation but suffice to say time or circumstance, or both, was against me. But that's about to be remedied with the first film via DVD and the second (Ralph Wrecks the Internet), via my traditional Christmas outing to the cinema with my nieces and nephews on Boxing Day so getting the ornament was an absolute no-brainer. Plus, of course, it's colourful and fun and I am always a sucker for both things.
Coco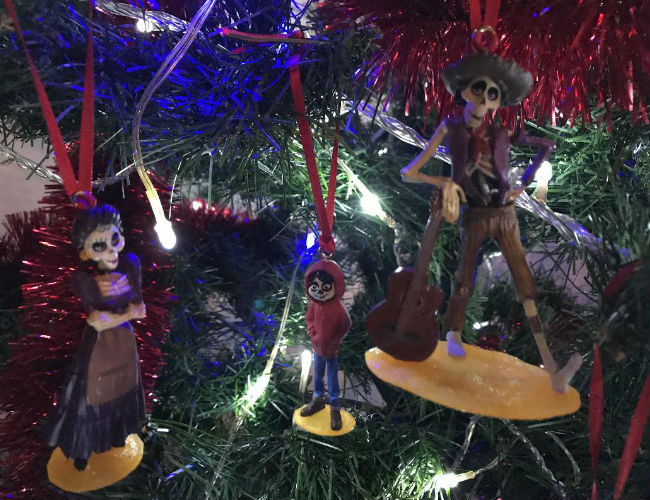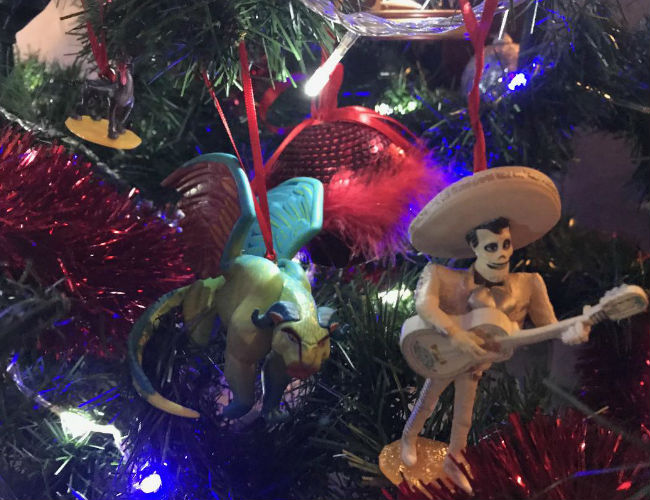 The 2017 film, which celebrates Mexican culture and specifically the Day of the Dead holiday, is a joy on so many rewarding levels. Faithful to the culture from which it's drawn, gorgeously-blissfully-colourful and so rich and deep with meaning and emotion, Coco is quite simply one of the best animated feature films I have ever seen, a gem of a film that is already a classic.