If you're a Christmasaholic, you may well wonder what zombies are doing shambling their way through your favourite holiday.
After all, isn't the song-evoked "most wonderful time of the year" a joyous time of peace and goodwill to all, chestnuts roasting over open fires and sleigh rides through the snow; not to mention the trees, decorations and presents under the tree? You know, all the good, heartwarming stuff of which festive dreams made?
It is usually, but in the undead-ravaged world of Anna and the Apocalypse from director John McPhail, Christmas, and pretty much last part of western civilisation has been turned on its head, leaving, as per usual in the bloodfest chaos that is the zombie apocalypse scrambling for their lives.
Unlike most zombie films however, the key players in this wholly-inspired piece of festive filmmaking, which is a heady mix of John Hughes teen flicks, George A. Romero undead horror and the musical sensibilities of Kristen Anderson-Lopez and Robert Lopez meets Ariana Grande, stop betwixt death breathing down their neck to belt out a tune or two.
It may seem, on paper at least, to be a weird kind of mix of genres but McPhail and screenwriters Alan McDonald and Ryan McHenry pretty much nail it, largely because the film, for all its glitzy tunes and camp overtones, plays it as a straight story with all kinds of grisly consequences, emotional and physical.
While the trailer might suggest a lighthearted musical romp through the bloody innards of the zombie apocalypse, albeit one accented with santas, snowmen and Christmas trees flung hither and yon, and it is some ways very much that film, Anna and the Apocalypse is also far darker and impactingly emotional resonant than you might first expect.
What starts out as a High School Musical-esque lament about too much parental oversight, failed romances and stymied ambition – the first two songs or so are set pre-apocalyse and reflect the then-fairly banal concerns of the students who mainly populate the cast – soon becomes something far more real and brutal in a way that rings true on all kinds of levels.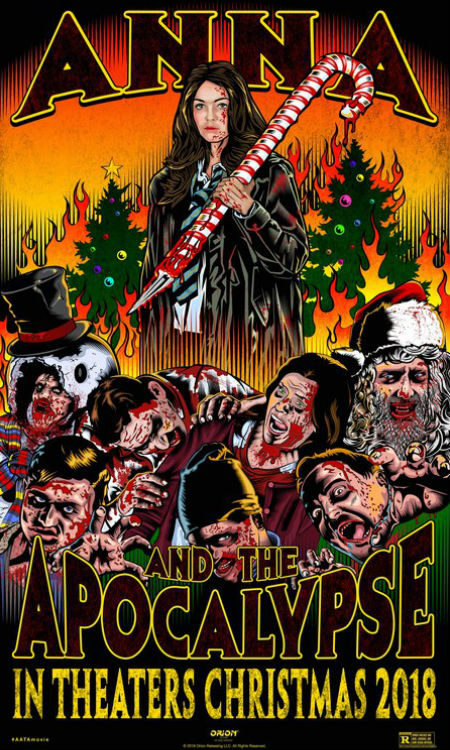 You may wonder how three very different types of genres could sit cheek-by-jowl even so but Anna and the Apocalypse succeeds because it first sets up a very believable world, one filled with all the small town high school tropes (the small town of Little Haven in the UK) and then takes the time to populate with characters that you very quickly come to give a damn for.
As is the temptation with zombie films, the initial urge when you meet Anna (Ella Hunt), her BFF John (Malcolm Cumming) who is naturally in love with her, Steph (Sarah Swire) who crucially has a car (remember that) and Chris (Christopher Leveaux), the four main characters who carry much of the narrative and who end up sheltering together in the bowling where Anna and John work when things go well and truly south, is to guess who lives and who dies.
So well-fleshed out are all four characters, and so nicely do the songs express their concerns, fear and joys, that you feel like you know them intimately well almost immediately, and so you expect, as is always the case with characters you come to know and love, that everyone will make it to the end un-bitten and alive, warbling out their joy at having survived the end of the world, at Christmas no less.
The same goes for the supporting characters like power and status-mad school headmaster Savage (Paul Kaye), Anna's widower dad Tony (Mark Benton) who is caring but strict, Chris's girlfriend Lisa (Marli Siu) and Anna's douchebag ex Nick (Ben Wiggins), who miraculously defies expectations as the film goes bloodily and musically on.
You know, of course, that not everyone can survive, but hey surely all these guys will – we've gotten to know them so well right? While no spoilers will be given about who kicks on come the closing credits and who's left shuffling mindlessly through the school in which much of the action takes place, just remember that Game of Thrones has set the precedent that no one is safe, a narrative dynamic that Anna and the Apocalypse runs with, pointy candy cane prop in hand.
While it might embrace many well-established facets of musical, zombie films and high school teenage angst movies, it also happily defies them, offering all kinds of pleasingly weird and emotionally-impacting moments that gather pace as the film staggers ever more darkly towards the big heart-stopping, tearjerking finale.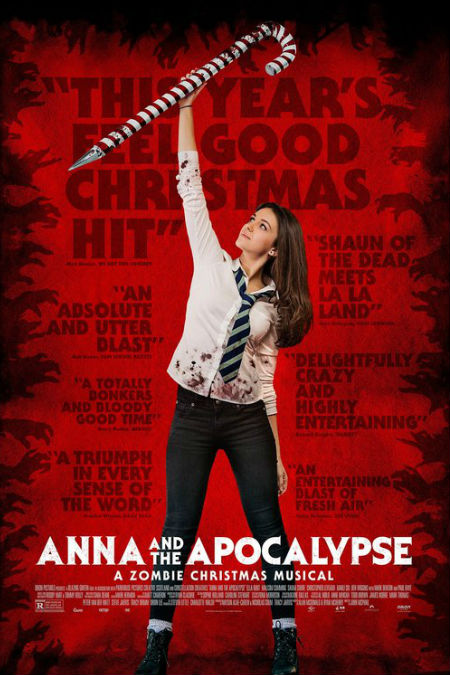 The reason why the film succeeds as well as it does, is that everyone plays it utterly and completely straight.
There are no wink, wink, nudge, nudges here, no silly songs that sound like they were written for a school camp Saturday night concert, no flimsy characters or empty hollow scenes that play things for laughs while leaving any semblance of raw, moving humanity in the tinsel remnants (by the way, scrunching tinsel does not make enough noise to attract zombies, just so you know); it's all serious, straight down the line stuff that still manages to fit in some gleefully camp, laugh-out-loud moments.
Take, for instance, the first morning of the full-blown apocalypse, which has shown small signs here and there of becoming a deep and destructive thing in the previous 24 hours – sick students at school scrabbling on glass-fronted noticeboards, a seemingly-drunk man wandering haphazardly through a carpark  – when Anna and John, earphones firmly in place and oblivious to the world, walk merrily past crashed cars, people fleeing desperately for their lives, and the general rubbish-strewn downfall of civilisation, singing happily about what a great day it is to be alive.
It's anything but of course, and Anna and John are not that far off from being confronted with that messily, horrifying reality, but right at that point as the world is going down the drain of the apocalypse, awash in guts and blood, both characters stand as an amazing counterpoint to the chaos around the, their last moments of being unaffected teenagers writ large across their smiling faces.
It's but one of many scenes throughout the film where contrasts are made and sage observations about the human conditions are dispensed in song and word, with Anna and the Apocalypse showing time and again that while it's premise might seem silly and camp, its execution is anything but.
This is a film that doesn't land everything – some songs don't have quite the impact they need, though most do and are insanely catchy, particularly the title track – but which mostly succeeds in its aim of splicing together three quite disparate genres, with a bit of Rocky Horror Picture Show madness thrown in for good measure, offering up in the process an emotion-filled, hits-you-in-the-guts exploration of the human cost of the end of the world, leaving Christmas, and a whole lot else, looking a whole lot the worse for wear by the time it's run its zombie-killing, song-filled, utterly-engaging course.