While we all like to think that life is endlessly possible and lustrously malleable, the truth is, often to quite accidentally, that we end up in craterous ruts of our own making.
We don't mean to send our life down some dead-end road to nowhere but one badly handled sliding doors moment and we are somewhere we never wanted or though we'd be and while recognising we're stuck is a big step forward, getting out of that chasm of habit is a hard thing to pull off.
Someone who knows that all too painfully is Carmen, a department store worker in a dying town about an hour from Edinburgh, Scotland who, after choosing not to go to university many years earlier, finds herself caught in a job going nowhere in a retail environment not long for the chopping block.
The protagonist of Jenny Colgan's gorgeously uplifting Christmas tale, The Christmas Bookshop by Jenny Colgan, Carmen is stuck well and truly, her unenviable position made all the more painful by the fact that her super-successful sister Sofia, not only has a successful job as a high-flying lawyer in the Scottish capital but a doting, handsome husband, three lovely kids (not that Carmen has much to do with them) and a home straight from a picture-perfect postcard.
Sofia has it all, and Carmen has nothing much of anything, and unless something massive changes, nothing about that less-than-ideal situation is gong to change.
Carmen tried to hell herself the city was only so lovely because it was filled with annoying rich people who wore red trousers and had surnames as first names and were all snotty show-offs like Sofia.

But it wore you down, the magic. Even now, only in November, when night fell so early it felt like every street was beating back the dark every way it knew how: early trees appearing in windows, glowing gold in the smart New Town apartments and the big bay windows of the West End terraces; lights garlanding every road and stretching across the wide bank of George Street, with its expensive shops and bars wreathed in holly and lights; the pillars of the huge Dome restaurant swathed in metres of foliage and lights sparkling and twinkling …
That is, until Sofia calls and convinces Carmen, quite against her better judgement – though to be fair, whether its jobs, men or general life direction, Carmen's ability to make a decision in her best interest is deeply flawed at best – to take up a job at an ailing bookshop on Edinburgh's picturesque Victoria Street which is run by Mr McCredie, an older man who's burned through his inheritance and needs his sole remaining asset to pay its way enough for him to sell it.
It's a daunting undertaking and Carmen, quite apart from not wanting to accept any kind of help from Sofia at all, isn't sure she's up to the task, but with little else on offer, she heads to Edinburgh, moves in with her sister and tries to make a go of remarking Mr McCredie's messy, fusty bookstore.
Being a romantic comedy, The Christmas Bookshop all but guarantees that Carmen will not only make a go of it but that it will be a roaring success, transforming not only her life but that of Mr McCredie, who has some sizable issues of his own to resolve, but that of a handsome Brazilian dendrologist (someone who studies woody plants) named Oke, who turns out to be just who Carmen never knew she needed.
In one sense, it's all very predictable, but then that's why we read, and need, rom-coms, especially when they are from the assured hand of Jenny Colgan who serves up the romantic escapism we crave but with some real humanity and emotional authenticity infused winningly into proceedings.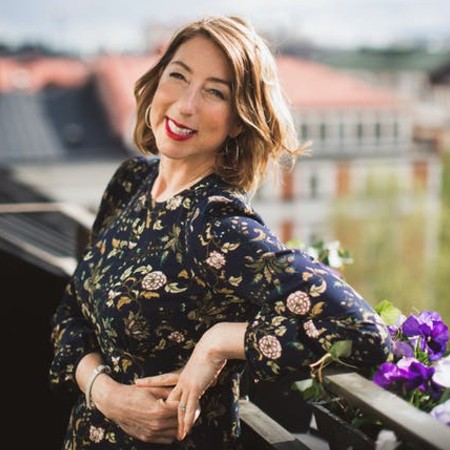 How well this master of the rom-com arts does her job is evident in how intimately and closely you feel connected to Carmen.
She comes across at every stage like a good person who has made some regrettably bad decisions, and while she has neglected her sister and nieces and nephew and hasn't engaged with life in any kind of meaningful fashion, she has it within herself to turn that around, something Colgan makes clear while allowing some aching vulnerability to shine through, something which is also afforded Oke and Mr McCredie and to Carmen's undying shock, her own sister.
Everyone who really matters in The Christmas Bookshop, which actually does sell nothing but books about Christmas, soon becoming the must-visit destination for the season (complete with antique toy train and toy mice in the shop window) is given the three-dimensional treatment which means that even though many of the rom-com tropes are happily observed, it never feels like they are cardboard cutouts simply there to push the expected narrative along.
You love being in their world, flawed though it might be, a happiness of literary circumstance that is enhanced by the way in which Colgan Edinburgh at Christmas to cosily festive life.
Whether it's describing a magical where Carmen bonds with her nieces and nephew while they watch, cuddled in duvets, as a huge snowfall plummets down from the near-dawn heavens, or the gorgeousness of shops bedecked in twinkling Christmas lights on a street made all the more beautiful by the season, Colgan creates a sense of festive time and place that is a joy and in which her characters can discover, most prominently Carmen, that the possibilities of life stand a very good chance of becoming a reality.
'But, Mr McCredie,' said Carmen urgently. She could hear the noise of the party, rising higher. 'Look what you have here. You have your beautiful shop. Your lovely house. And out there – there are so many friends. So many people who care about you.'

'That's all you,' said Mr McCredie. 'It's you that's made this shop busy again.'
Warm, vivacious and fun, and thoughtfully reflective when it needs to be, The Christmas Bookshop is a joy to read, a shot in the arm to anyone, tired after a long and wearing year, who needs to believe the joy of the season is real.
Not only that, that life can be redeemed and life trajectories given a new, shiny path, one that connects you to people, that affirms that niggling, pushed-down inner sense you have a lot to give and that validates a lingering suspicion that with the right opportunities and willing to carpe diem then hell out of them, that your life might really be something.
The loveliness of The Christmas Bookshop is that all of this self-discovery and reinvention, both romantically, relationally and career-wise takes places at Christmastime, a romantic time of the year that comes ever more vivaciously alive in a city that is beautiful anyway, but even more so when things are merry and bright and there's all kinds of unexpected joy in the world.
Having your heart warmed by a Christmas rom-com is one of life's perfectly-rendered great joys and Colgan more than delivers on that front in The Christmas Bookshop, offering a story that is every bit as festively escapist as you want and need but which comes with some achingly real humanity and a sense that while we are all capable of getting things dreadfully wrong, we can also, with the right help and circumstances get them wonderfully right, not just at Christmas but right through the year.