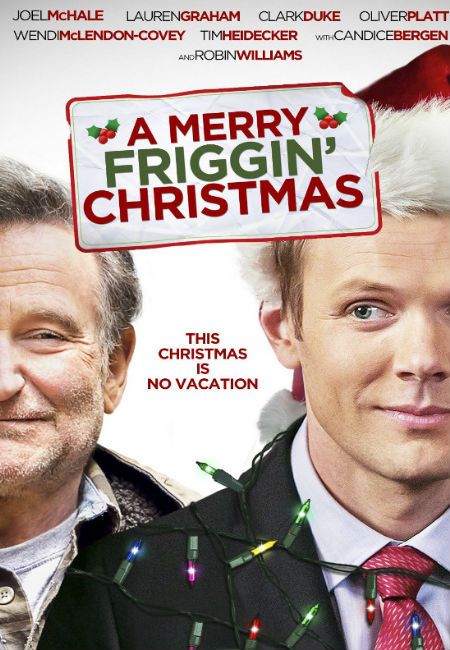 We love our families. We hate our families.
It's a war of competing, diametrically-opposed emotions for most families each Christmas who, though they long for tree-decorating, eggnog-sipping harmony, usually end up with the festive version of War of the Roses.
Perhaps that it is a little extreme, but the fact remains that it ain't happy families with one or two family members determined to have a jolly old time come what may, in this case matriarch Donna Mitcheler (Candice bergen) and daughter-in-law Luann Mitcheler (Lauren Graham), those who are oblivious or don't care much either way, which would be all the grandchildren, and yes, those who are resigned to it being one big endless twinkly light-fringed round of argy-bargy, which brings us to patriarch Mitch (Robin Williams in one of his final roles) and Boyd (Joel McHale) who none too pleased to be sharing the same house at Christmas time.
You know just how unhappy they are because for much of the first half of the film, before their miraculous road to Chicago-and-back conversion to something approaching tolerable bonhomie, they tell anyone within earshot how much they resent the other, and then when they're face to face snipe like soldiers staring across a Yuletide DMZ.
This is not what Norman Rockwell had in mind when he came up with those evocatively perfect idylls of American life, but if you're paying attention, exactly how pretty much all Christmas movies involving families gift-wrapped together for the holidays tend to go.
And that is pretty much the problem with the Tristram Shapeero-directed, Phil Johnston-scripted A Merry Friggin' Christmas which throws pretty much everything you could imagine into the mix and still comes up wanting.
There is for instance a little Planes, Trains and Automobiles, with Boyd, his younger brother Nelson (Clark Duke) and his father racing back down to Chicago from the Mitcheler residence in somewhere Wisconsin to fetch the presents for Boyd's six year old son Douglas (Pierce Gagnon) who despite lapses by his sister and cousin still fervently believes in Santa, much to Boyd's approval.
Boyd is a Type-A everything – hedge fund manager, loving husband and father, and manically-determined enough to mount an eight hour pellmell dash to Chicago and back in his father's port-a-loo business truck on Christmas eve, one which naturally is fraught with all manner of slapstick problems.
Only it often isn't.
Yes there is the folksy highway patrolman, Trooper Zblocki (Mark Proksch) who keeps pulling Boyd over for speeding, the recently-arrived Afghani family who Luann is teaching English too who move into the family home in what is supposedly an hilarious misunderstanding of the word "housesit", a forgotten house key necessitating a breaking of a window to gain entry, and yes even a hobo Santa (Oliver Platt) who may or may not be magical (echoes of Miracle on 34th Street maybe?) but who definitely likes bourbon and knows the meaning of Christmas, or something.
They're all thrown in there, along with a reverse Home Alone vibe that doesn't quite gel, but none of them really add to much, except that they facilitate with very little fanfare or any meaningful talking through of the issues, a rapprochement between working class, beer-drinking, tell-it-like-it-is dad Mitch and his volubly-aggrieved son Boyd.
All of a sudden, after Mitch has noticed he has been Photoshopped out of a family portrait and grown sullen and resentful, he is apologising to Boyd, Boyd is crying and embracing him back and somewhere in there goofy, new father Nelson is hugging like it's a Golden Girls episode (relevant because Boyd used to paint Bea Arthur over and over, something that emerges when Luann and Doona gets drunk on vodka in the attic and naturally bond).
Yes, A Merry Friggin' Christmas satisfied the Law of Christmas Movies, and brought the warring parties together in a spirit of festive love and joy but it all feels a little too forced, too rushed, too much of a switch from artillery at 100 paces to presents under the tree.
Theer's wrong with it, of course, and it's even kind of sweet in its own way but it feels too much like ticking off the narrative boxes, rather than any kind of organic growth between father and son (that is said with the acknowledgment that there is little of anything organic in most Christmas films, which are about as natural as polyester Santa suits).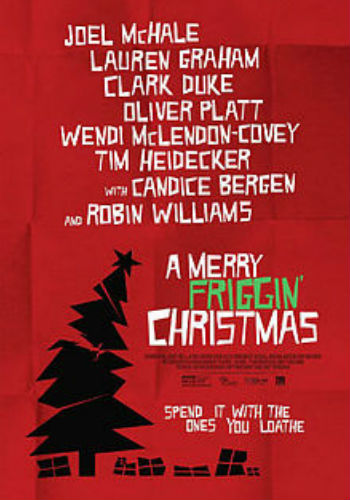 What saves A Merry Friggin' Christmas from descending into blighted holiday movie ignominy is the stellar casting.
It may be cruelly wasted in many respects but it is there and invests many of the scenes with far more poignancy, whimsy or humour than they might otherwise possess.
Joel McHale pretty much does his Community routine for the duration, which is not a bad thing since he is damn good at it and it fits the feel of the film to a tee and the chemistry and witty back and forth between him and Lauren Graham marks them out as a particularly articulate loving and interestingly non-cartoonish couple.
Robin Williams, though muted somewhat and not really given rein to go forth and be improvisationally manic, is still a joy to watch, capable of switching from redneck hilarious to sober father figure as needed and he's perfectly paired with Candice Bergen as his long-suffering, determined to have a good time if it kills her Christmas with her precious family.
And Platt as Santa, the gifted Wendi McLendon-Covey as Boyd's small town sister Shauna, Tim Heidecker as her dimwitted husband Dave and Clark Duke as ever-so-slightly brain damaged Nelson, as expected, have as much fun as their slightly-written, cliche-ridden roles allow.
The pity is that much of the warm and fuzzy feeling you will be left with after watching A Merry Friggin' Christmas is due to the cast pulling double acting duty and not to the script or direction which feels join-the-dots perfunctory at best, as if Shapeero and Johnston downloaded every wacky indie and Hollywood holiday film they could find, made notes, and threw them in the plotting blender hoping for a Christmas miracle.
They don't get it, of course, even if the characters are pretty much obliged to, but A Merry Friggin' Christmas is still a fun, if slight, festive escape, conjuring up enough of the requisite Christmas spirit to give you pleasing snippets of that much ballyhooed warm and fuzzy inner holiday glow, even if it is likely to only ever be a less-loved cousin to classics like It's a Wonderful Life, White Christmas and Home Alone.