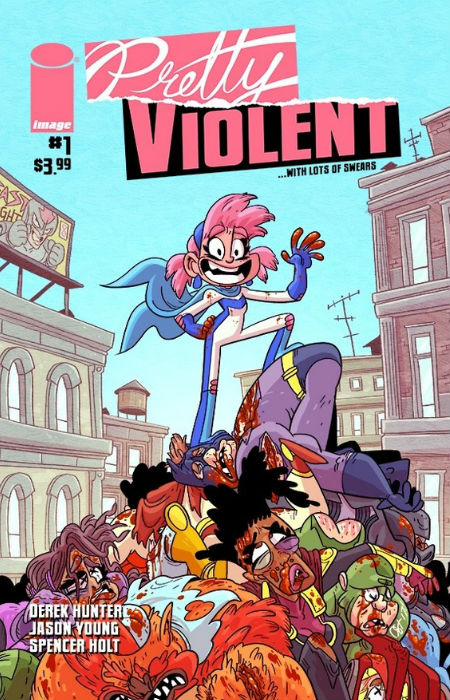 SNAPSHOT
Gamma Rae wants to be a superhero, and why shouldn't she!? She's been strong since she was a baby. The only problem is, all her siblings are notorious hero-murdering criminals! Join artist DEREK HUNTER (DuckTales, Adventure Time), and writer JASON YOUNG (I HATE FAIRYLAND) for this all-new ongoing, gore-filled, laugh-out-loud comedy for mature readers that explores one girl's journey through the rift between personal and family identity. (synopsis (c) Image Comics)
Ah, quirky and demented! How I love you.
I am at heart a man who appreciates uplifting tales, the kind that leave you feeling good about yourself; however, if it's all happy inspiration with no real life or twisted weirdness thrown into the mix, then it all just starts to look and feel a little too saccharine.
Hence, leave me feeling warm and fuzzy but give me, quirky, give me demented and if it all starts to look a little dark and off-kilter then all the better.
But not too dark or off-kilter OK?
Pretty Violent, from the writer who gave us the deliciously nutjobbery of I HATE FAIRYLAND, where Hans Christian Anderson was turned upside down, inside out and had a sword run through him (thematically, not so much literally), looks to sit right in the midst of that storytelling sweet spot of mine, give us some decidedly brutally violent left of centre action, suffused with cartoonish bright colours and some well-placed heart and soul.
Pretty Violent thus looks pretty perfect.
Just how perfect will be revealed on 21 August when the first issue lands at comic stores, complete with a variant cover.