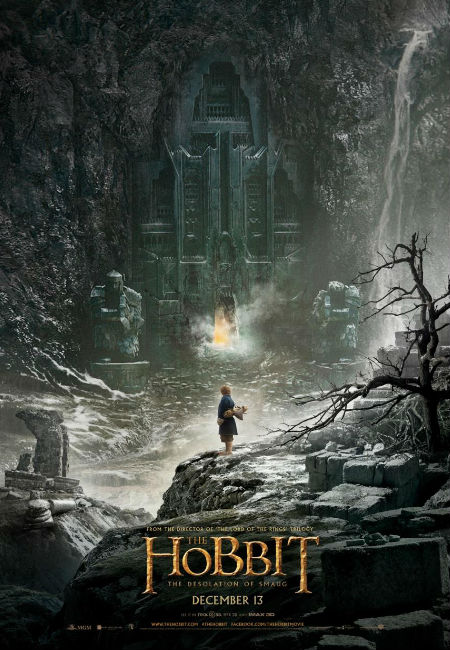 It's only six months till the next instalment in Peter Jackson's epic screen adaptation of J R R Tolkien's novel The Hobbit hits the movie screens – 13 December in USA, 26 December Australia – which means of course that the promotional campaign to remind the world of that fact is about to hit high gear.
It all begins with the teaser poster above, which shows Bilbo Baggins (Martin Freeman), newly-minted holder of the One Ring (which will go on to cause so much trouble for Frodo a few decades hence) standing outside the gates of the abandoned dwarf kingdom Under the Mountain at Erebor the Lonely Mountain, ready to face the might and fury of the dragon Smaug (voiced by Benedict Cumberbatch).
The movie picks up with brave freshly-impetuous Bilbo, wise eccentric Gandalf (Ian McKellen), and the plucky band of dwarves led by the dashing Thorin Oakenshield (Richard Armitage) about to enter the gates at Erebor having survived close, near deadly encounters with the  corpulent Goblin King and his minions deep underground, and the murderously unhinged Azog the Defiler (the White Orc).
While Bilbo and the dwarves face up to the might and fury of Smaug, Gandalf sets off to find out what he can about the Necromancer who could herald the reappearance of the very personification of evil, Sauron, who was supposed to have been vanquished eons ago.
This presages of course the epic events of The Lord of the Rings trilogy, as does the appearance of the elves of Milkwood which includes brave Legolas (Orlando Bloom).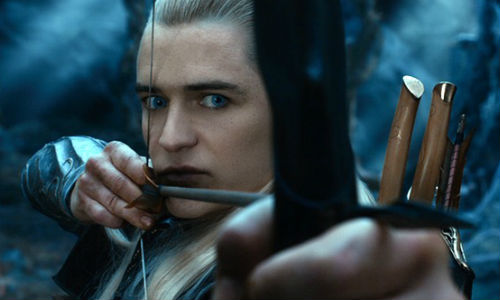 Also released today was the teaser trailer, which will be shown ahead of Man of Steel screenings when it opens in the US later this week.