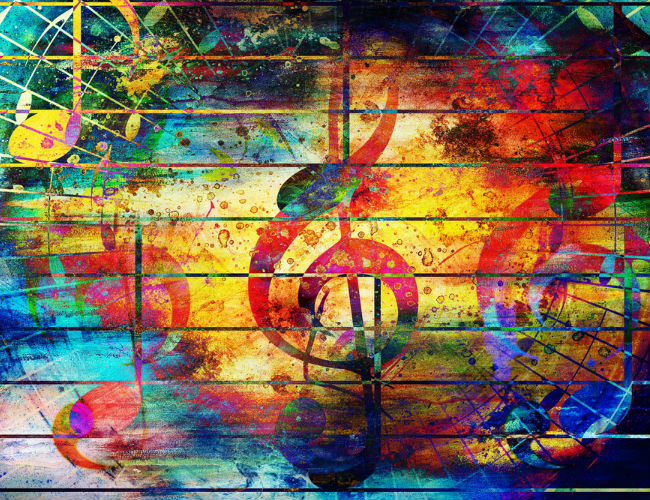 Life is lots of things.
That may sound the opening line of Captain Obvious's treatise on life and living but that's because it's true – every day we rise and fall, laugh and cry, fall in and out of love and ride the emotional rollercoaster of being human.
What makes these five artists such a pleasure to listen to, and makes them so good for your heart and soul as well as your ears, is that they nail the duality, the contrariness of life in ways that makes sense, and happily, sounds brilliantly good too.
"Dancing (Mumbai Wedding" by NONONO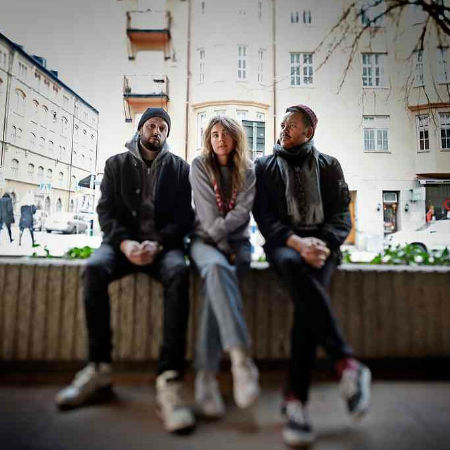 The world at the moment seems to constantly give us the impression that the only thing it's eminently capable of is misery, death and despair.
But as Swedish alt-pop group NONONO (Stina Wäppling, Tobias "Astma" Jimson and Michel "Rocwell" Flygare) reminds us with celebratory abandon, in "Dancing (Mumbai Wedding)", from the album Undertones (released 28 September) it is also able to summon the most beautiful of romantically life-affirming moments, so good in fact that we have to ask ourselves if we've fallen into some kind of exquisitely-wonderful dream:
Now we would go dancing
Screw our sorrows in the break of day
Truly romancing
Tonight, we'll get drunk in the name of
Love.
This wholly remarkable song, all jangly upbeat melodies and effervescently-happy lyrics is actually the result of one of the dark events alluded to in the opening paragraph coming hard against something wonderful, as Stina explains (Vents Magazine):
"'Dancing (Mumbai Wedding)' is about catching a beautiful moment and how much more powerful and clear such moments become in the presence of darkness and grief. I wrote the song under a wedding in Mumbai India, during the celebration of my friends love. Eight years earlier I had been in the same city but then horrified and stuck in the middle of a terrorist attack. My sister and I were at one of the places where they opened fire; holding each other tight in a corner we tried to become as small as possible. Under three sleepless days there were no safe places, only a constant readiness and our bodies jerky twitching from the sound of another fire gun or another bombing. There has been a life before Mumbai and a life after. Above all life feels more fragile now and very unpredictable. Thus, when I'm back at the same place with only time as a distance, all my senses are elevated. All life and every emotion feels brighter and the two weeks that we are celebrating love becomes luminous in contrast to the dark stain in my memory. I am somehow miserably blissful, happy about the beauty of being a human and the capability to love and at the same time painfully aware of the fragility of those moments. I wanted to capture that feeling in a jar, save it and keep it as a reminder – that's how 'Dancing (Mumbai Wedding)' came about."
"Now or Never Now" by Metric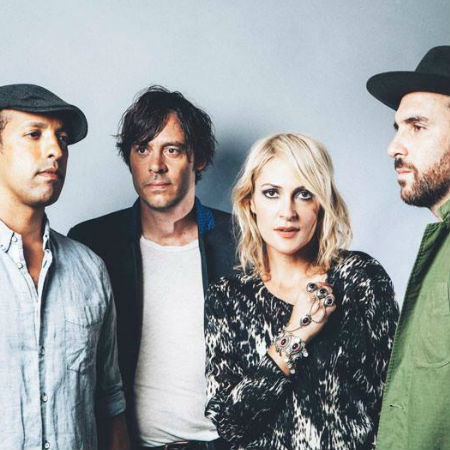 There is such a rich, powerful vivacity to the music of Canadian rock band Metric, made up of Emily Haines (lead vocals, synthesizers, guitar, tambourine, harmonica, piano), James Shaw (guitar, synthesizers, theremin, backing vocals), Joshua Winstead (bass, synthesizers, backing vocals) and Joules Scott-Key (drums, percussion).
Every song, including recent single "Now or Never", resonates with emotional honesty, melodies of substance and beauty and the arrestingly-affecting vocals of Haines who has one of those distinctive voices that catches your attention every time.
I like the way We Are: The Guard describes the song, capturing everything that's good about it, and indeed about the way this wholly-original band does:
"… the latest single to be unveiled from the Toronto band's forthcoming album Art of Doubt is nothing short of steeped in arena-sized grandiosity, with lush synths and guitars sprawling beneath the signature world-weary ruminations of lead singer Emily Haines. TL/DR: It's epic."
The key word here is "epic" and of course that nails the sound of Metric; but more than a sense of arresting grandiosity, the band pours all the emotions you could ask for, a penetrating insight into the human condition and melodies that won't take no for an answer into music that dominates your ears, heart and soul in the very best of ways.
"Forgive Me Friend" by Smith & Thell feat. Swedish Jam Factory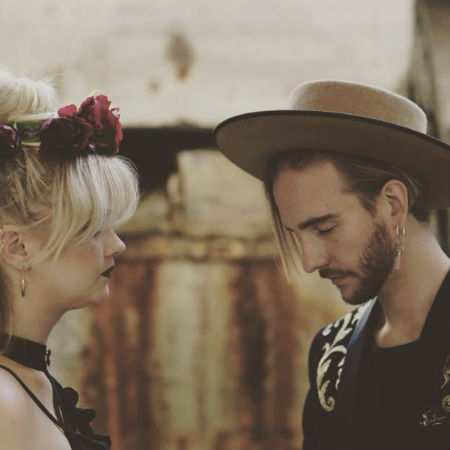 One genre of music that has never really captured my fancy is country music.
I'm not entirely sure why, since it possesses many of the things I like in music – emotion, melody, talented singer-songwriters – but none of them have really managed to jump the barrier that seems to stop me truly enjoying it.
Swedish band Smith & Thell, with their gloriously-infectious song "Forgive Me Friend" (featuring Swedish Jam Factory)  have managed that rare feat of vaulting into my affections with a song that surges with a can't-be-stopped melody, a driving beat and the beautiful vocals of Maria Jane Smith and Victor Thell.
It's as catchy as a song can get, impossible to listen to without dashing around the room in a jubilant frenzy and yet like so many brilliantly-executed Scandipop songs, it has a serious meaning wrapped into its galloping joy as the band explains (Scandipop):
"The song is about a friendship that went sour. About being young and naïve and thinking that you're never going to change. About falling down a black hole and not having the energy to take care of those who mean the most to you, and still looking back afterwards thinking you should've acted differently, even though you know it's too late."
The light and dark of life given music and voice.
"Summer" by Chloe Lilac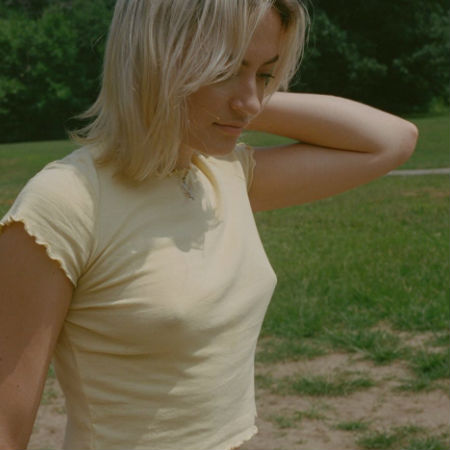 There is a dissonant gorgeousness to the emotionally-resonant voice of Brooklynite Chloe Lucas that ensures you are glued to her song "Summer" from the first ethereally-powerful note.
It's an impressively-mature song from the teenager who has been performing on the streets of New York since the tender age of 14 which comes with some glowing praise from The AU Review:
"With a mellow start and a chorus reminiscent of The Thompson Twins at their best, the track's effortless and sultry gloss exhibits an age old sophistication; all without losing Lilac's sentimental expression of modern youthfulness that is rooted in all her music. Her minimalistic synthy tones, blended with a strong acoustic beat, build and erupt before trickling back down to her somber, moody sound, providing a depth from Lilac that we haven't heard before."
"Summer" is a beguiling mix of pulled-back hauntingness and a rip-roaring no holds barred musical sensibility that manages to be dazzlingly chilled and running at breakneck speed all at once, appealing on a thousand, repeated-listenable levels all at once.
"Psycho" by Lauren Aquilina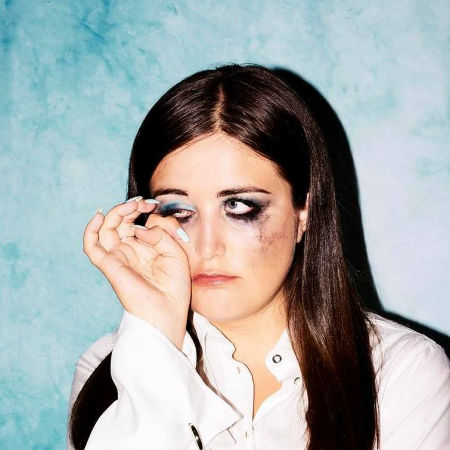 Ever had those moments when all your rational sensibilities and pretensions to well-considered adulting goes flying madly out the window?
Yeah me neither (kidding; only all the time), but Bristol-born singer Lauren Aquilina, newly-returned to music, knows exactly what that feels like and how love in particular and its messy, cheating-ravaged aftermath can wreak havoc on the most well-balanced of people.
"Psycho" is everything you've ever felt and wanted to do, set to a killer chorus that pounds and posits and yet sounds distressed and regretful all at once; that's some enormously clever pop going on there, artful and knowing and yet instantly emotionally-accessible.
Let's be honest – none of us want someone to get to us so badly that we lose all reason and control but if that's happened to you, or even the temptation of it, you'll find a lot to identify with in this catchy-as-f**k song that hits it out of the party musically and lyrically every confessional step of the way.

NOW THIS IS MUSIC EXTRA EXTRA!
42! That is not, in this instance at least, the meaning of life, but the number of countries that will be participating in the Eurovision Song Contest in 2019.
? 42 countries will #DareToDream in Tel Aviv for Eurovision Song Contest 2019! pic.twitter.com/JJpX8v7x86

— Eurovision (@Eurovision) November 7, 2018
Unsurprisingly, Jon Ola Sand, the Executive Supervisor of the Eurovision Song Contest on behalf of the EBU, is pretty excited about the number of participants in a year which breaks more than few records:
"The Netherlands and Switzerland will send a contestant to the Eurovision Song Contest for the 60th time next year. Greece will be on board for the 40th time, Croatia, Estonia and Slovenia are joining the competition for the 25th time, and Latvia and Lithuania will both take part for the 20th time. San Marino is sending an act for the 10th time in the contest's history. Sending their 63rd entry in 2019, Germany holds on to the record of most participations. 19 countries have a chance to bring home Eurovision victory, and thus the opportunity to host the contest, for the very first time." (Eurovision.tv)