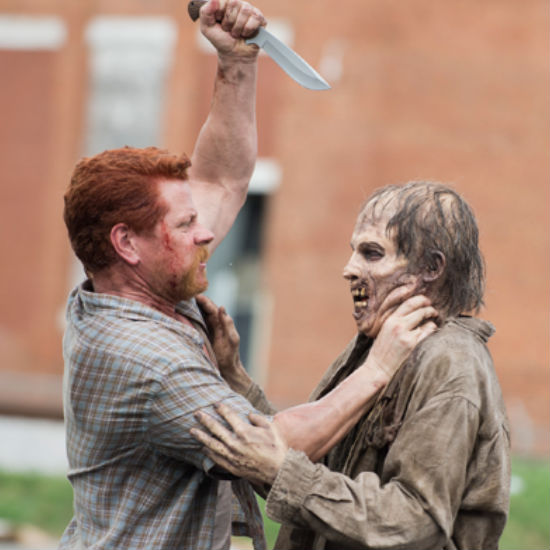 * THERE ARE SPOILERS AHEAD … and NOT A LOT OF HOPE *
Hope in the midst of a zombie apocalypse, much like the faces, arms, legs and bodies of the undead themselves when hit by a fire truck's water cannon – something which actually happened in "Self Help", the water-soaked fifth episode of The Walking Dead's uniformly excellent fifth season – is a fragile thing, easily blown apart.
It may look robust, vigorous and manifestly alive, able to propel a single hurting man, one Abraham Ford (Michael Cudlitz) still reeling from the loss of his wife and kids, and in search of a reason, any reason, to keep going, from Houston to the backwoods of Georgia, and possibly on to Washington D.C., but it only takes another man's long-delayed admission – please step up Eugene Porter (Josh McDermitt), mullet and all – to shatter it into pieces so small it's doubtful anyone will be able to put it back together again.
What is most miraculous, of course, is that it is there at all, but there it was, in vibrant, living technicolour, so powerful, so motivational, that Abraham brushed aside and all entreaties by Rosita (Christian Serratos), Glenn (Steven Yuen) and Maggie (Lauren Cohen) to stop and sit a spell in the small town they found themselves in in favour of doggedly, nay manically pushing ahead in what turned out to be a Quixotic quest to save the world.
Abraham's hope, which it turns out he needed far more than it needed him, outlasted a bus crash, two rather impressive zombie herd attacks – one of which was thwarted by Eugene's uncharacteristic commandeering of the water tank on top of their new ride, a fire truck with decaying body parts in its filter; try explaining that one to your pre-apocalypse mechanic why don't you – cold, hard reason and even a milling super group of rank undead in the near distance, smack bang on the road ahead.
We're talking seriously intense, awe-inspiringly strong, brook no interference, aggressively-defended hopeful stuff here and yet, with one rambling, desperate admission by Eugene that wasn't a scientist, that he didn't know how to cure the plague that had brought about the end of the world, and that invented the story purely because he didn't think anyone would help to keep him alive otherwise – Tara (Alanna Masterson), in one touching scene, assures Eugene they would look after him regardless of his usefulness; is she perhaps regretting her morale-boosting words now? – it all fell profoundly, devastatingly apart in the middle of a hot, sun-streaked road in a small pocket of the back blocks of what's left of America.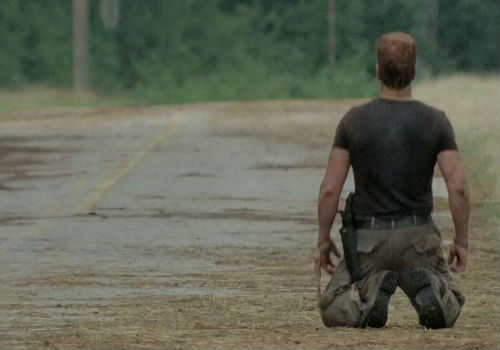 And much like Humpty Dumpty, who faced a reasonably insurmountable reconstruction issue after his ungracious fall from the wall, you have to wonder what it will take to put all that hope together again.
Can it even be put back together again? Will anyone even want to try?
Three main characters were affected primarily by this almost-continent spanning betrayal of trust.
First up Abraham Ford – kudos to Michaal Cudlitz for a tour de force performance which peeled back the layers of Abraham Ford, via a series of flashback vignettes throughout the episode, to reveal the scared, directionless, scarily violent man behind the brash, swaggering bravado of the man who would facilitate the salvation of the world come what may – who found himself face to face with a past so scarred and bereft it's no wonder he didn't want to stop long enough anywhere to think about it.
In between Abraham's relentless push to a now-vanished finish line, we were witness to him beating fellow survivors to a bloody pulp in a store simply to get hands on a few cans of food, a serving of violence so visceral and real that it left his wife and two kids, who I suspect had been witnessed to this animalistic side of the man in their lives one too many times back when they had a place to call home, cowering in his presence, afraid to come near him.
"[We're] kinda at the point where everyone is strong now. They have to be. They're either strong so they can help you and you can help them, or they're strong so they can kill you … or you kill them." (Abraham to Glenn)
We saw them bolt at the first chance they got, while their protector/in their minds greatest threat slept, only to end up as zombie fodder not too far away, a fate that left Abraham utterly alone and inconsolable until Eugene came running awkwardly out of nowhere, screaming for someone to help him.
Just like that Abraham had a purpose again, one so overarching and universally compelling that it covered over all the pain and loss he had suffered, re-positioning him as the hero of humanity rather than a thug bashing others to death for food (to be fair this is all interference based on snippets of flashback but so raw was the fear in the eyes of his wife and kids, and his fury when Rosita or one of the others questioned them, that you gain the impression he is a man of considerable anger and a paucity of self-control).
And just like that, it was taken away from him, when Eugene, tired of the masquerade, the lies, the pretense, finally came clean.
It was heartbreakingly, devastatingly sad to watch and one of the most powerful moments of any season of The Walking Dead, hope's demise writ large, so final that you have to wonder how the man, who was barely outrunning himself on his race across America to help find a cure, will ever find the will to go on again.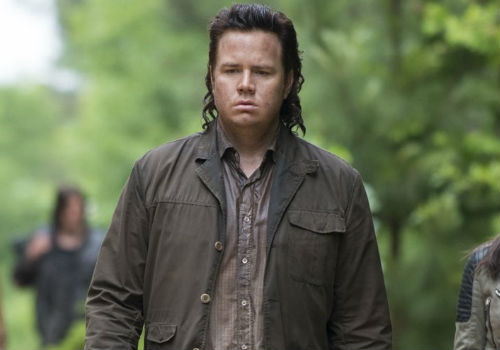 Eugene's hope on the other hand was pretty living on borrowed time from the moment he bald face lied to Abraham about his "mission" and the need to get to Washington DC to fulfil it.
Running from three still-agile zombies, back before they could be blown by a water cannon – hands down one of the best zombie eradication scenes that The Walking Dead has ever committed to the small screen and a rare moment of humour in an otherwise grim episode – his lies gave him Abraham's unflinching, unwavering protection and devotion, with each fulfilling a need the other had.
The only problem for Eugene, who, fiercely protective of his mullet refused to let Rosita do her barbershop thing on him when she was trimming Abraham's ever-curlier locks, is that the closer his main protector and those who swore to come along to aid Abraham's holy mission, many of whom died doing so as Rosita tearfully reminds Eugene after his confession ("People died trying to get you here") got him to his stated goal, the more he became convinced he would left to the apocalyptic wolves the moment they found out he was a fraud.
Eugene: "I know empirically and definitively that I cannot survive on my own. I cannot."
Tara: "So you killed the bus?"
Eugene: "If I don't cure the disease, if I don't save the world, I have no value."
Tara: "That not how it works."
Eugene: "There's no way you people would keep me around, share resources, protect me."
Tara: "Of course we would. We're friends. We have each other's backs. That's it. That how it works."
It left him to fill the school bus's petrol (gas) tank with glass, almost got them all killed when the bus subsequently crashed and was surrounded by walkers including poor old man whose guts spilled unceasingly from his paper thin torso on the jagged remains of one of the windows, and impelled him to risk Abraham's wrath by constantly arguing for rest stops, detours and even a return to the church where Rick and the rest of the group sat waiting for Daryl and Carol to return.
It was a classic case of "It seemed like a good idea at the time", and you could see, even on Eugene's blank slate of a face, that he was worried and increasingly fearful that his time as the falsely-declared future hope of humanity was almost up.
Perhaps it was Tara's encouragement that he would be cared for regardless of who he was and what he could do; maybe it was simply that he was exhausted after carrying the weight of his burden for so long but Eugene finally cracked, and with it the desperately clung to hope that he had a future, one where people actually gave a damn about him.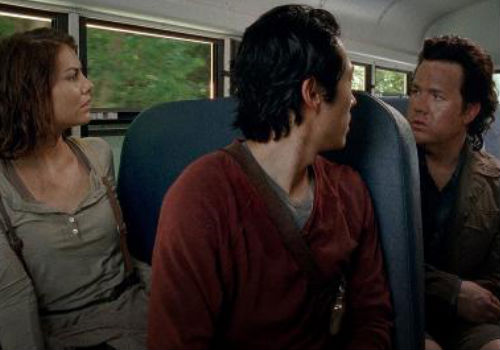 Maggie's hope by contrast was that rare and elusive creature, barely glimpsed amidst the horrors of the apocalypse – contented hope.
Even though they have had to leave their much-loved "family" behind him – you see Maggie convincing herself and Glenn on the bus that it won't be long until Rick and the others join them again – and are lying on the floor of an abandoned bookstore trying to sleep after drinking barely-boiled water from a broken toilet cistern, Maggie is happy.
Most importantly she has Glenn by her side, but almost as critically she feels like she is a part of something that finally matters, that could mean something, after so long spent simply trying to survive.
"It just feels really good having this. It is not about what was, not last night, it's about what's going to be."
Maggie actually smiles as she drifts off to sleep, as if she is on her honeymoon, snuggling with newly betrothed on a luxurious bed, the mini-bar just out of reach, rather than on a concrete floor in filthy, dirty clothes.
That's how powerful having a sense of purpose, a vision to pursue is, and that's why Maggie is every bit as monumentally crestfallen as the others when Eugene finally admits that his particular brand of hope, borne of desperation and cowardice, which in turn partly gave birth to her present state of somewhat blissful contentment, is a thing of smoke and mirrors.
She, like Abraham before her, looks lost before all solace, when she finds out that the hope she valued so highly is nothing more than a lie.
But it is she who leaps to look after Eugene, common decency and humanity trumping grinding disappointment and betrayal , at least for the moment, when Abraham punches him forcefully once and then twice, sending the newly-unveiled non-scientist slamming into the road.
In an episode largely framed by the celebration hope and its crushing loss, which took its title both from Eugene's ironic inability to help himself and a comic gem of scene where Eugene is watching Abraham and Rosita make love from, you guessed it, the self help section of the bookstore, it is Maggie's response to the news no one wanted to hear which underscores that Tara was right.
Despite everything, Tara was right.
In the world of The Walking Dead, where so much is brutal, utilitarian and self-serving, perhaps the greatest hope of all springs from knowing that your fellow journey men and women on the road to survival will actually give a damn about you even if you aren't the would -be saviour of humanity.
Once they actually forgive you of course which is likely going to take a good long while and provide the fodder for more taut, brilliantly-constructed drama to come.
And now while you reel from the news that Eugene is a big damn fraud, here's the promo trailer for next week's episode "Consumed" where we see what happens when Carol and Daryl finally find Atlanta, the hospital and Beth …