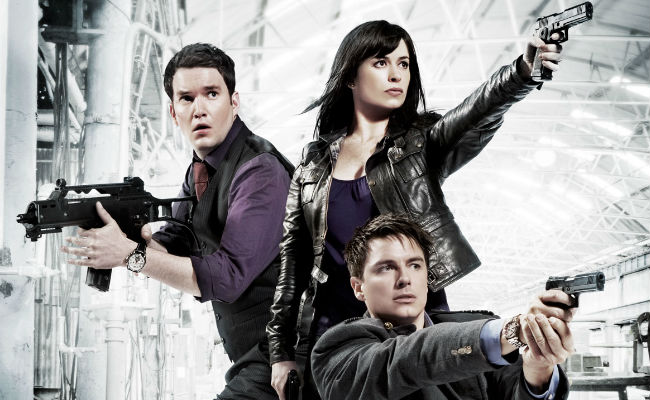 The world is a dark place my friend and no one knew that better than the tortured souls of Torchwood, hidden beneath Cardiff and fighting aliens with thoroughly disagreeable motives at every turn.
A spinoff of sorts from the 2005 revival of Doctor Who – the name is,of course, an anagram of its parent show's name – Torchwood was an altogether darker, more existentially-troubled creature, aimed at a much older audience.
Airing 4 series between 2006 and 2011, Torchwood's team was an expansive one at first, made up of the irrepressibly gungho and reckless Captain Jack Harkness (John Barrowman), whose bisexuality was telegraphed well in advance in a show where sexuality was fluid and the ethic of fighting bad guys even more so, his right hand man (and sometime lover) Ianto Jones (Gareth David Lloyd), Owen Harper (Burn Gorman) and Toshiko Sato (Naoko Mori), and of course, new fresh-eyes recruit, through who we saw this strange and hidden world, Gwen Cooper (Eve Myles).
As is the way when you're fighting menacing forces from the galactic beyond, and your own inner demons, often at the same time, there were casualties – SPOILER AHEAD! – and by the end of the TV series, only Captain Jack and Gwen were left extant.
Sadly alas the series was not, its final series, a UK/US joint production, a long drawn out shadow of its former deep thinking self.
That, it seemed was that for this most bleak, and yet rewarding of series, which featured one of the most touching episodes I have ever had the privilege to watch on any TV show (season 1's "Captain Jack Harkness").
But just like Captain Jack, whose immortality ensured he never really died (although he came close once or twice) , Torchwood never really dies, and now it's back thanks to Big Finish, which has just released the first in an audio series of adventures, "The Conspiracy" which finds the Earth potentially ruled by giant alien lizards.
This first Captain Jack-centric adventure will be followed, notes Den of Geek, by quite a few other stories, in which beloved team members will feature:
"October 2015 will see Torchwood: Fall to Earth, starring Gareth David-Lloyd as Ianto Jones. In November, we'll get Torchwood: Forgotten Lives with Eve Myles as Gwen Cooper and Kai Owen as Rhys Williams. We've also been promised three more adventures, which we don't know much about just yet."
Even more happily, which is an odd word to use in an article about a series that knew next to little of this untroubled state, a second series has been announced, due for release from March 2016 onwards.
So while they may slipped off our TV screens for the moment, and possibly for good, Torchwood and its intrepid team fight on and we, if not the Earth which will continue to be safe form alien threat, are all the better for it.