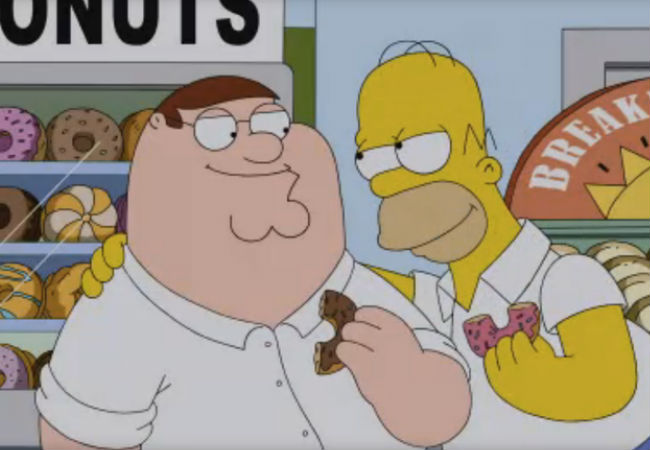 Crossovers are curious creatures.
While it is always a pleasure to see two shows you might love come together – this is not always the case of course with many people usually being a fan of one or other of the two shows; Den of Geek does a superlative job of addressing whether this diminishes your enjoyment of what used to be billed, with more than a little bit of hokeyness, as "special events" – it is not always the case that just because the two series share a network, which is usually the case, that'll function well within the one episode.
Judging from the trailer below, where the Griffin family from Family Guy end up visiting Springfield (state still unspecified, with Brian quipping that no one is allowed to say) for a vacation, and meet and hang out with Homer and Marge and their brood from The Simpsons, any such concerns can be laid to rest with the personalities and comic DNA of both shows coming through loud and clear and in glorious cartoon technicolour.
The trailer, which premiered at the just-concluded 2014 San Diego Comic-Con (SDCC), and features the main cast from both shows along with cameos from the likes of Bob Belcher (Bob's Burgers) and Cleveland (The Cleveland Show / Family Guy), features Peter and Homer initially bonding over what else but donuts, Stewie getting a taste of Bart's irrepressibly irreverent world, and a titanic battle through the depths of Springfield's nuclear power plant and beyond by a now less than friendly, and highly-irradiated Peter and Homer.
All of it is hilarious, fabulous and fantastically funny, proof positive that you can take two shows which are animation juggernauts in and of themselves, and bring them together to brilliant effect.
The Family Guy / The Simpsons crossover episode airs September 28 on Fox.