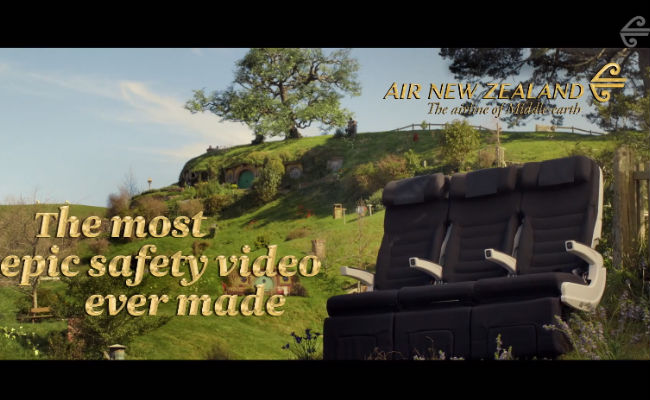 Let's be honest – airline safety videos are usually pretty dull, boring affairs, their level of watchability sitting somewhere between a video manual on concreting your own garden gnomes and a travelogue made by boring people of watching paint dry.
Most of us either ignore or watch them just in case the unthinkable happens but we're not really invested in the show, a necessary evil to be endured before the plane takes off and we go off on our next grand adventure.
But if you are fortunate to be travelling on Air New Zealand, which is one of the world's friendliest, most well run airlines, and one which happily is based in the country that has come to be affectionately known as Middle Earth, you aren't required to grit your teeth, lie back and think of Hobbiton when the safety video screens.
In a brilliant move that begin in 2012 with A Most Unexpected Briefing, Air New Zealand has teamed, according to Hollywood Reporter, with Peter Jackson and the team behind The Hobbit movie trilogy to create The Most Epic Safety Video Ever Made (it really, absolutely is):
"Using both locations and actors from Peter Jackson's Hobbit trilogy — and including cameos from Jackson himself — the Most Epic video was directed by Taika Waititi over six days, and features effects, costumes and make-up from Weta Workshop and Weta Digital, both of which offered similar services to the movies themselves."
It is every bit as entertaining and magical as you'd hope it might be, as well chock full of all the actual safety information you need to know, and is likely enough to entice me back onto an Air New Zealand fight just to watch it on an actual plane.
Oh who am I kidding?
I LOVE the airline – shhh don't tell QANTAS – and would travel with them regardless; having the The Most Epic Safety Video Ever Made to watch into the bargain would simply be icing on the cake.
Now if I could just get Kili or Thorin Oakenshield to serve me drinks, it would be the BEST FLIGHT EVER.